Phoenix Shutting Off Supply of Trucked Water to New River & Desert Hills
UPDATES: The situation faced by rural residents has changed since the publication of this article. Click here for the latest articles on this topic. The article below remains as originally published.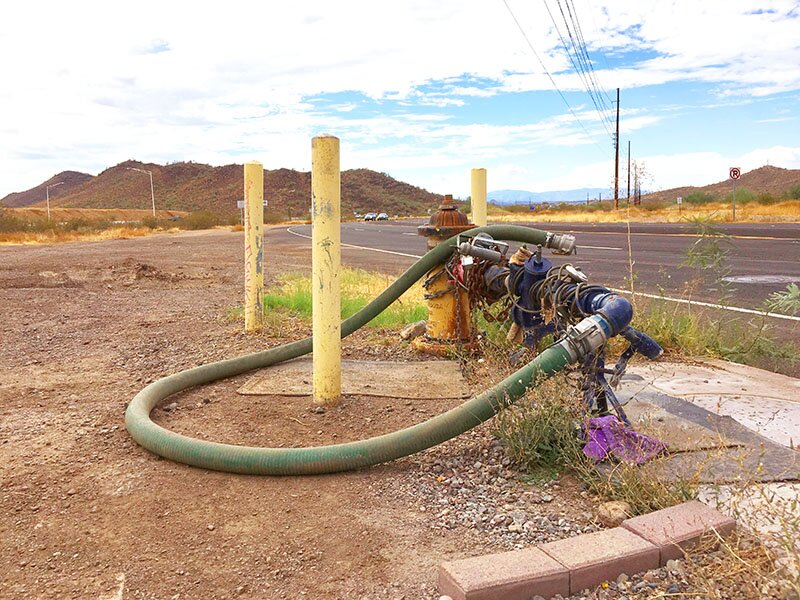 The City of Phoenix will no longer allow commercial haulers to fill from city hydrants for delivery outside city limits, creating concern among Desert Hills and New River residents who rely on periodic delivery of potable water.
City officials say the water was never intended to be delivered for residential use outside city limits, and they were unaware commercial water haulers were using city hydrants as a supply source for non-city residents until about three years ago.  
Local water-hauling companies were notified in a city letter June 1 that as of Jan. 1, 2018, hydrant permits will be issued only for temporary in-city construction projects; temporary city-approved short-term uses, and for county dust control permit holders.
Prices Could Triple
Desert Hills and New River residents could end up paying double or triple the cost as water hauling companies are forced to fill up elsewhere.
City hydrants exist primarily to fight fires. But in accordance with city code, Phoenix had permitted hydrant access to commercial water haulers for delivery to construction sites within the city.
"When the city first discovered this [unauthorized] water-hauling practice, we started issuing temporary permits to allow us time to assess the scope of this hauling, analyze its risks to the city, and develop a gradual phase-out," according to a Phoenix Water Services Department statement provided to In&Out. Under the new permit system, the city determined how many water haulers were using hydrants for potable-water delivery.
Brad Phelps, owner of Crystal Creek Water, whose company delivers to a large number of residents affected by the change, said in a phone interview that while residents are not in jeopardy of losing water delivery to their homes, the water will have to be trucked in from Peoria and Scottsdale, which could double or triple the cost to homeowners.  
Damon Bruns, owner of Dynamite Water, expects rising costs to his business and his customers. "We're at the mercy of getting the water from a municipal source, and these customers are at the mercy of us," Bruns told In&Out. "What are these folks [without water] going to do long-term?"
The City's Concerns
But Phoenix officials say providing water to these hauling companies is unfair to city taxpayers and poses risk.
"The communities served by water-hauling companies do not pay their fair share for the building and maintaining of water and wastewater infrastructure, yet they are reaping the benefits," according to the statement. "These communities do not have customer accounts, do not pay service and environmental charges, and are not directly billed by the city. And the city has no intention to 'inherit' these communities as part of our service area, which would cost our ratepayers millions of dollars in infrastructure costs to serve."
The city also cited the need to protect water supplies and raised water-quality concerns regarding safety following transport.
Alan Muller, New River/Desert Hills Community Association president, estimates 1,000-1,500 rural residents are affected by the change, adding that he is still hopeful a resolution can be reached.
A community meeting at the Daisy Mountain Fire Station in New River in July drew a crowd of about 80 concerned residents, and Muller is working to organize a meeting with the city before hosting another discussion forum with residents. Discuss This Article on Facebook >>>