Wild Animals: How to Handle Them (or Not)
For 15 years, In&Out Magazine has been the definitive source of "Everything that's going on" in and out of the community. We thank you, our readers, as well as the businesses that support the magazine through advertising, for that opportunity. But with little going on, and many businesses suspending or canceling their ads during the Covid-19 crisis, we are suspending publication of the magazine and web sites for the month of May.
---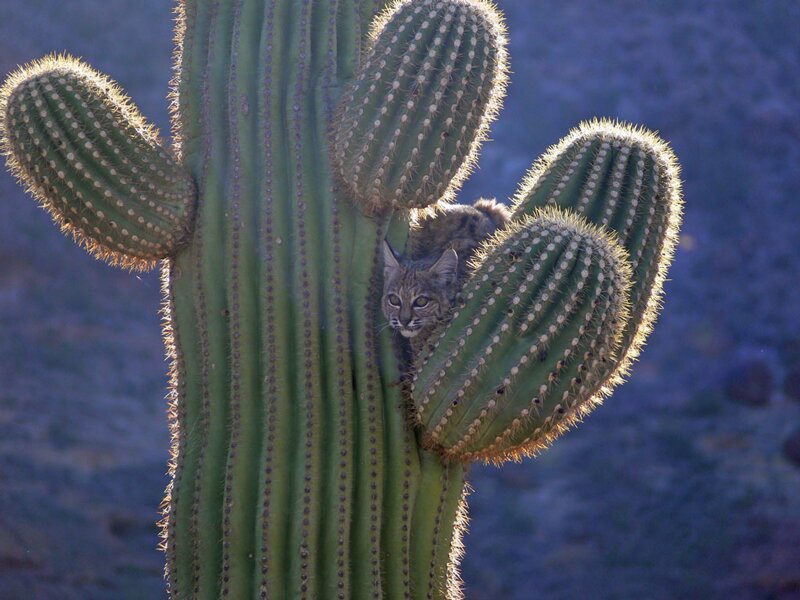 Suppose you find a baby bird, a juvenile javelina or cute little deer that appears to be abandoned. Or maybe you have a coyote or bobcat hanging around your yard and acting strange. Or, worse, you're attacked by a wild animal. What do you do? The answer, according to the Arizona Game & Fish Department, depends on the circumstances. First, some recent, related news:
In May 2018, extreme drought led Game & Fish to warn residents that wild animals were more likely to enter residential areas seeking food and water. A sub-adult male bear that sauntered through Anthem—it's second trip into a residential area—was captured and euthanized, as were two other bears elsewhere in the state.
In June 2018, the Arizona Department of Health Services alerted residents to a statewide rise in animal rabies cases, urging the community to follow prevention guidelines to stay safe from the disease.
Feeding wild animals—whether on purpose or incidentally by leaving food, water or garbage outside—increases the chances of human contact that might not go well for the humans, officials said.
Sick or Dangerous Animals
Wildlife considered aggressive or otherwise a nuisance in your yard or neighborhood should be reported, since it could attack a neighbor's pet or a child. If you see wildlife in places where they don't belong or acting strangely and the matter seems urgent, call AZGFD 24/7 at 623-236-7201.
If not an emergency, call the main Phoenix office for AZGFD, on Carefree Highway, at 602-942-3000.
Mammals can carry rabies. Signs are foaming at the mouth, erratic, hyperactive behavior and/or fearful, paralyzed and lethargic behavior. If you see any animal with rabies symptoms, call 9-1-1 or AZGFD at the above numbers.
If you find yourself in a face-off with a bobcat, mountain lion, coyote or other potentially dangerous animal, AZGFD advises you not to run. "Make yourself look as big as possible, make lots of noise, throw things and back away slowly," the agency advises. "If attacked, fight back by kicking, punching or hitting the animal with a rock or stick."
"The key to reducing danger from wildlife is to reduce things that attract wildlife," said Mark Hart, information and education program manager for AZGFD's Tucson region. "Don't put your garbage out until collection day, don't put excess food out for birds and bunnies, feed your pets inside, and don't leave small pets outside unattended. If there's nothing to eat or drink in your neighborhood, wildlife will usually keep moving on."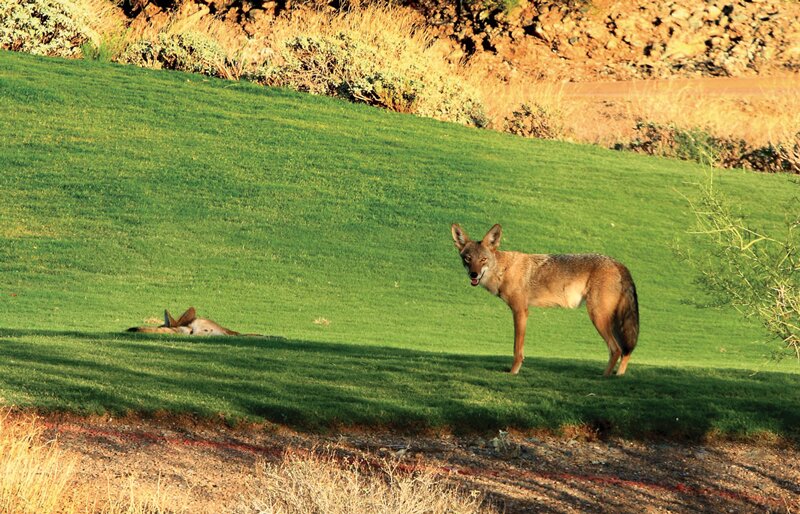 Can I Just Shoot It?
Within the bounds of the City of Phoenix or any other municipality in Arizona, it is a felony to shoot a firearm within a mile of an occupied structure without legal justification (A.R.S 13-3107 A).
There are also restrictions on "taking" wildlife at night, while you are in a motor vehicle or by shooting into or across a roadway. Javelina, bobcats, coyotes and a couple dozen other animals are subject to state hunting regulations including licensing, seasons and permissible areas. In short, "You can't just go around shooting critters," said Bill Andres, spokesperson for the Arizona Game and Fish Department.
If a wild animal attacks, you are allowed to protect yourself or other human beings with deadly force. If you do, you must leave the animal in place and report the incident. No matter how much you think of your pet as family, the law begs to differ and specifies that a "person" must be in imminent danger.
Baby Animals
The most common young wildlife removed from the wild by well-meaning humans are birds and bunnies, according to AZGFD.
Most often, the best way to help keep wildlife wild is to leave baby wildlife alone, the agency says. "Young wildlife is rarely abandoned so there is often little reason to 'rescue it.' One or both of its parents is likely nearby searching for food and will return," agency officials say.
AZGFD's advice on birds: "Young birds that have fallen from the nest can be placed back in the nest or as close as possible. Baby birds that are partially flighted should be left alone or moved nearby out of harm's way." Rescued animals have "a greatly reduced chance of survival when and if they are released back into the wild."
Stray cats, sometimes considered feral, are common near residential areas. If you see kittens in the wild, officials at rescue centers ask that you leave them alone. Mom is likely to return.
---
This article was first published in 2017. It was updated in 2018 to reflect recent news. Portions of the article were published previously on Anthem News.