Bear Caught in Anthem is Euthanized: 'Public Safety Concern'
A juvenile black bear that wandered into Anthem last night, a possible refugee of the statewide drought, was captured this morning and later euthanized, the Arizona Game and Fish Department said this afternoon. The bear had become a potential public threat on his second trip into a residential area after being relocated.
The bear was caught 10 days ago in Prescott, ear-tagged and then relocated to a remote area, Game & Fish spokesperson Tom Cadden told North Phoenix News.
"We estimated that bear travelled 40 miles" to Anthem, Cadden said. After tranquilizing the bear this morning and evaluating the situation, officials decided "there was just too much of a public safety concern … the bear might have hurt somebody," he said.
---
Also This Week
Game & Fish Defends Euthanizing 2 Bears
3rd Bear This Week Euthanized in Arizona
---
"Nobody likes having to euthanize an animal," Cadden said. "It's the last thing the department wants to do." Bears that get used to being around humans—including repeat residential-visit offenders—can pose a significant threat, the agency says. And relocation, while done often, can leave a young bear unable to survive in a new environment, where he must compete with bears that already live there.
The bear, a young male, was spotted Sunday night in Anthem Country Club and again this morning in Anthem's Parkside section by multiple residents. Parkside resident Mia Kruk saw the bear at around 8:20 this morning in front of her house near Gavilan Peak Parkway and Navigation Trail (just east of the I-17 interchange at Anthem Way). She thought at first it was a dog, but her video shows it to be a bear trotting along.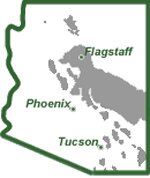 While bears don't normally range anywhere near Phoenix, lack of food and water caused by the extreme drought may have motivated this one to enter residential areas, Cadden said. Also, young males "are the ones that typically get into trouble, because they get pushed out of their den and look for new territory," he explained.
Bears have been known to wander into the greater metro area, particularly during times of drought conditions, Cadden said, adding that there could be a heightened risk of other wildlife encroaching on suburban areas, due to the drought.
Game & Fish asks residents not to feed or provide water to wildlife, which habituates the animals to people and increases the risk of encounters. Among the things that attract bears: household garbage, birdseed, pet food and fruit trees.
Black bears are the only bear species in the Arizona. They are often brown or cinnamon colored. They are typically solitary, shy and secretive, according to the Game & Fish website. Their normal habitat does not include the Phoenix area. But they are known to roam a hundred miles in search of food, which "sometimes leads them to appear in uncharacteristic habitats," the agency says.
Subscribe & Know Stuff!
North Phoenix Newsletter
Anthem Newsletter
---