3rd Bear This Week Euthanized in Arizona
For 15 years, In&Out Magazine has been the definitive source of "Everything that's going on" in and out of the community. We thank you, our readers, as well as the businesses that support the magazine through advertising, for that opportunity. But with little going on, and many businesses suspending or canceling their ads during the Covid-19 crisis, we are suspending publication of the magazine and web sites for the month of May. 
---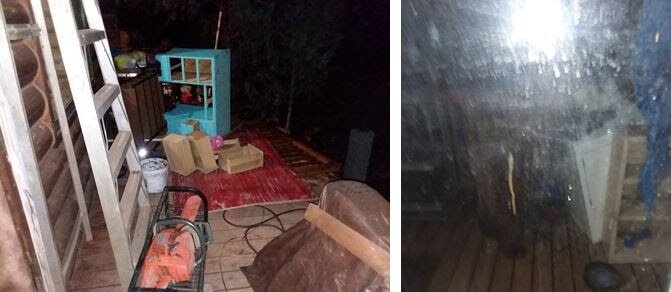 After the euthanization earlier this week of a young male bear that wandered around front yards in Anthem and an adult female with cubs that found food left out by a resident near Pinetop, a third bear in the state has been put down. This one tried to break into a Payson home three times, state Game & Fish officials announced today.
The state's severe drought has bears encroaching on residential areas around the state, officials said.
"I looked out the front door, and the bear and I were face-to-face," said Joseph Stapp, according to an Arizona Game and Fish Department account. "He was pushing on the door, and I was pushing back."
Stapp called 9-1-1.
The bear, an adult male, damaged Stapp's front and back porches. It had gotten into a garbage can containing dog food more than once earlier in the week, so Stapp had brought the can inside the house, according to the account.
"The bear also attempted to enter two more times," said Game & Fish spokesperson
Amy Burnett. Wildlife officers from AZGFD trapped the bear at the property, and according to policy euthanized it "because of the bear's aggressive behavior and lack of fear toward humans."
"The bear was captured in a live trap in the early morning hours on Thursday (today) and euthanized midday today," Burnett said.
"This season's extremely dry conditions are making it difficult for bears to find natural food and water sources, increasing the chances of bears coming into neighborhoods," said Game & Fish Wildlife Manager Jarrod McFarlin. "Bears can become habituated to human-related food sources and quickly lose their fear of humans. People living in bear country should do their part to keep wildlife safe by removing attractants such as bird seed, pet food, hummingbird feeders, and trash from their yards, and by keeping all trash inside a secured area until collection day."
For more on Game & Fish's approach to potentially dangerous bears, see this story from earlier today.
This article was updated Thursday evening with additional detail.