A Brief History of Grocery Stores
For 15 years, In&Out Magazine has been the definitive source of "Everything that's going on" in and out of the community. We thank you, our readers, as well as the businesses that support the magazine through advertising, for that opportunity. But with little going on, and many businesses suspending or canceling their ads during the Covid-19 crisis, we are suspending publication of the magazine and web sites for the month of May. 
---

I'm not ashamed to admit the fact that I used to shop at Costco on Saturdays, just so I could feed my kids for free. I must have rung up over 300 free lunches out of that place. I still love going to Costco.
In fact, I actually love to shop. I like to think my desire is rooted in the hunter-gatherer instinct in all of us. I'm good at rationalizing my foibles.
It would be great if there was a Trader Joe's or a Whole Foods or something like that nearby. I would definitely frequent either, and buy more exotic cheese, funny looking fruit, and overseas tea biscuits than a normal human should consume. Shopping at a specialty store is more than a necessity, it's an experience.
If you look at the history of grocery shopping (at least through my warped lens), you'd find it started in the Stone Age when picking up the wrong product could mean death, or at least a very swollen tongue.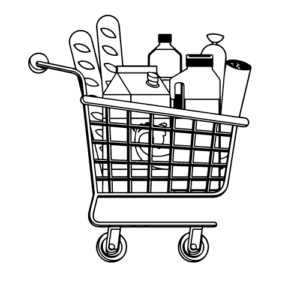 As humans evolved, we started learning the basics of growing our own veggies and domesticating animals. Ug grew the best squash and Og raised the tastiest chickens, so neighbors would trade them beads and shells for their prehistoric provisions.
Next thing you knew, we had a Super Fry's, or whatever they call those giant supermarkets that require endurance-athlete fitness levels to reach the milk in the far back corner.
The specialty store came about when brave traders (probably named Joe) sailed the Seven Seas, bringing back herbs and spices and instant falafel mix. Families trekked hours to visit the seaports where Joe and his buddies docked, just to taste these rare and delicious foods. Joe must have gotten a smokin' deal on shirts when he traveled to Hawaii because he started making his whole crew wear them.
Then came the internet, and Jeff Bezos bought Whole Foods. But I digress… I think it's time for a Costco run.