Javelina: Facts, Habits and Dangers
For 15 years, In&Out Magazine has been the definitive source of "Everything that's going on" in and out of the community. We thank you, our readers, as well as the businesses that support the magazine through advertising, for that opportunity. But with little going on, and many businesses suspending or canceling their ads during the Covid-19 crisis, we are suspending publication of the magazine and web sites for the month of May. 
---
Javelina are not pigs. They're part of the peccary family of hoofed animals and originated in South America. Their Spanish name comes from the male's sharp tusks, which resemble javelins. It's thought javelina migrated to Arizona relatively recently — their bones are not found in the archaeological sites of early human settlers. They're common in the washes near homes in North Phoenix and in wildlands elsewhere in Arizona, as far north as Flagstaff.
Javelina can be a nuisance, and occasionally a danger, but rarely do they present significant risk, according to Arizona Game & Fish. [More on the dangers below]
Javelina Facts & Habits
Javelina (Tayassu tajacu) have a surprising ability to eat cacti, despite the thorns. They also munch on succulents, flowers, fruit or nuts dropped by just about any tree or plant, and even bird seed. They're known to go through garbage. When it's hot, they tend to feed only at night. In cooler weather, they may feed in the evening and morning.
Size: 19 inches tall; 40-60 pounds
Color: Brown, gray and peppery black
Toes: 3 (pigs have 4)
Teeth: 38 (pigs have 34 or 44)
These Arizona peccaries roam in herds of two to 20 or more — though typically 10 or fewer — and they like cover provided by trees and other vegetation in washes.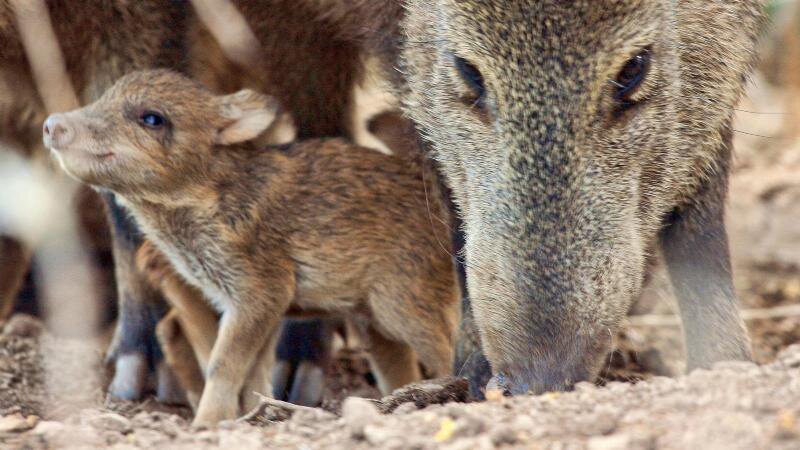 Javelina Dangers
Like many wild animals, javelina may act defensively if cornered, especially to protect their young (which can be born any time of year). These creatures have a keen sense of smell but poor eyesight, so when they appear to be charging, they might actually be trying to escape, according to Game & Fish.
"Javelina occasionally bite humans, but incidents of bites are almost always associated with people providing the javelina with food," according to Game & Fish.
There are scattered reports of attacks and even bites, however:
A woman walking her dog in the Tucson area in May 2017 was

attacked by a javelina

and suffered two, 2-inch gashes on her knee. It was the second attack in the area in two months.

After a Fountain Hills woman was

attacked in 2016

, wildlife officials said her neighbors had been illegally feeding the javelina.

A man walking his dogs in Anthem described being

chased by three javelina

before a woman intervened, putting her car between the man and the beasts.
What to Do in a Javelina Face-Off
Game & Fish offers this advice if you find yourself face-to-face with one:
"Scare off animals by making loud noises (bang pots, yell, stomp on the floor, etc.); throwing small rocks in their direction; or spraying with vinegar, water from a garden hose, or large squirt gun filled with diluted household ammonia (1 part ammonia, and 9 parts water)." Be careful with the ammonia though; try not to get it in their eyes, where it can cause damage.
Javelina tend to fear dogs, perhaps because coyotes are their natural predators. If you see one while walking your dog, head in a different direction — both animals could get hurt. Badly.
If a javelina is trapped or behaving dangerously and won't leave, call Game & Fish at 623-236-7201.
---
SOURCES: Arizona Game & Fish; National Park Service