Project to Widen I-17 North of Anthem Gets Full Funding
For 15 years, In&Out Magazine has been the definitive source of "Everything that's going on" in and out of the community. We thank you, our readers, as well as the businesses that support the magazine through advertising, for that opportunity. But with little going on, and many businesses suspending or canceling their ads during the Covid-19 crisis, we are suspending publication of the magazine and web sites for the month of May. 
---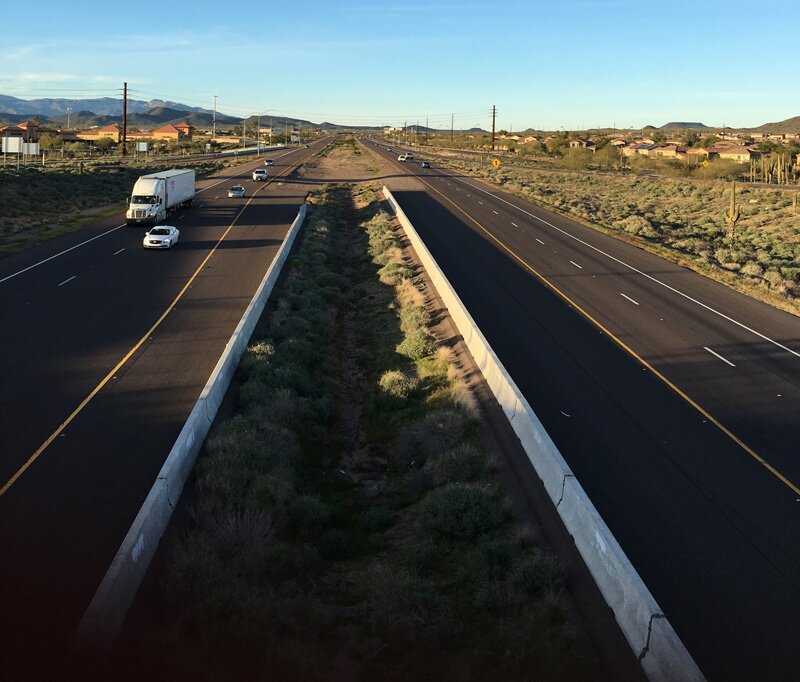 Arizona's 2020 budget, approved last month, provides $130 million to build a third lane in each direction of Interstate 17 between Anthem and Black Canyon City, a project that was announced previously and is already in the planning stages.
A portion of the project—a third southbound lane for 7 miles from Black Canyon City southward—had already been funded in a $190 million package that will also allow construction of "flex lanes" between Black Canyon City and Sunset Point. The two flex lanes, explained previously, would be blocked at one end or the other, allowing traffic to flow in one direction only during heavy travel periods. For example, the flex lanes could carry northbound traffic on Friday afternoons and southbound traffic on Sundays, essentially boosting I-17 to a four-lane freeway when it's needed most.
"This increased capacity will enhance safety and help address traffic-flow challenges and backups that occur due to crashes and when many drivers are traveling to or from Arizona's high country on summer weekends," ADOT said in a statement.
Construction will start in 2020 on the third southbound lane between Black Canyon City and Anthem, ADOT said back in October. All these projects are slated for completion by 2023.
The Maricopa Association of Governments is kicking in $50 million in regional funds to help fund the widening from Black Canyon City to Anthem, ADOT said.
The agency's longer-term goal is to widen I-17 to three lanes all the way to Flagstaff. But that project, only a vision for now, would require separate approval and funding.