Cool Rain Yields to Hot Weekend Ahead

Brief storms this morning brought "heavy rains and yes, small hail" to parts of the North Valley, according to the National Weather Service. Snow fell in Flagstaff and elsewhere in the high country.
But the showers last night and this morning will do little to curb the 21-year statewide drought, adding fractions of inches of precipitation to very low totals.
This storm deposited less than a tenth of an inch in official rain gauges around Anthem and New River, while trace amounts or none fell in the Tramonto, Sonoran Foothills and Norterra areas, according to the latest data from the Maricopa County Flood Control District.
Normal rainfall for North Phoenix (measured at Deer Valley Airport) for Nov. 1 through today is about 6.3 inches. The total this year since Nov. 1 is about 1 inch. The story is similar throughout North Phoenix and the rest of the Valley.
The weather will change today and tomorrow, with clear skies and highs in the mid- to high-90s by the weekend.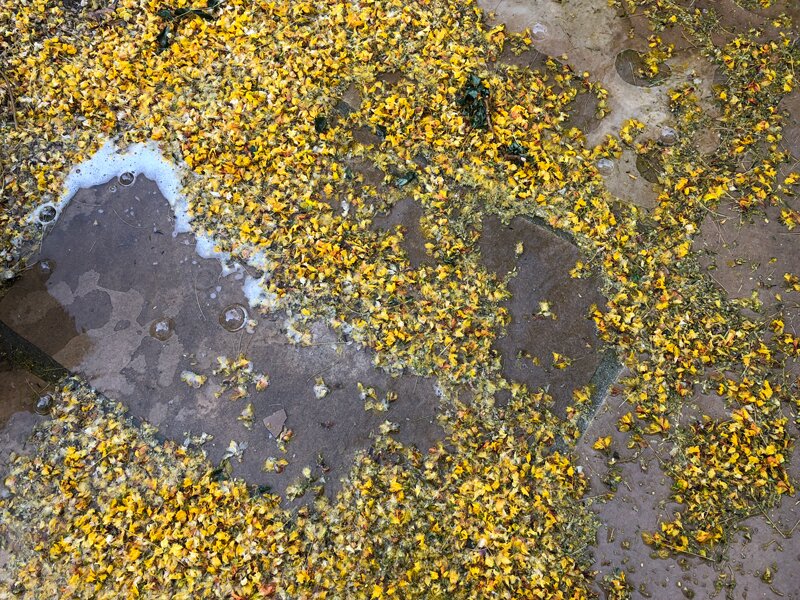 Palo verde blossoms swirled in a backyard puddle.
---
ADVERTISEMENT
Here's a sneak peek at some of the homes we have "coming soon" in this incredibly tight market:
Pool with Swim-up Snack Bar!
Upgraded Majesty model on cul-de-sac with lovely landscaping.
W St. Exupery Court, Anthem Parkside
4 BEDS + CASITA | 3.5 BATHS | 2-CAR GARAGE | 2,915 SQFT | $455,000
Upgraded Patio Home!
Master on 1st floor, premier end-lot overlooking green space! Close to school, park, shopping.
W Murfield Court, Anthem Paseo
4 BEDS | 2.5 BATHS | 2-CAR GARAGE | 1,772 SQFT | $269,000
NEW POOL and Sweeping Views!
End of quiet cul-de-sac, backyard faces east at Anthem's edge.
N Long Landing Court, Anthem Country Club
4 BEDS + CASITA | 4.5 BATHS | 2-CAR GARAGE | 3,556 SQFT | $590,000
Stunning Backyard + RV Parking! 
Spacious Wonder model on east-facing view lot with 3-car garage and paved RV Parking.
N 50th Drive, Arroyo Grande 
4 BEDS + Office + Teen Room + "Attic" | 3.5 BATHS | 3-CAR GARAGE | 4,009 SQFT | $549,000
Call or Text 623-297-2557 to Learn More