From Average Joe to Muscleman Mike in 4 Years
For 15 years, In&Out Magazine has been the definitive source of "Everything that's going on" in and out of the community. We thank you, our readers, as well as the businesses that support the magazine through advertising, for that opportunity. But with little going on, and many businesses suspending or canceling their ads during the Covid-19 crisis, we are suspending publication of the magazine and web sites for the month of May.
---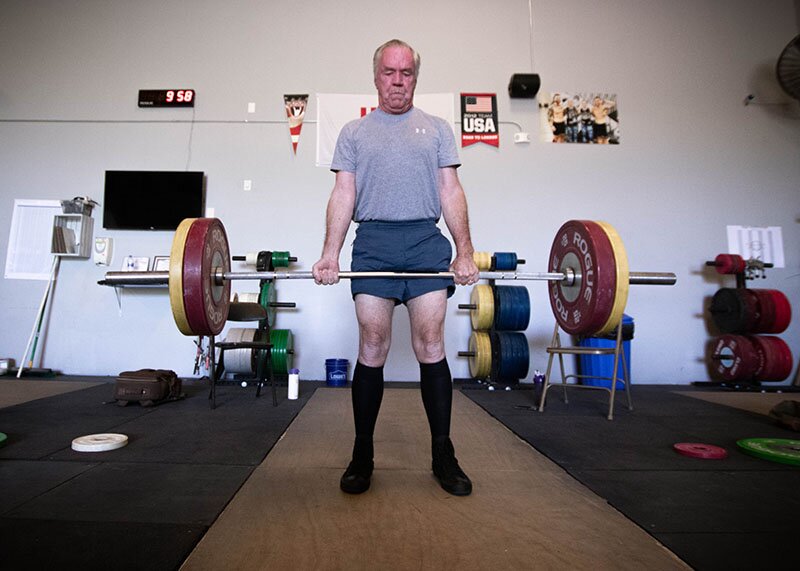 Mike Harrington never bought any Charles Atlas products from the back pages of a comic book, but he thought about it. In high school, Harrington was a 5-foot-8, 132 pounder. He didn't play any sports, other than golf. "I never competed in anything in my life," he says.
When he retired and moved to Anthem in 2007 from the Chicago area, he wasn't any taller, but he was 50 pounds heavier. It was time to get back in shape, he decided. At 69, he hired a personal trainer at the Anthem Community Center, with a goal of improving his golf game. He worked at it for several years.
"I didn't get any better at golf, but it got me into the gym," he said in an interview with In&Out. "It's changed my life."
The Anthem resident turns 81 Oct. 3. He recently set what he believes to be a world record for planking by the 80-plus set: 10 minutes. The closest claim he's found is another octogenarian on YouTube who flamed out at 8 minutes. (If you've never planked, no matter your age, just try to do 1 minute horizontal on your toes and elbows.)
Meanwhile, Harrington is still fuming about losing his Arizona age-group records in powerlifting to an 84-year-old upstart from Sedona, in USA Powerflifting's Southwest regional competition in August. Harrington won the state championship in April (he was unopposed, he admits—nationwide, there are only a half-dozen powerlifters in his age group). Before his August loss, he had held state records of 132 pounds in the squat, 116 in bench press, and 237 in the deadlift.
He promised his newfound nemesis he'll be back. "When I grow up, I told him, when I'm 84, I'm going to beat you."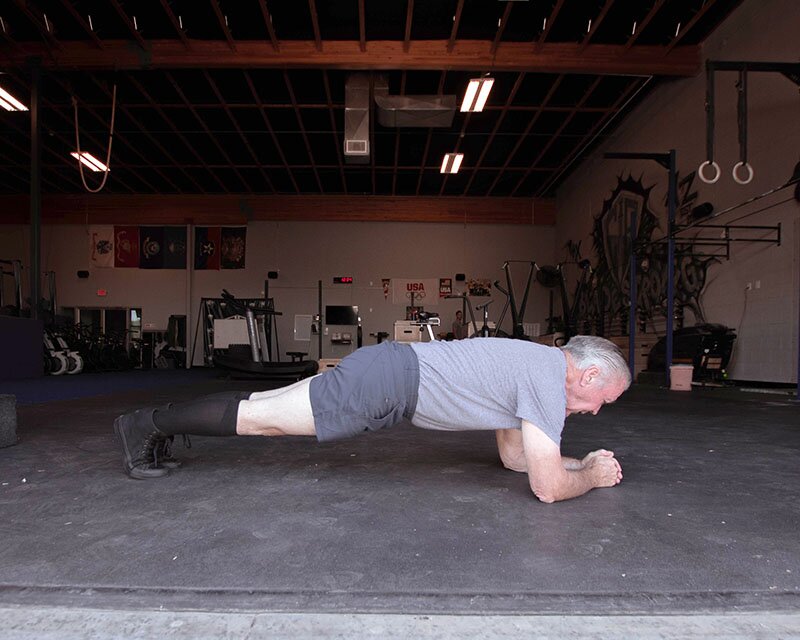 The Path to Power
Here's how he went from an average Joe to a muscleman Mike.
One day, while gambling in Laughlin, Nev., "I ran out of money, and I was looking for something to do," he said. He saw a sign for a powerlifting competition at Harrah's, so he headed over. Nobody his age—77 at the time—was competing, but there were some guys in their 60s, "and I thought, shoot, I can do this."
Four years ago this month, he hooked up with Chris Treanor, co-owner of Crossfit Blade on Happy Valley Road. Treanor helped him develop a workout regime geared for powerlifting, and had him cut back on milk, desserts and other sources of sugar, and add protein to fuel his building muscles. Over time, Harrington got stronger while dropping 20 pounds to his current weight of 162.
On Jan. 1 this year, Harrington set his sights on planking, something he'd never done before. Planks are known for working the entire body, and especially core back and abdominal muscles.
"The first day I did 34 seconds," he said.
He practiced five days a week for two months, getting his time up to a 6-minute continuous plank. Then with the help of his trainer, he cut back to three days a week and started doing sets of varying time, like 6 minutes, then 5, then 4, down to 1, with a 1-minute rest between each repetition. In July—with plenty of groaning—he hit the 10-minute mark.
Get a Goal
Harrington says it's not the exercise or particular sport that matters so much as having a goal, perhaps choosing an activity you've never done before. He acknowledges he won't shoot in the 70s in golf again, like he did as a teenager, but he knows he can do an even longer plank. He's waiting on the folks at Guinness World Records to get back to him on whether a category for his age exists.
"If there's a record, I'll break it," he said. "If there's no record, I'll set one—aim for 11 or 12 minutes, maybe 13."
Harrington offers this advice to any senior who thinks it's too late to start exercising, or who fears working out will be too hard during their remaining years: "How do you want to spend that time? Do you want to be able to get up off the couch, or do you want to get up and fall down? It's the quality of life. If you want a sedentary life, you'll die sitting on the friggin' couch. I'd rather die in the mountains or out in the desert."
Or at the gym.
Related: Getting Physically Active: It's Never Too Late to Start