Anthem Dog Park Location Decided
For 15 years, In&Out Magazine has been the definitive source of "Everything that's going on" in and out of the community. We thank you, our readers, as well as the businesses that support the magazine through advertising, for that opportunity. But with little going on, and many businesses suspending or canceling their ads during the Covid-19 crisis, we are suspending publication of the magazine and web sites for the month of May.
---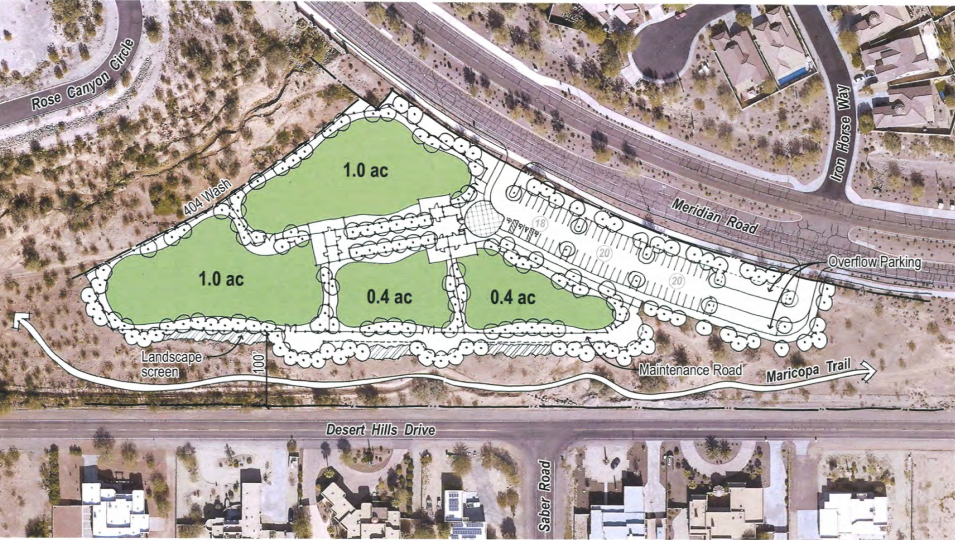 Anthem's long-awaited dog park will be located at Meridian Drive, east of St. Rose church and Merrill Gardens on the far east side of town. Anthem Community Council made the unanimous decision tonight after months of planning and evaluation, following years of urging by many residents and more than six years of ACC discussions.
The location was chosen in part because the site is much larger than the other option.
The alternative spot, at Parker Court, adjacent to the park-and-ride off Daisy Mountain Drive, was viewed favorably by some because it was not near any homes. But it offered just 1.7 acres of off-leash space, compared to 2.8 acres at the Meridian site. Also, the Parker Court site is hilly—rising about 35 feet to the peak of a small hill. And traffic in the area is already congested, residents pointed out.
Six dozen people, including residents of Anthem and Desert Hills, attended the ACC's monthly meeting. Several spoke for and against each site. The chief concerns regarding the Meridian site came from nearby residents in both communities, who worry about potential noise and lighting.
"We are extremely concerned about the residents nearby," said ACC Board member Rick Kesselman. "We'll address lighting, noise and other issues absolutely as best we can."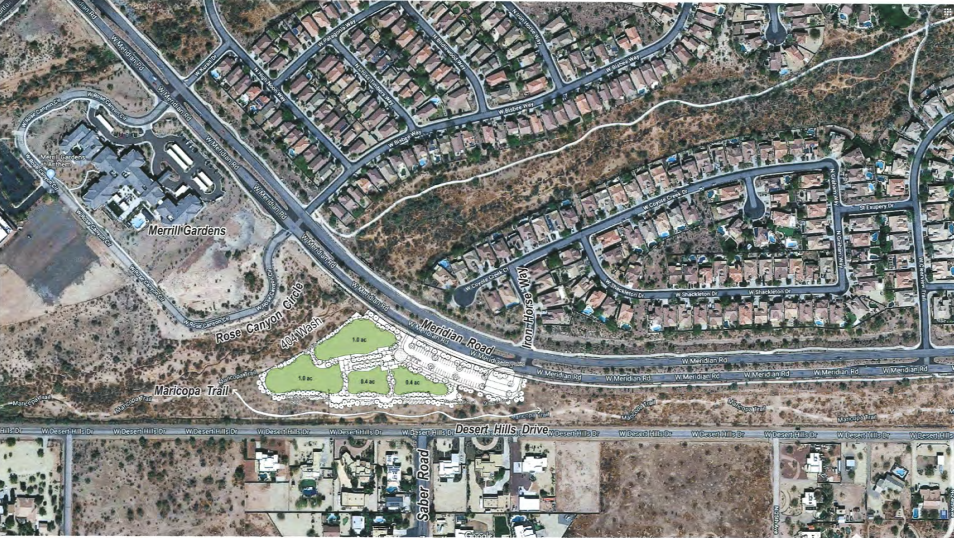 Project Outline
Preliminary plans call for four fenced grassy zones, so use can be rotated seasonally for turf regeneration, and so large and small dogs separated. The park will be lighted and gated with key-card access. Plans call for shade features, benches, water fountains, dog-waste bags and 58 parking spots. No restrooms are planned, but they could be added later, said Community Executive Officer Neal Shearer.
The Maricopa Trail will have to be adjusted, and the county has indicated it doesn't object to doing so, according to ACC staff documents.
The project, with a preliminary cost estimate around $1 million, is targeted to open in late 2019. The cost estimate is expected to go up as plans are finalized, given today's higher construction costs and other factors, Shearer said. The project will be paid out of the community's enhancement fund, fed by by a quarter-percent fee on home sales. That fund held $1.6 million on May 1 and is earmarked for new projects, not operating costs.
Detailed designs, rules, hours of operation, operating costs, and other operational issues are yet to be determined, Shearer said.
Safety & Sanitation
The park will be gated and available only to Anthem residents, who must fill out an annual registration form and provide proof their dog is registered with the county, Shearer said.
In social media, some residents have expressed concerns about sanitation.
"Dog owners will be responsible for picking up after their dog," Shearer told North Phoenix News. "Use privileges may be suspended for violators."
ACC is also considering enlisting volunteers to educate users. "Trash will be emptied on a regular basis to control odors," Shearer said. "Regular irrigation and turf maintenance will also help to keep the park clean and attractive."
Others worry about lawsuits against the community. "Dog parks are an attorney's dream," Anthem resident Justin Ross said on Facebook in advance of the meeting.
"Dog owners are responsible for their dog's actions," Shearer said. When registering, residents will acknowledge receipt of rules and the penalties for violators, he said, "and also sign a broad waiver and release of claims to protect the ACC from any and all damage claims."
Others have questioned whether a dog park is the right use of enhancement funds. But it's possible even those without dogs may benefit (concerns over noise and lighting notwithstanding). Dog parks are one of several community amenities, along with hiking trails and walkability, that can increase home values, according to the home-search site Trulia.
The project got the initial green light from the ACC in May 2017. Tonight's decision was about the location only. The dog park is part of the master plan for Anthem enhancements, which included Opportunity Way Park, the recent Community Center remodel, and this year's pickleball courts project.