City Studies 'Dangerous' North Phoenix Intersection
For 15 years, In&Out Magazine has been the definitive source of "Everything that's going on" in and out of the community. We thank you, our readers, as well as the businesses that support the magazine through advertising, for that opportunity. But with little going on, and many businesses suspending or canceling their ads during the Covid-19 crisis, we are suspending publication of the magazine and web sites for the month of May.
---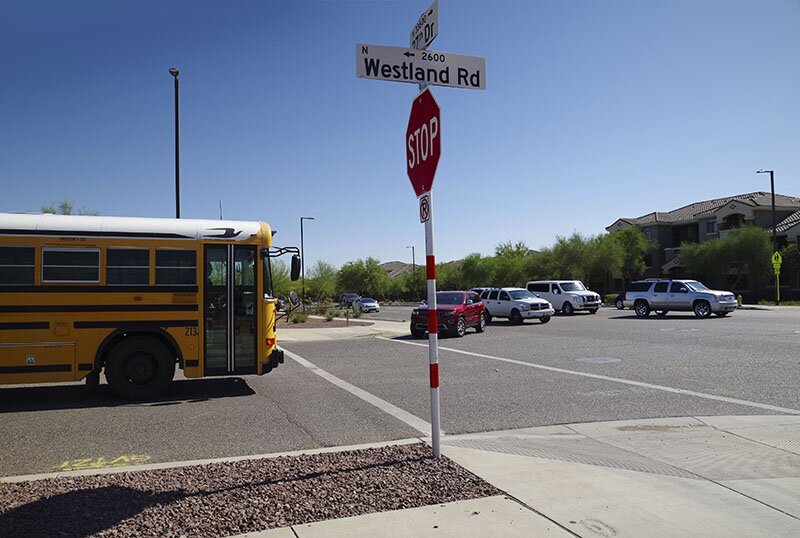 Anyone who has to cross the intersection of 27th Drive and Westland Road on a regular basis knows it can be particularly difficult to navigate without a traffic signal. So, when nearby residents complained, the City of Phoenix agreed to evaluate the possible need for a traffic signal.
Residents like Andrea Busse, who has lived in Carefree Crossing to the east for several years, have experienced increased traffic with the addition of the Fry's shopping center on Dove Valley Road and North Valley Christian Academy's newer campus along 27th Drive, near Westland Road.
Busse described the intersection as "dangerous at times" and "a safety concern," and said she would avoid it completely, if she could.
Pick-up and drop-off times last school year were particularly difficult, with parents trying to shuttle kids to both NVCA and nearby Ridgeline Academy off North Valley Parkway.
"There was a constant stream of cars exiting NVCA parking lot onto North Valley Parkway and immediately doing a U-turn, which made it difficult for residents to safely take a left turn out of the community," Busse told In&Out. "You have to be on high alert in this area during heightened traffic times as people make their own rules to get to where they need to be, especially in the mornings when they are in a hurry."
Results from the city's traffic study should be available this fall, said Ashley Patton, Phoenix Transportation spokesperson. Data from all studies such as this are typically gathered from the previous fall through spring "when schools are in session, as this represents the highest vehicular and pedestrian counts on our roadways," Patton said. The data is analyzed for "crash history, traffic volume, pedestrian volume, vehicle speeds, roadway width, nearby schools and proximity to adjacent traffic signals" to determine if a new signal is warranted, she said.
In the meantime, NVCA instituted staggered start times this school year as a safety measure and to help improve traffic flow.
"We have a safety officer and staff on campus that help direct our parking lot traffic during drop-off and pick-up times and make changes when we see a safety issue or develop a better idea to improve the traffic flow," said Chris Schoenleb, head of NVCA.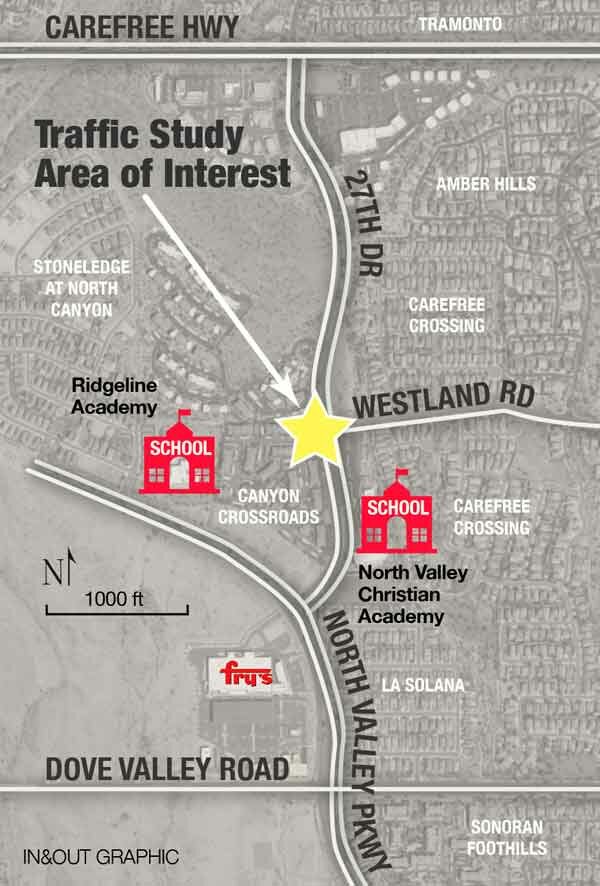 Report a Traffic Concern
Each year, the city receives about 40 to 50 requests for additional traffic signals, but Patton said typically the department finds only a few locations that justify the installation of a signal.
Residents can make a request for evaluation of an intersection at www.phoenix.gov/streets/contact-street-transportation/form, or at 602-262-4659.