Distance from Fireside at Norterra to Sky Harbor Airport
For 15 years, In&Out Magazine has been the definitive source of "Everything that's going on" in and out of the community. We thank you, our readers, as well as the businesses that support the magazine through advertising, for that opportunity. But with little going on, and many businesses suspending or canceling their ads during the Covid-19 crisis, we are suspending publication of the magazine and web sites for the month of May. 
---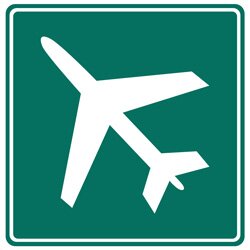 Fireside Norterra is a master-lanned community in North Phoenix that is just moment away from I-17. Most of Fireside neighborhoods are about 28 miles and typically 30 minutes from Sky Harbor Airport (PHX). Rush hour often adds perhaps 10 minutes to the trip.
Sky Harbor —the international airport serving the Phoenix metro area — is awesome. Just ask any local who flies a lot. Getting in and out is easy, parking is a breeze, and security lines are rarely nightmarish.
Most residents of Fireside [map], live about 2 miles from the interstate. When it's not bogged down, I-17 is easy going. There's often heavy traffic during the morning rush, as with any big city. But when I-17 gets nasty, the Loop 101 and State Route 51 offer a nifty alternative that's only about 4 miles longer.
Other Airports
Phoenix-Mesa Gateway Airport, is about 55 miles from Fireside at Norterra. Expect a 1-hour drive. The Mesa airport is tiny compared to Sky Harbor, but in recent years it's been adding commercial flights, and some find good deals on flights to certain destinations.
If you're a pilot or know one who visits you frequently, you'll love that Phoenix Deer Valley Airport is just 10 minutes from Fireside. It's extremely busy, but with mostly private airplanes, corporate planes and small jet taxi services.
Scottsdale Airport, about 20 miles and 28 minutes away, is popular with jet taxis and corporate planes.