Anthem Council to Evaluate Dog Park Location Proposals
For 15 years, In&Out Magazine has been the definitive source of "Everything that's going on" in and out of the community. We thank you, our readers, as well as the businesses that support the magazine through advertising, for that opportunity. But with little going on, and many businesses suspending or canceling their ads during the Covid-19 crisis, we are suspending publication of the magazine and web sites for the month of May. 
---
Anthem's dog park project is tentatively slated to start by early next year and open in late 2019. After multiple public discussions about it, Anthem Community Council plans to consider two proposed locations at its monthly meeting tonight, June 27. The board may choose to vote on the location, said Neal Shearer, the community's CEO. Other issues, including specifics about project scope, design and costs, would be considered in later meetings.
The proposed sites both involve vacant land:
Parker Court, adjacent to the park-and-ride off Daisy Mountain Drive

Meridian Drive, east of St. Rose church and Merrill Gardens.
Shearer's staff will present to the board conceptual sketches and pros and cons of each location. The board will "likely" decide on the site at this meeting, ACC said in its weekly email.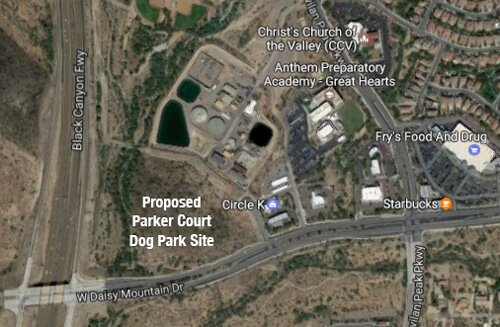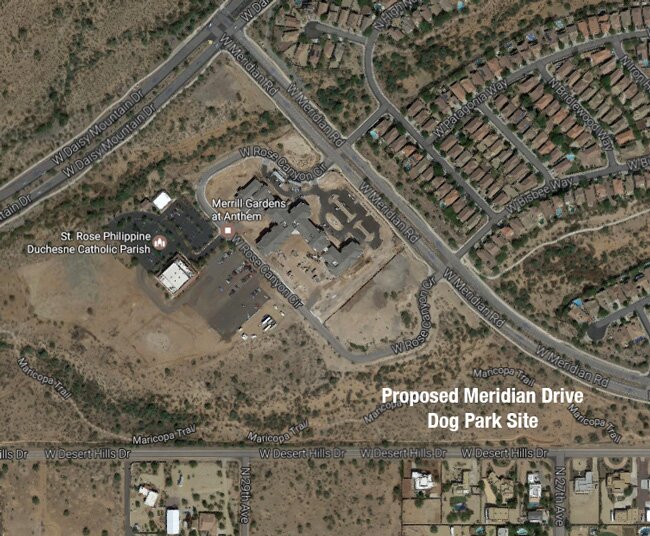 In past meetings, residents and council members have cited concerns about traffic around the Parker Court site, but noted its more central location. One potential downside to the Meridian Drive site is proximity to residential areas. (Letters explaining the proposed site were sent to homeowners in Anthem and Desert Hills within about 600 feet of the location, ACC says.)
Both locations are have been evaluated for soil conditions and other factors that could affect design and costs.
Preliminary plans calls for multiple off-leash, fenced grassy zones, so use can be rotated and large and small dogs can be separated. The park will be lighted, gated and likely accessible to Anthem residents only.
The project's earlier cost estimates, around $1 million, are expected to be revised upward given rising construction costs and other factors, Shearer said. "We know those numbers are likely to change," he said.
New Information
In researching the viability of the sites, ACC staff has uncovered new information, related to surrounding land and easements related to potential future developments, that forced a reduction in the size of the Parker Court site proposal to 1.7 acres of off-leash area and 25 parking spots. It would not support a restroom due to its distance to any sewer connection.
The Meridian Drive site would be 2.8 acres of off-leash area and 58 parking spaces. Though a restroom is not planned initially, one could be added. A section of the Maricopa Trail would have to be rerouted, and ACC says the county does not object to doing so.
Details going into the decision have been posted in the ACC meeting agenda, here.
The dog park construction will come on the heels of a pickleball court project, scheduled to start construction later this year and open by the end of the year. Both are to be paid for out of the enhancement fund, which is fed by a quarter-percent fee on home sales. That fund held $1.6 million on May 1.
Be Heard
ACC Board Meeting
6:30 p.m. Wednesday, June 27
Anthem Civic Building
3701 W. Anthem Way
This article, originally posted June 18, was updated June 27 to include additional details about the meeting and the proposed sites.