Brush Fire Closes I-17 Near Camp Verde
For 15 years, In&Out Magazine has been the definitive source of "Everything that's going on" in and out of the community. We thank you, our readers, as well as the businesses that support the magazine through advertising, for that opportunity. But with little going on, and many businesses suspending or canceling their ads during the Covid-19 crisis, we are suspending publication of the magazine and web sites for the month of May.
---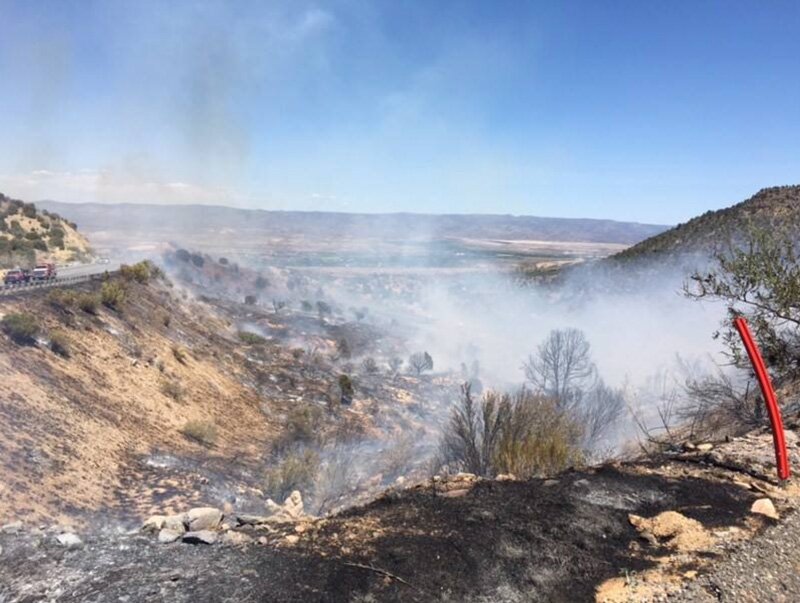 UPDATE JUNE 27: What was reported yesterday as two fires was actually "several small fires," the U.S. Forest Service said today. At least two of them merged into what became known as the Copper Fire. It was confined to the median of I-17 and burned about 106 acres. It was fully contained by late afternoon. "The human-caused fire is under investigation, but believed to have started from a vehicle," the forest service said in a statement. The article below remains as it was finalized last night:
---
UPDATED 7:48 p.m. — Two brush fires broke out early Tuesday afternoon, forcing the closure of I-17 in both directions near Camp Verde. The closures remained in place into the evening, but by about 7:45 p.m. one lane in each direction had re-opened, according ADOT.
Firefighters were working to contain the Pinto Fire and Copper Fire that were burning along I-17, south of Highway 260 at mile marker 283, according to the Arizona Department of Forestry and Fire Management. "The cause of both fires are under investigation. However, roadside fires can be caused by dragging chains or a carelessly tossed cigarette."
The fires had been just a few acres initially but by evening the Copper Fire had grown to about 107 acres, according to the Yavapai County Emergency Management agency.
"The highway is closed at milepost 284, south of Camp Verde," ADOT said at around 1:30 p.m.. "There is no estimated time to reopen the highway. Motorists should consider delaying travel or taking alternate routes to avoid the closure."
Alternative routes at the time were complex.
"Traffic is backed up on SR 89A near Jerome," ADOT said at about 3:20 p.m. "We do not recommend using this as an alternate route because of the switchbacks." Later, ADOT suggested: Southbound drivers may take SR 260 through Payson to SR 87. Northbound drivers, may use SR 169 through Prescott to SR 89 northbound to I-40 eastbound to reach Flagstaff."
See video of the fire on Facebook.