DVUSD Proposes School Boundary Changes
For 15 years, In&Out Magazine has been the definitive source of "Everything that's going on" in and out of the community. We thank you, our readers, as well as the businesses that support the magazine through advertising, for that opportunity. But with little going on, and many businesses suspending or canceling their ads during the Covid-19 crisis, we are suspending publication of the magazine and web sites for the month of May.
---
With its newest elementary school under construction in the Union Park at Norterra neighborhood near 19th Avenue and Happy Valley Road, Deer Valley Unified School District released new boundary possibilities for its elementary schools and high schools, aimed at balancing enrollment in the northern portion of the district.
Following input received through a recent parent survey, the first batch in a series of community meetings were held simultaneously at all five of the district's high schools Nov. 18, offering residents a look at the first draft of the proposed changes. Additional feedback will be sought before the changes are finalized.
"We're aging out south and exploding north and west," DVUSD Superintendent Curtis Finch told roughly two dozen parents at Boulder Creek High School during a presentation of potential boundary shifts. "Our goal is to get good feedback now so we can fix age-old problems and make good decisions on the boundaries."
Elementary schools are at 75 percent capacity districtwide, but some in North Phoenix—Norterra Canyon, Sonoran Foothills and Stetson Hills— are over capacity due to high, localized population growth. The new K-8 school in Union Park, projected to open in the fall of 2020, is expected to provide much-needed relief to overcrowding at Norterra Canyon and Sonoran Foothills schools.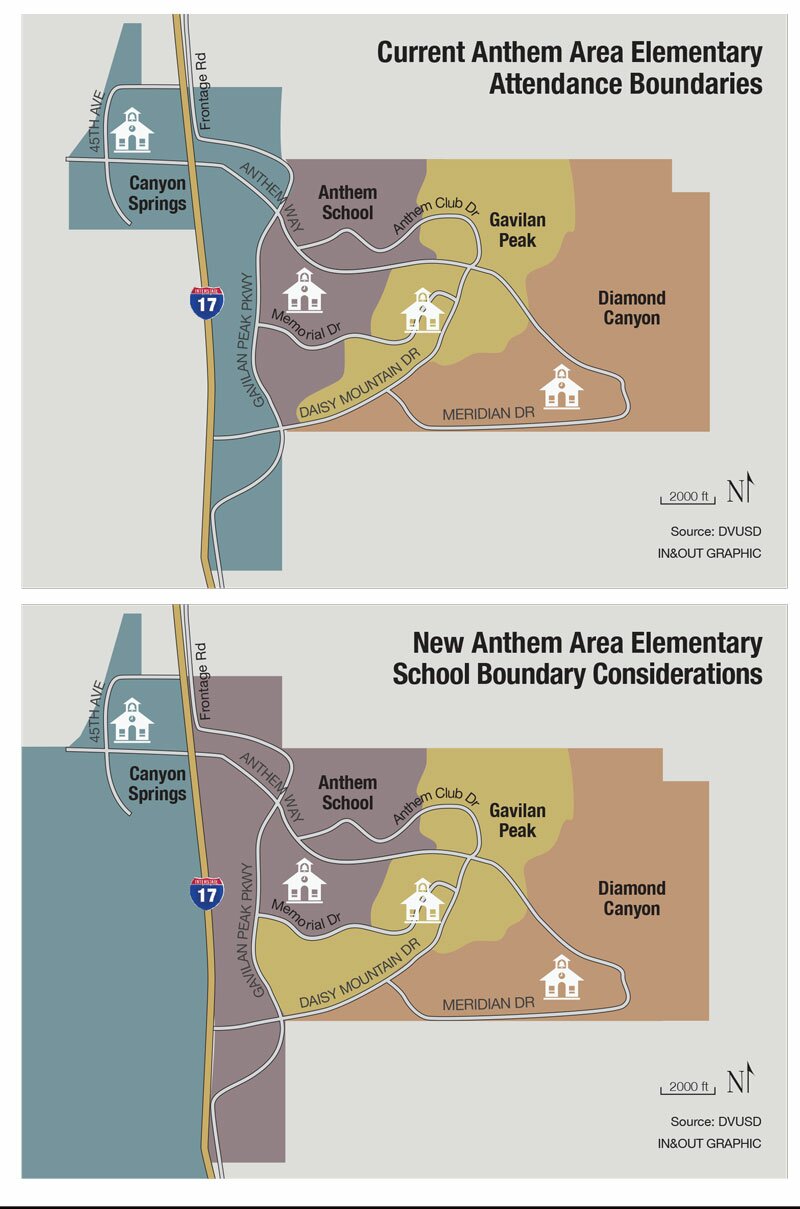 Anthem-area K-8 Changes
The proposed changes to the Anthem-area attendance boundaries would put some students at Canyon Springs STEM Academy, Gavilan Peak School and Anthem School in different schools, according to the presentation.
Canyon Springs' boundaries, which extend to the east side of I-17, would be redrawn to serve only students west of the interstate. Its southern boundary would extend west of I-17 to as far south as Dove Valley Road to allow for any future growth in this undeveloped area.
Anthem School is proposed to pick up areas formerly served by Canyon Springs on the east side of I-17 to Gavilan Peak Parkway and would see its current southern boundary decrease slightly. Gavilan Peak School would pick up a pocket previously served by Anthem School north of Daisy Mountain Drive to Memorial Drive.
There are no proposed changes to boundaries at Diamond Canyon, New River or Sunset Ridge schools.
North Phoenix K-8 Changes
Sonoran Foothills School would pick up a section of homes between Dove Valley Road and Carefree Highway east of North Valley Parkway. In exchange, it would likely shed an area west of 23rd Drive to I-17 that would be picked up by Norterra Canyon School.
Norterra Canyon would drop an area east of North Valley Parkway extending into the Sonoran Preserve, which would be picked up by the new school in Union Park.
Esperanza School is expected to decrease its attendance boundary to the north, shifting the area between Happy Valley and Jomax to the Union Park school.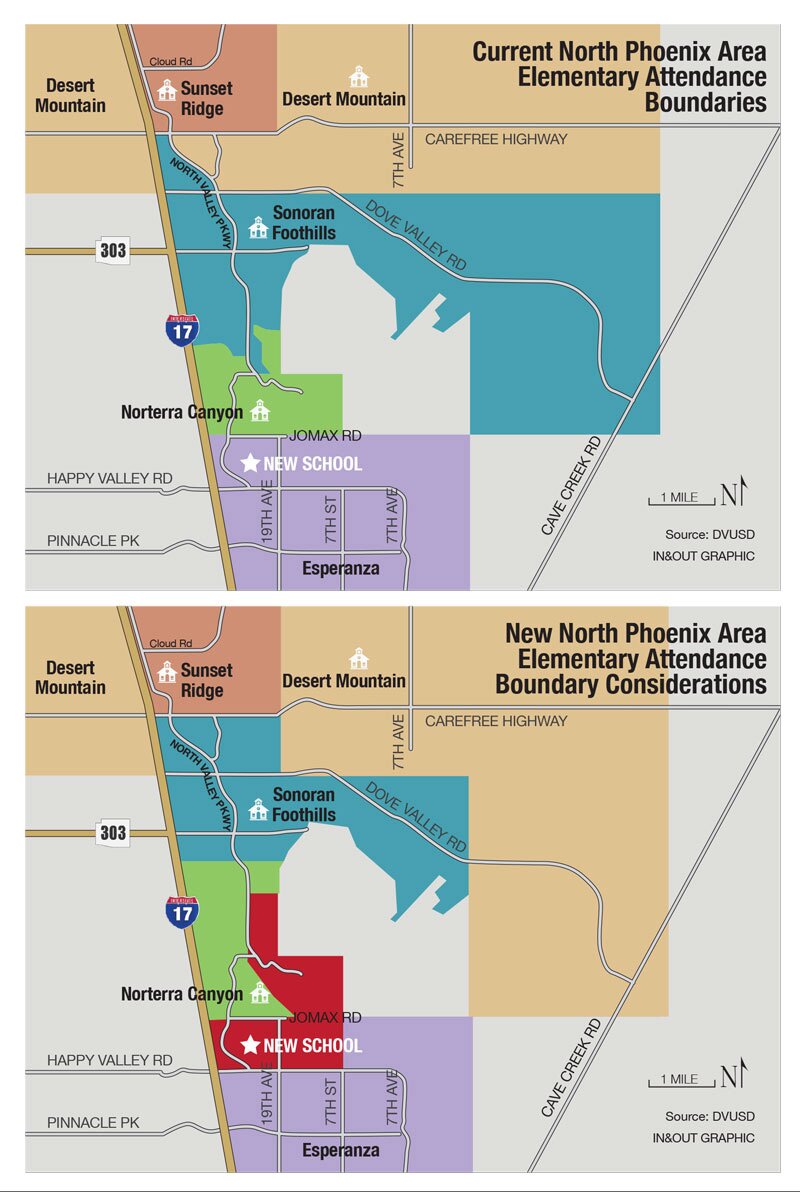 No Changes at BCHS & BGHS
Enrollment at DVUSD's five high schools stands at 89 percent of capacity overall. No changes are currently proposed for Boulder Creek and Barry Goldwater High Schools.
Boulder Creek, over capacity since 2018-19, is projected to drop to 90 percent capacity in 2021-22 and stay there for at least five years as Anthem ages out.

Barry Goldwater, consistently under capacity for several years, is projected to reach 90 percent by 2022-23, and possibly exceed capacity by 2024-25.

Sandra Day O'Connor, consistently at 90 percent or greater of capacity, may decrease its service area on the western portion of its boundaries.
High-school boundary adjustments where needed should help delay the need for an additional high school for another five years, Superintendent Curtis Finch told In&Out in January 2019.
Be Heard
Weigh in on the proposals by emailing .
Community Meetings
6–7 p.m., Monday, Dec. 9
Barry Goldwater High School
2820 W. Rose Garden Lane
Phoenix
6–7 p.m., Wednesday, Dec. 11
Boulder Creek High School
40404 N. Gavilan Peak Parkway
Anthem
6–7 p.m., Wednesday, Dec. 11
Sandra Day O'Connor High School
25250 N. 35th Ave., Phoenix
Other Important Dates
7 p.m., Tuesday, Dec. 10
Preview proposal at DVUSD School Board meeting
DVUSD Governing Board Room
20402 N. 15th Ave.
Phoenix, AZ 85027
7 p.m. Tuesday, Jan. 14
Formal DVUSD School Board Consideration of finalized boundaries.
---
DVUSD's Boundary Guiding Principles
What the officials are considering in recasting the boundaries:
Create "sustainable long-term plan" maximizing facility use

Keep neighborhoods together

Consider proximity for student safety

Consider transportation efficiencies
---
If You Don't Want to Move
Parents not wishing to move their students can try open enrollment. Those interested in applying to a school of choice for the 2020-2021 school year will receive priority consideration before Dec. 15, 2019. Visit www.dvusd.org/openenrollment.