Redrawing the Lines: DVUSD Boundary Talks Top Priority in 2019
For 15 years, In&Out Magazine has been the definitive source of "Everything that's going on" in and out of the community. We thank you, our readers, as well as the businesses that support the magazine through advertising, for that opportunity. But with little going on, and many businesses suspending or canceling their ads during the Covid-19 crisis, we are suspending publication of the magazine and web sites for the month of May. 
---
As the Deer Valley School District finalizes design plans on its newest elementary school to be built in Norterra's Union Park development, the process to redraw the district's boundaries is just beginning. 
Boundary changes have been on the district's radar for a while, as years of demographer's data point to uneven enrollment across elementary schools and high schools. 
When this school year begins, three DVUSD elementary schools―Norterra Canyon, Sonoran Foothills, and Stetson Hills are all projected to be operating over capacity, according to the district's 2018 demographer's report. Boulder Creek, Sandra Day O'Connor and Mountain Ridge high schools are all operating at 90 percent or greater capacity, while Barry Goldwater and Deer Valley high schools are both several hundred students shy of full.  
"The boundary discussions are intended to look at all areas that are projected to be over capacity or underutilized in the foreseeable future," not just schools nearest Union Park, Deputy Supt. Jim Migliorino told In&Out. The district will also look at balancing enrollment at all five of its high schools with boundary adjustments, he said.  
No High School?
Students from Union Park at Norterra currently attend Esperanza Elementary, Deer Valley Middle School and Barry Goldwater High School. When the new school was announced in January, many residents took to social media wondering why a new high school in the area wasn't part of the discussion. The district has a site for a future high school at I-17 and Jomax Road reserved with the State Land Department. But in January, Supt. Curtis Finch announced that there was no need for an additional high school yet. 
Projections show district-wide high school enrollment at less than 90 percent of capacity for the next five years and beyond. "With some boundary adjustments, we should be able to delay the need for another five years," Finch said.
The boundary process is in the early stages. In February, the DVUSD Governing Board decided on a set of guiding principles to help drive discussions and decision-making. Initial boundary guidelines are centered around creating a "sustainable long-term plan" that maximizes facility use now and in the future, a focus on keeping neighborhoods together, and the importance of proximity of neighborhoods to schools, according to the document.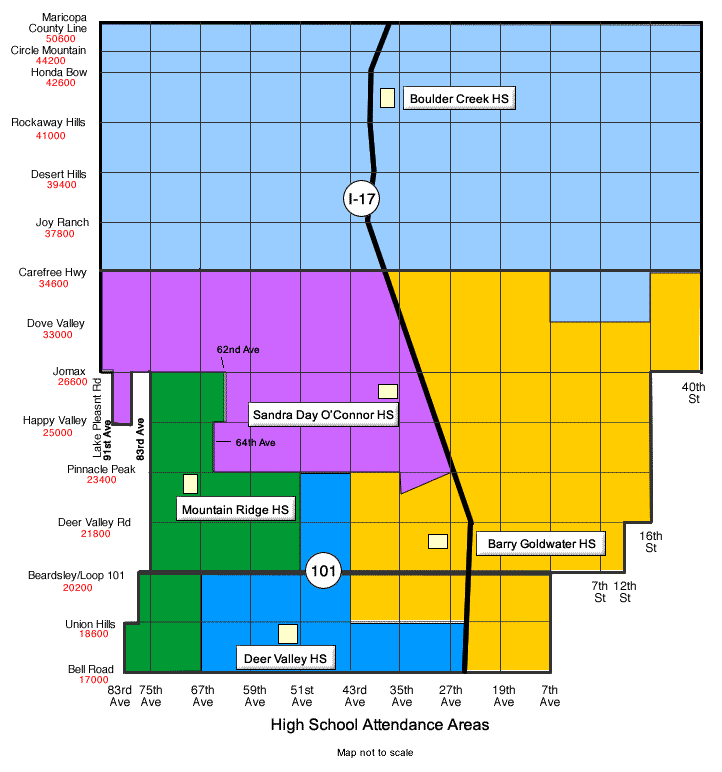 Public Input
District staff is working on a number of boundary options to present for public discussion and board consideration based on a review of enrollment data updated annually. The district has years of data pinpointing enrollment declines and growth trends, which will be updated with the new school year's figures, Migliorino said. "We are not expecting dramatic changes in some of the projections, since we have multiple years of data to trend already," he said.
After this school year starts, boundary discussions will ramp up again, Migliorino said. The district plans to gather parent and community input, through surveys, to help shape the guidelines. Once the best boundary options are developed another survey will go out to parents for additional input. The process will also involve a series of public meetings, followed by formal meetings with a final vote by the governing board. 
The goal is to finalize the boundary changes by February, Migliorino said.