Legality of New EPCOR Water Rates Questioned by Corporation Commissioner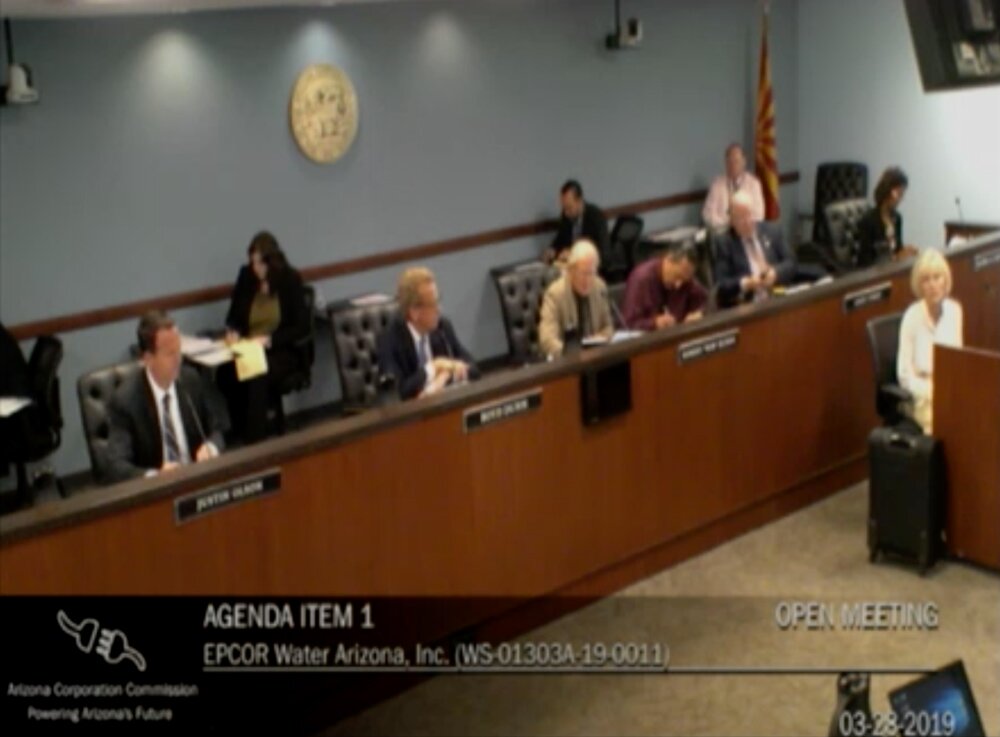 Editor's Note: The following press release, issued by one of the five members of the Arizona Corporation Commission, comes on the heels of the commission's recent 3-2 vote to approve interim water rates for EPCOR, the utility serving Anthem residents east of I-17 and 11 other districts across the state.
The interim rates were approved last month [Full Story] after a broader rate case, which was under consideration for more than a year, stalled out on a 2-2 tie vote (commissioner Sandra D. Kennedy recused herself). Representatives from Anthem Community Council have attended the many meetings on the cases and opposed what they called "unacceptable" increases. EPCOR is required to propose new rates as part of a new permanent rate case that won't be decided until mid-2020 at the earliest.
---
SUBSCRIBE & STAY INFORMED
Anthem Newsletter
---
ARIZONA CORPORATION COMMISSION — Arizona Corporation Commission Commissioner Andy Tobin issued a scathing dissent Tuesday of the Arizona Corporation Commission's approval of emergency rate increases for EPCOR Water Arizona.
On March 28, 2019, the Commission voted 3-2 to forego a normal rate-making process to instead approve an emergency interim rate increase in the amount of $8.66 million, which will increase average monthly bills for customers in EPCOR's Mohave, North Mohave, Anthem, and Sun City water districts by as much as 25 to 35 percent. The Commission entered its final order on April 16, 2019.
Chairman Bob Burns and Commissioners Boyd Dunn and Sandra Kennedy voted in favor of the increases.
Commissioner Justin Olson and Commissioner Andy Tobin rejected the proposal. Arizona's independent ratepayer advocate, the Residential Utility Consumer Office, also opposed the increase.
"The Commission decision was objectively a mistake and I am appalled by its unjust financial impact on hardworking Arizonans and the historically unprecedented process the Commission used to get it approved," said Commissioner Tobin in his letter of dissent. "Even the mayor of Bullhead City came to testify about the crisis this will cause and the city's consideration of condemnation of their own water provider, EPCOR."
"Over 20 percent of customers in Mohave, North Mohave, and Sun City have annual household incomes of less than $20 thousand," Tobin continued. "I agree with Commissioner Justin Olson that it will not matter to those customers that our Commission has deemed these increases as 'interim' rates."
A table showing a breakdown of the rate increases approved by Commissioners Burns, Dunn, and Kennedy is included below.
"The customers need to know what happened," said Commissioner Tobin. "We had possession of this decision for less than 30 days and it seemed the only voice that mattered to the Commission was the one coming from EPCOR, the utility."
Tobin's dissent includes over two-pages of bullet points outlining issues Commissioner Tobin had with the way the Commission handled the case. It also includes over five-and-a-half pages of history detailing events that Commissioner Tobin believes raise serious questions regarding the Commission's accommodation of the largest regulated water monopoly in Arizona.
"I have never seen the Commission as zealous as it was with EPCOR to prioritize the interests of one of Arizona's largest regulated monopolies over the 'rate shock' concerns of the public," he wrote.
Wholly owned by the City of Edmonton in Alberta, Canada, Commissioner Tobin noted that EPCOR had annual revenues of $107.98 million before the Commission's approval. "Now EPCOR will comfortably gross over $116 million per year, even after my reductions to corporate bonuses of over $600 thousand," added Tobin.
"What was the rush?" he asked. "Clearly the water company was never in financial distress."
"The Commission took over 18 months to stop raw sewage from spilling in Johnson Utilities' streets," said Tobin. "That was a true public health and safety emergency, yet it took us only 60 days to maneuver 11 water districts into a single rate increase for EPCOR."
"The Commission's handling of the case begs serious questions regarding the legality of the Commission's decision and nondiscretionary treatment of EPCOR's 133,000 water customers," he said. "I would not be surprised if the citizens joined together in a rate referendum in order to make their voices more clearly heard."
Commissioner Tobin noted that previous rate increases of as little as 4 percent have been enough to trigger calls for Commission review.
"While Commissioner Kennedy should be commended for supporting low-income provisions similar to those I included in the APS rate case, the substantial rate hikes will far outweigh any relief these low-income discounts will provide for ECPOR customers."