Residents Asked to Weigh in on Proposed EPCOR Rate Hike
For 15 years, In&Out Magazine has been the definitive source of "Everything that's going on" in and out of the community. We thank you, our readers, as well as the businesses that support the magazine through advertising, for that opportunity. But with little going on, and many businesses suspending or canceling their ads during the Covid-19 crisis, we are suspending publication of the magazine and web sites for the month of May.
---
UPDATED JULY 9, 2018: The water utility serving east-side Anthem residents will present its case to the Arizona Corporation Commission Tuesday, July 17, for consolidating its 11 statewide districts and raising revenue by $14 million per year over the next five years.
Anthem Community Council favors consolidation over the alternative plan, and is asking affected resident to weigh in directly with the Corporation Commission [see how below].
Anthem water rates have not changed in nine years, EPCOR says, while the utility's operational costs have risen and various systems need new capital investment. Consolidation would make the utility more efficient and spread the growing cost burden more equally among large and small districts, it says.
Two Proposals
Under consolidation, monthly rates for an Anthem customer with a three-quarter-inch line using 7,000 gallons per month would rise from $50.91 now to $78.10 in the first year, then fall in stages for five years to $42.22, EPCOR estimates.
Under the alternative—keeping districts separate—the Anthem rate for the same usage scenario would jump to $78.23 and stay there. These projections do not include wastewater charges or other surcharges.
Because of the federal corporate tax cuts, the request was recently revised downward from an initial $21.5 million annually, said EPCOR spokesperson Rebecca Stenholm.
The following chart represents the revised proposal: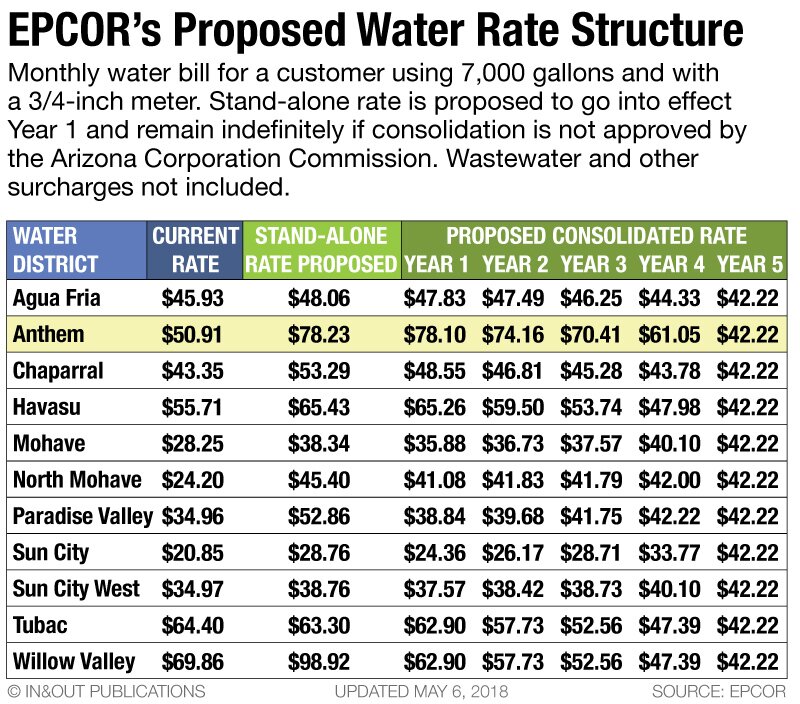 "We are very much in favor of consolidation," said Roger Willis, Anthem Community Council president. Council recommends residents submit a public comment with a preference for consolidation to the Corporation Commission prior to the meeting.
"It is imperative that… commissioners hear directly from residents about how you feel about this case," council said in a statement.
According to Anthem Community Council, the Corporation Commission will hear the case in a public hearing starting at 9 a.m. on July 17.
Be Heard
Residents can submit comments by visiting www.azcc.gov. Click on "I want to" and "submit a public comment." Refer to Docket No. WS-01303A-17-0257. Or mail comments to:
Arizona Corporation Commission
Consumer Services Section
1200 West Washington
Phoenix, AZ 85007
---
More Details
Editor's Note: The following detail was provided in a previous article about the rate case and is republished here, edited slightly to account for the revisions discussed above.
Anthem is not the only EPCOR district with a lot at stake. Customers in Sun City would see rates more than double over the five-year period under the consolidation proposal. In all, EPCOR is looking to generate an additional $14 million per year over the next five years — for a total of $70 million — to deal with increased operating costs and capital expenditures.
"Anthem customers will benefit from consolidation," EPCOR spokesperson Rebecca Stenholm said in a phone interview.
That's true in relation to the proposed cost increases for other districts, and it's true in the long run (from the fifth year onward). But the consolidation proposal would mean an additional costs for Anthem customers during the five-year phase-in period.
EPCOR's proposal also seeks a surcharge known as a System Improvement Benefit (SIB) that would help cover expected future costs of replacing pipelines, valves, meters and hydrants. The request is for a 45-cent monthly charge per customer in the first year, to rise incrementally in subsequent years. The idea, EPCOR says, it to avoid more significant, sudden rate hikes down the road.
Water vs. Wastewater Consolidation
The proposal is separate from EPCOR's consolidation of five wastewater districts, a plan that was approved by the Corporation Commission in June 2017. In that merging of wastewater service areas, the utility said the average Anthem customer's wastewater portion of the bill would drop by about 35 percent.
The new water-district consolidation proposal was requested by the state's Corporation Commission. The Corporation Commission will hear the case in May 2018 and will ultimately determine whether EPCOR should consolidate water districts or continue operating them independently, and what the rates will be. If settled on the expected timeline, the new rates could go into effect in late 2018.
"The rates that are proposed are not final," Stenholm said.
Rate Logic
Anthem water rates have not changed in nine years based on an analysis of 2008 rates, Stenholm said, and other EPCOR districts' last rate changes range from four to 22 years ago.
The proposed rate structure would have all Arizona EPCOR customers paying the same rate for water after five years, even though true costs of serving customers in each district vary widely. Stenholm explained: A smaller district, like Willow Valley, is very expensive to operate on a per-customer basis, given that it has many of the same infrastructure costs as a larger district.
Under this logic, Anthem's 9,000 customers would benefit in the proposal compared to the 30,000 customers in Sun City.
Costs Behind the Proposal
The proposed rates are based on increasing operating costs, including increased maintenance costs on aging equipment and things as diverse as higher electricity prices and the rising cost of chemicals used to treat water.
Also considered is what EPCOR says are $150 million in capital expenditures made in recent years to water facilities across the 11 districts, costs that have not been recovered from ratepayers, as well as $430 million in capital expenditures it expects over the next 10 years (including $20 million for Anthem). These infrastructure costs are atop normal operating expenses and, Stenholm explained, akin to the major repairs needed on an aging car.
A relatively new facility, like the one in Anthem, might just need "an oil change, new tires and some belts" in the early years, she said, but eventually it'll need a new transmission, then at some point it's time for a new car.
"Economies of scale are an important factor in consolidation," Stenholm said. "We're providing the same service across all those districts."
EPCOR's proposal also asks for approval to provide assistance programs for low-income residents and disabled veterans.
---