Flu Lingers Unusually Long into Arizona Summer
For 15 years, In&Out Magazine has been the definitive source of "Everything that's going on" in and out of the community. We thank you, our readers, as well as the businesses that support the magazine through advertising, for that opportunity. But with little going on, and many businesses suspending or canceling their ads during the Covid-19 crisis, we are suspending publication of the magazine and web sites for the month of May.
---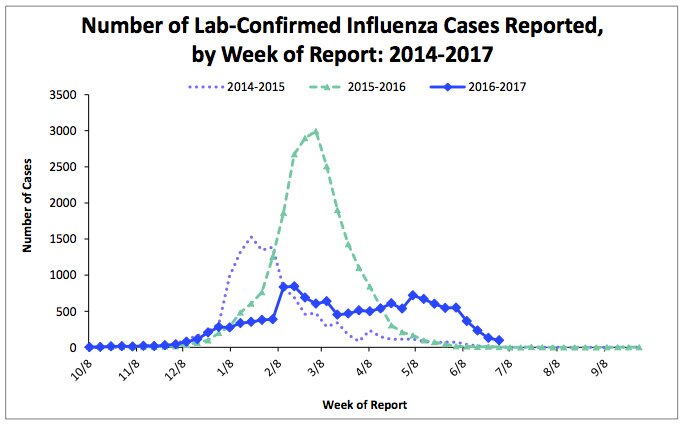 While not sounding any alarms, Arizona's top health official said today that influenza lingered into June this year more than usual. The season officially runs October through May.
"In June, we typically see around 200 laboratory confirmed influenza cases," Dr. Cara Christ, director of the Arizona Department of Health Services, said in a statement. "This year there were nearly 1,300 confirmed influenza cases in June."
The total number of flu cases in Arizona so far this season is 13,696, according to the U.S. Centers for Disease Control and Prevention (CDC). Last season there were 23,632 cases. The average over the past five seasons is 12,642.
The state health department does not have an explanation for the higher number of summertime flu cases, but Christ did offer this advice:
"The number one way to protect yourself and your family from influenza is by receiving the annual influenza vaccine," she said. "The CDC recommends that everyone older than six months, especially those at high risk of developing influenza-related complications, receive an influenza vaccine every year as soon as it's available."
The number of cases did drop notably during June (see graph above) and was down to 98 in the most recent week of reporting, which ended July 1.
Each year the flu vaccine is reworked to reflect whatever strains of the virus are circulating. "The composition of the 2017–2018 influenza vaccine is now finalized and will be available to receive in the fall," Christ said.
Nationwide, flu activity was moderate for this this past season, the CDC said last week. "Activity remained low through November, increased during December, and peaked in February nationally, although there were regional differences in the timing of influenza activity," the agency said.
Influenza kills anywhere from 3,000 to more than 50,000 people a year in the United States. The number of flu cases ranges from fewer than 10 million to more than 30 million a year.