Record Heat, Blowing Dust, Bad Air, Cancelled Flights
---
UPDATE, 11:29 p.m., June 20, 2017 — The temperature at Sky Harbor Airport topped out at 119 degrees Tuesday, shattering the previous record for this date of 116, set in 2016.
2nd UPDATE, 6:48 p.m., June 21, 2017 — Today (Wednesday) another record fell at Sky Harbor, as the mercury reached 117 degrees, eclipsing the previous record for the date of 115 set in 2008.
---
Original Story posted 7:34 a.m., June 20:
---
Stay Informed: Subscribe to the North Phoenix Newsletter
---
After a record-tying 118 degrees Monday, Sky Harbor Airport could reach 120 today, according to the latest National Weather Service forecast. There's also a chance of patchy areas of blowing dust in the evening, the agency says. Air quality is bad, and some planes are grounded.
Deer Valley Airport in North Phoenix is expected to reach 118 degrees today. Anthem, nearer the mountains and at a higher elevation, has a forecasted high of 115.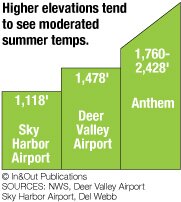 "Over higher terrain areas of Arizona, scattered thunderstorms will produce very little rain but strong winds," according to the latest statement from the NWS Phoenix office. "Those winds are expected to spread to the central Arizona deserts by this evening causing areas of blowing dust."
Monday's record tied the high for the date, set just last year. The record high for today (June 20) is 116, also set last year. It will almost surely fall. The hottest day ever at Sky Harbor was 122 degrees, on June 26, 1990.
Temperatures are expected to ease by 3 to 4 degrees tomorrow and drop further in later in the week. By Friday, Sky Harbor will be down to around 113, with Deer Valley at 112 and Anthem expected to be a comparatively cool 109.
With the heat comes increased levels of ground-level ozone,  a pollutant created when emissions from cars and other burning of fossil fuels reacts with sunlight. Ozone can cause breathing difficulties for children and people with respiratory problems. The Arizona Department of Environmental Quality asks people to reduce use of gas-powered equipment, and cautions against outdoor physical activity.
Meanwhile, one airline cancelled some flights due to the heat. As the temperature rises, air become less dense, and the thinner air means less lift for an airplane. Different aircraft have different temperature thresholds, and the cancellations so far affect only some regional flights.
"American Airlines has announced more than 40 flights on Tuesday, June 20, operated by regional jets are canceled due to forecast high temperatures," Sky Harbor officials said in a statement. "Affected travelers should contact American Airlines for flight status and booking information."
Related