Cool Rain Yields to Hot Weekend Ahead
For 15 years, In&Out Magazine has been the definitive source of "Everything that's going on" in and out of the community. We thank you, our readers, as well as the businesses that support the magazine through advertising, for that opportunity. But with little going on, and many businesses suspending or canceling their ads during the Covid-19 crisis, we are suspending publication of the magazine and web sites for the month of May. 
---
Brief storms this morning brought "heavy rains and yes, small hail" to parts of the North Valley, according to the National Weather Service. Snow fell in Flagstaff and elsewhere in the high country.
But the showers last night and this morning will do little to curb the 21-year statewide drought, adding fractions of inches of precipitation to very low totals.
This storm deposited less than a tenth of an inch in official rain gauges around Anthem and New River, while trace amounts or none fell in the Tramonto, Sonoran Foothills and Norterra areas, according to the latest data from the Maricopa County Flood Control District.
Normal rainfall for North Phoenix (measured at Deer Valley Airport) for Nov. 1 through today is about 6.3 inches. The total this year since Nov. 1 is about 1 inch. The story is similar throughout North Phoenix and the rest of the Valley.
The weather will change today and tomorrow, with clear skies and highs in the mid- to high-90s by the weekend.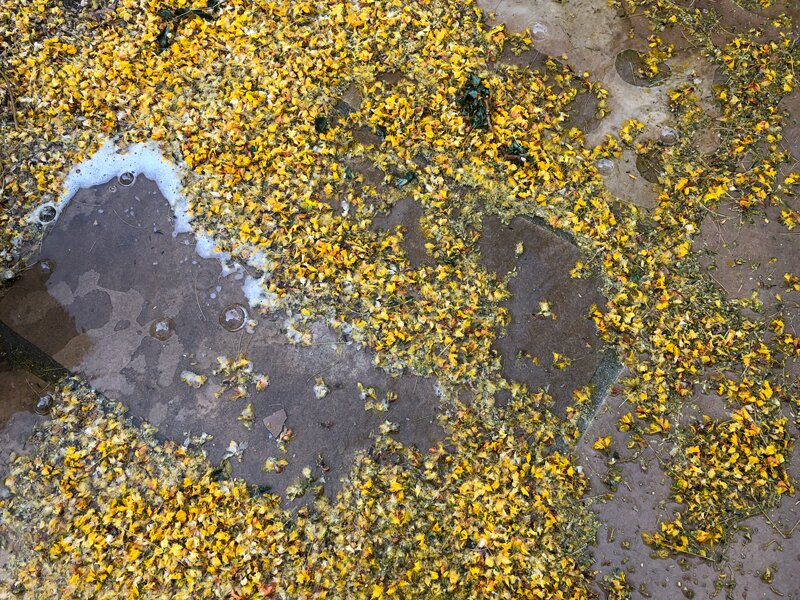 Palo verde blossoms swirled in a backyard puddle.