Serious Smog Season Starts Now: Causes & Health Concerns
For 15 years, In&Out Magazine has been the definitive source of "Everything that's going on" in and out of the community. We thank you, our readers, as well as the businesses that support the magazine through advertising, for that opportunity. But with little going on, and many businesses suspending or canceling their ads during the Covid-19 crisis, we are suspending publication of the magazine and web sites for the month of May. 
---
The Phoenix Metro Area is one of the worst in the nation for air pollution, particularly ground-level ozone (aka smog). With prime smog season arriving with the heat—here's a what you need to know about this deadly stuff.
The basic recipe for this type of air pollution: burn fossil fuels, add sunlight. Below, learn about the generation and movement of smog and other pollutants in Phoenix and around the Valley of the Sun, and the known health effects, including increased hospital visits and a higher risk of premature death. But first, some basics:
Ozone is an odorless, invisible gas made of three oxygen atoms (O3). It occurs naturally in the upper atmosphere, and this stratospheric ozone is a good thing—it helps shields us from the sun's harmful ultraviolet rays.
Ground-level ozone, the main ingredient in smog, is created when sunlight reacts with certain chemicals—oxides of nitrogen (NOx) and volatile organic compounds (VOCs), the EPA explains. The ingredients are emitted by the burning of fossil fuels—such as from industrial operations or your car's tailpipe—but also when solvents or other volatile chemicals evaporate, including gas that evaporates when you fill up the tank.
Particulate matter (also called particle pollution) involves small, mostly invisible particles also emitted from industrial activities and vehicle exhaust, as well as dust and other material kicked up by moving vehicles or the wind. Smoke from local brush fires and sometimes even wildfires in the mountains has many times been a significant if short-term source of particulate matter in North Phoenix and elsewhere in the Valley.
Both types of pollution are bad for you (see Health Effects below).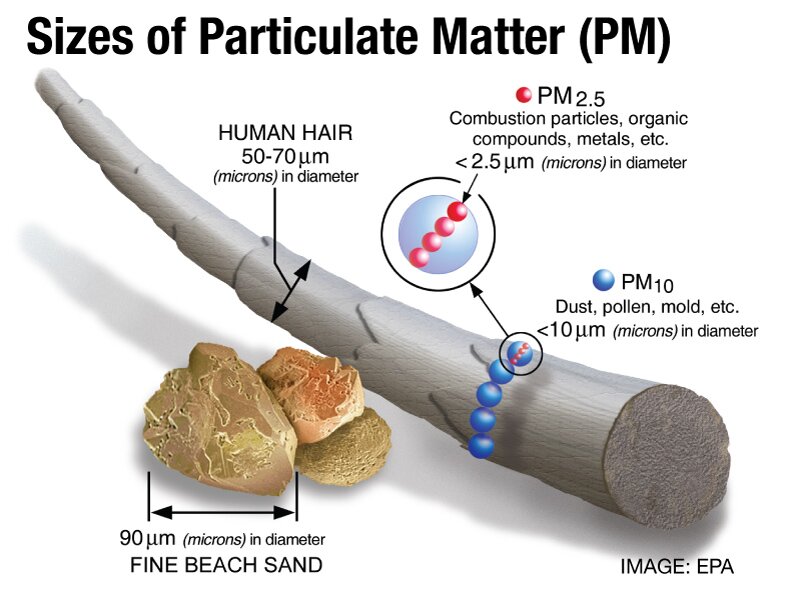 We're No. 8
The American Lung Association ranks roughly 200 U.S. metro areas for both types of pollution. Phoenix ranks 8th for the number of high-ozone days, and 20th for 24-hour periods with high levels of particle pollution.
Smog tends to be worst on hot sunny days in urban areas—particularly May through October in the Valley, explains Erin Jordan, spokesperson with the Arizona Department of Environmental Quality. But it can reach high levels even in winter. And it can ride the wind, impacting rural regions.
Ozone levels in and around Phoenix vary by location and time of day, and tend to be highest in the afternoon, Jordan said.
"But, due to the Valley's typical wind flow (out of east in the morning and out of the west in the afternoon/evening), peak ozone levels in the Valley move from west to east throughout the day," Jordan explained in a statement released today. "This cycle can be interrupted by the weather, including clouds, winds, rain from thunderstorms and other weather systems."
Southern California also exports smog our way. "When the general atmospheric winds are west to east over the Southwest, ozone from cities in California can blow into Arizona," Jordan says.
And she cautions: "Don't let a seemingly pristine summer day fool you—ozone levels may in fact be high, you just can't see it."
Health Effects
The two types of pollution—ozone and particle pollution—cause many of the same health issues.
Research has linked both to asthma attacks, susceptibility to infections, reproduction harm and overall increased likelihood of premature death. Particle pollution is also linked to lung cancer.
More than 100 people die each year in Arizona from asthma, according to a report from the American Lung Association. Pollution both increases the risk of developing asthma and can be a trigger for an asthma episode. A study* of ozone effects in Maricopa County found that high ozone days result in more asthma-related hospital visits.
When pollution levels are high, health officials advise people to stay indoors, especially children, the elderly and anyone with asthma or other respiratory issues. But also they caution against anyone exercising outdoors when the air quality is bad.
If you must exercise outside on bad air day, it's best to do it in the morning, Jordan said, before humans and nature have cooked up the daily smog recipe.
---
Related Articles in our Desert Living Series
---
*The study was done by researchers at Maricopa County Department of Public Health and the county's air-quality department.