The Satisfied Frog: 80-Year-Old 'Crazy Ed' is Back, Again
For 15 years, In&Out Magazine has been the definitive source of "Everything that's going on" in and out of the community. We thank you, our readers, as well as the businesses that support the magazine through advertising, for that opportunity. But with little going on, and many businesses suspending or canceling their ads during the Covid-19 crisis, we are suspending publication of the magazine and web sites for the month of May. 
---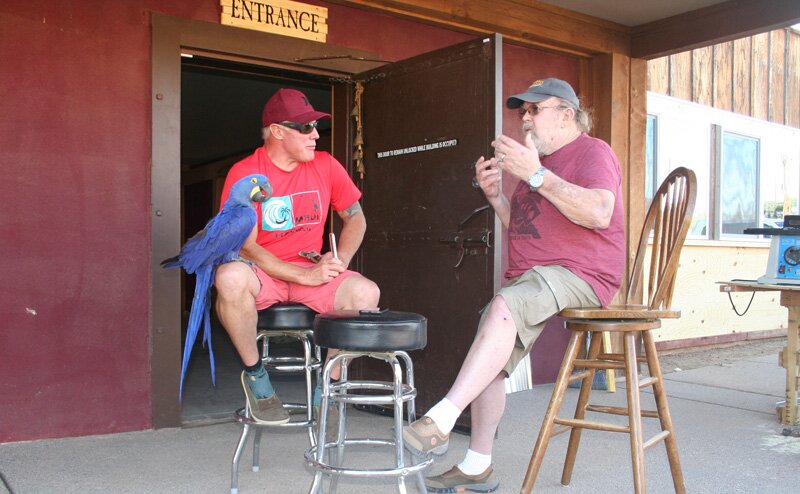 A new restaurant, coming this fall to the vacant historic New River Station building on the frontage road north of Anthem, has its own colorful history stretching back five decades.
Ed Chilleen opened Crazy Ed's restaurant in 1964 at Deer Valley Road and 19th Avenue. He opened the Horny Toad in Cave Creek in 1972… then sold it in '74. When he returned to Cave Creek in '82 to open another restaurant, he was pondering the name.
"Name is everything," Chilleen said the other day. "A guy who worked for me, Buffalo Rick was his name… said, 'If they're the Horny Toad, we can be the Satisfied Frog.' Man, that just lit me up."
Then Crazy Ed, as he's known, closed Satisfied Frog in 2007 and moved to Mexico.
"I swore I would never, ever, ever get back in the restaurant business," he said. In 2014, he opened a Satisfied Frog in Puerto Peñasco, that's still in business. At 80, Chilleen was recently eyeing the Station property—once a stop on the stagecoach route—but couldn't afford the $875,000 asking price. "Might as well have been $8 million," he said.
Court Roberts, a resident of Desert Hills and formerly Anthem, recently bought the property. Roberts, a high-energy 56-year-old who owned nightclubs in Northern California years ago, was considering converting the building to a feed store when a friend, who turned out to be Crazy Ed's grandson, introduced the two. They clicked.
"Ed is ideal because he's very experienced and grounding," Roberts said.
"I've made all the mistakes already," Chilleen said. "And the people who are successful are the people who've gone broke a couple times."
The latest incarnation of the Satisfied Frog will feature steak, smoked barbecue, seafood, fried chicken, tacos and margaritas, with plans for outdoor seating and live music.