Penzone's Priorities: Sheriff Sets Stark New Course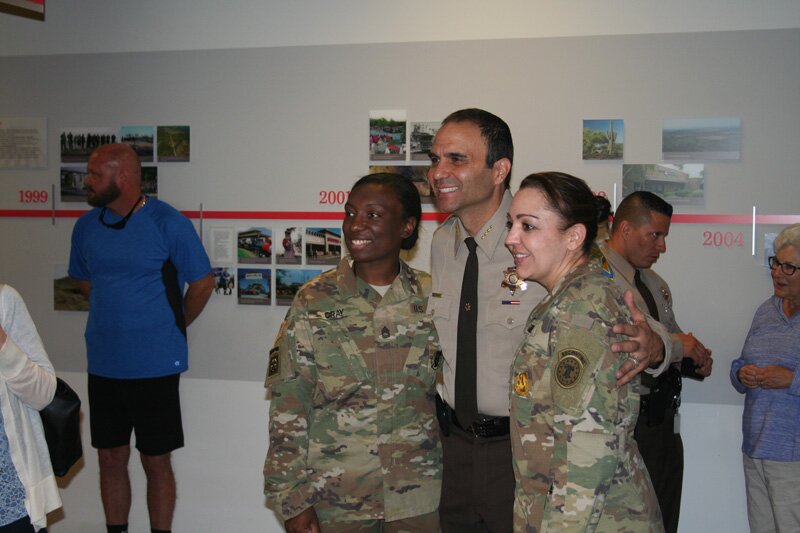 Maricopa County Sheriff Paul Penzone, in office since January, oversees more than 3,500 sworn officers and civilian employees, and a $350 million budget—70 percent of which is for detention. Earlier this month, he spoke to more than 100 people at a New River/Desert Hills Community Association town hall in Anthem. The new sheriff is making stark philosophical and procedural shifts since taking over for Joe Arpaio, who reigned for 24 years.
ON DISTRACTIONS & NONSENSE
"The days of the Sheriff's Office being an organization that often times does things that make the news unnecessarily are over."
"Nonsense" is what Penzone called inmates forced to don pink underwear at Tent City, where inmates have been incarcerated outdoors even in summer heat. He said closing Tent City, which he announced earlier this month, will save up to $4.5 million and eliminate a big distraction that reflected negatively on Arizona and on the department, making it difficult to recruit and retain employees. There are ample beds for inmates in other facilities, and the consolidation will improve an inmate-to-detention-officer ratio that was sometimes 150:2.
"We have to be solely focused on public safety. Law enforcement is a very difficult job. We don't need to complicate it with distractions, and we sure as heck don't need to complicate it with wasteful actions, whether it's taxpayer dollars or resources."
He drew an analogy to sports:
"Nothing is more bothersome to me than to go to any game and the officials are so involved that they over-officiate and you no longer see the game—all you see is them. Law enforcement is no different. Our job is to keep you safe without being the center of attention."
---
ON THE CONSTITUTION
"If we're not willing to stand and believe in what those words are and who we are as a nation, even at time when it's uncomfortable for us, then we're hypocrites."
Defending freedom means more than simply enforcing laws without regard to the Constitution, Penzone argued.
"They're merely words on paper if we don't believe in what they stand for. And there are times that what they stand for protects us greatly, and there are other times that what they stand for protects someone that maybe we're not happy about."
---
ON IMMIGRATION
"We enforce laws. We don't make judgments relative to the color of your skin or any other factor."
Penzone said he inherited 260 pending lawsuits and two federal court orders to change how MCSO operates. The total litigation has cost the department $60 million over four years, and the agency has been ordered to take corrective action that will require at least three years of effort and ongoing costs, including court-ordered oversight and review.
As one example, all deputies will record traffic stops with body cameras, and the footage will go through three layers of review to make sure procedure is followed. Also, a federal judge ruled that "we will have no involvement whatsoever in immigration enforcement," because immigration laws are the purview of federal law enforcement officials.
"Nowhere in my being do I think it's OK to enter the nation illegally, because it diminishes the value of our citizenship if we give it away… But we also pride ourselves on how we treat everyone, and how we are committed to our constitution and our laws.
"We have to be a law-abiding nation, and we have to be a safe nation. But we have to be a welcoming nation, also, and create rules and opportunities where everyone is be treated with respect while being held accountable for bad judgment, bad decisions, bad circumstances."
---
---
ON GUN VIOLENCE
"If I'm going to ask you to get a license to drive a car, is it wrong for me to ask you to go through a course to own a gun?"
Penzone is bothered by the polarization of this topic, the perception that a staunch defender of the Second Amendment doesn't care about gun safety, or that someone concerned about gun violence is anti-Second Amendment.
"We need to stop that. We need to have a serious conversation. Do we have a problem with gun violence or violence in general in our society? Does anyone think we don't? … The access to weapons escalates that. Because no matter what we try to, in my opinion, use as an argument to defend it, having a weapon readily accessible during an emotional moment gives a person a resource to make a judgement that is not always the safe one. At the same time there are a lot of competent people who are armed and can provide a resource in a time it's needed."
Should teachers or airline pilots pack guns? If someone goes through training and is competent, "then I'm fine with it. But to just put a weapon like that in someone hands and go 'here, this'll make you safer' is nonsense."
---
ON GUN OWNERSHIP
"When you pull a trigger on a gun, and that bullet leaves the other end, you own it, wherever it goes."
Even professionals, in the heat of the moment, find it difficult to hit their intended target, Penzone said. Often, gunshots hit an unintended target, and anyone who plans to own a gun should be prepared for that possibility.
Getting a gun is "your decision," but on the scale of all the things you can do to stay safe, "the most powerful self defense is your mind. Be cognizant of what's around you… If you're going to get a gun, you better make the decision right now: 'If I have to take a life, I will, and I'm OK with it because i'm doing it to defend myself or others.' And if you can't, then don't get the gun, because you know why? They're going to take the gun from you and use it on you."
---
ON THE OPIOID EPIDEMIC
"I've never seen a program where scaring someone has, long term, deterred them from a bad decision."
Penzone spent six years in narcotics, locally and on a federal task force. Prescription drug addiction is fueling the drug epidemic, he explains, which in turn is a "core issue of crime."  He argues that, especially with kids, we need to focus less on scare tactics and more on "educating our youth on healthy decisions."
A person, "it could be your neighbor," builds up a tolerance to prescription drugs. A doctor prescribes heavier doses, and the drugs become too expensive. "What do you do? You go on the street and you get heroin. It's much cheaper, it has a longer high, and it addresses the addiction that you have."
"Enforcement has to be a factor" in the solution, with a continued effort to "suppress the volume of drugs coming into our nation or being manufactured here. I'm a believer that the more volume on the street, the more likely that people are going to make bad decisions that lead them to maybe become bad people. We're not going to solve it there though… It's more so education and inspiration to give them knowledge so they can make a better decision.
"We have to find ways to find ways to invest in recovery and rehabilitation, because no matter how that person got there, if we can't find a way to get people healthy, they will constantly be a burden on us criminally, financially, medically."
---
ON DEPUTY CONDUCT
"We all get that uncomfortable feeling when those lights go on."
Penzone laid out his expectations for deputies when engaging those who break the law as well as victims, with a goal of increasing trust in the organization.
If you're a victim of a crime: "We show up in uniform, we present ourselves professionally, we treat you with respect, we're detail-oriented, we follow up, we stay engaged with you, and if we can't get to where we need to get, we make sure you understand why, and that we're working in that direction."
If you get stopped speeding: "When that man or woman walks up to your window, and engages you, whether they write you a ticket or they don't is really not the impact they'll have on your life at that moment. How they treated you when they engage you will either leave you feeling respected with confidence that they're a professional or disrespected because they were arrogant or rude or got outside the boundaries of what our job is."
---
ON GETTING BAD GUYS
"The smallest percentage of our community commit the majority of crime."
There are currently 30,000 pending felony warrants at MCSO. Penzone aims to prioritize finding these "repeat offenders. A burglar today is a burglar tomorrow is a burglar the next day. A violent person doesn't break that tendency until someone breaks it. That's a priority for me, especially when it come to violent crime, crimes against children, and crimes against women."
His message to criminals running free: "They should fear us. We shouldn't fear them."