Stage 1 Fire Restrictions Issued for Maricopa County and 6 Others
For 15 years, In&Out Magazine has been the definitive source of "Everything that's going on" in and out of the community. We thank you, our readers, as well as the businesses that support the magazine through advertising, for that opportunity. But with little going on, and many businesses suspending or canceling their ads during the Covid-19 crisis, we are suspending publication of the magazine and web sites for the month of May.
---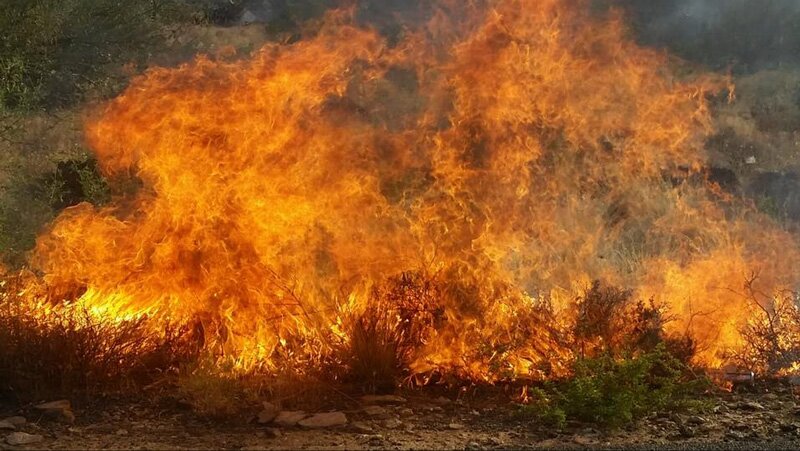 Heat, low humidity and an historically dry winter led the Arizona Department of Forestry and Fire Management to issue Stage I Fire Restrictions today on state-owned and managed lands in Apache, Maricopa, Mohave County, south of the Colorado River, Navajo, La Paz, Yavapai, and Yuma Counties.
Separately, Yavapai County instituted a ban today on all open fires and campfires, fireworks and other pyrotechnic displays, and the "use of equipment that generates open flames or a spark." It applies to the unincorporated areas of the Yavapai County.
The statewide forestry department order goes into effect at 8 a.m. Friday, April 20. State-owned and managed lands in Navajo County will go into Stage I Fire Restrictions three days later. Officials had said back in February they feared an active wildfire season this year.
"There's too many factors against us right now," State Forester Jeff Whitney said in a statement. "Dry conditions, warm temperatures, wind events, and people being careless are more than enough reasons as to why we need to implement restrictions sooner rather than later."
The Restrictions
Building, maintaining, attending, or using a fire, campfire, charcoal, coal, or wood stove, other than in a developed campsite or picnic area is prohibited. (Exemptions include a device solely fueled by liquid petroleum or LPG fuels that can be turned on and off. Such devices can only be used in an area that is barren or cleared of all overhead and surrounding flammable materials within three feet of the device.)
Smoking is prohibited unless it is within an enclosed vehicle or building, a developed recreation site/improved site or while stopped in an area at least three feet in diameter that is barred or cleared of all flammable materials.
Fireworks or another incendiary device are prohibited.
Welding or operating acetylene or other torch devices with an open flame is prohibited.
Target shooting and fireworks are never allowed on state lands.
Where They Apply
The restrictions apply to the following state-owned and state-managed lands within the above-mentioned counties Including:
All State Trust lands outside incorporated municipalities.

All Game and Fish Commission Wildlife areas and department properties outside incorporated municipalities.

All State Parks outside incorporated municipalities – State Parks will remain open with campfires allowed in developed campgrounds.

All Department of Transportation highway, right-of-way property outside incorporated municipalities, not owned by federal land management agencies.
If local authorities have imposed stronger restrictions then those listed above, than the local restrictions shall apply.