Early Wildfires Spark Worry in North Phoenix & Statewide
For 15 years, In&Out Magazine has been the definitive source of "Everything that's going on" in and out of the community. We thank you, our readers, as well as the businesses that support the magazine through advertising, for that opportunity. But with little going on, and many businesses suspending or canceling their ads during the Covid-19 crisis, we are suspending publication of the magazine and web sites for the month of May. 
---
After an intense wildfire season in 2017, state and local fire officials say a warm and dry winter could portend an early start to another busy fire year. In fact, in the North Phoenix region and elsewhere, it has begun.
"Last year Daisy Mountain Fire & Medical units responded to 47 brushfires," said DMFM spokesperson Paul Schickel. Though formal tallies from years past are not available, "some of our most senior firefighters think last year was our busiest wildland season since the mid- to late-1990s," he said.
Last year, the first significant brush fires last year didn't come until April. Already this February, DMFM has responded to "several smaller grass and brush fires," Schickel said. "So we're anticipating another active wildland fire season." He stressed, however, that predicting fire activity is difficult.
State-Level Concern
State fire officials are casting a wary eye, too.
"This year's unusually warm and dry winter is creating concern the 2018 wildfire season may start even earlier and be active throughout the state," the Arizona Department of Forestry and Fire Management said in a statement. Given "fire activity we have seen over the last few weeks," State Forester Jeff Whitney planned to brief Gov. Doug Ducey today on the potential for 2018.
Last year across Arizona, 2,262 wildfires scorched more than 400,000 acres, the forestry department said. That was about 100,000 more than in 2016. The majority of the fires were human caused, according to the agency.
To prepare, officials encourage people to create a 20- to 30-foot defensible space around their homes. "Always put out your campfires, don't drag tow chains, and never pull your vehicle off the highway into tall grasses," the forestry department stated on Facebook today.
Close to Home
Cooperating with other agencies, DMFM responds to fires in New River, Desert Hills, undeveloped and developed parts of North Phoenix, and well up the I-17 corridor through Black Canyon City and the Sunset Point Rest Area. Among last year's most notable wildfires in the area:
The fast-moving 303 Fire, whipped up by gusty June winds near the Loop 303 and I-17, spread quickly northward toward the Carefree Highway, burning 1,676 acres. The fire closed the interstate for several hours, threatened to hop the highway toward a hospital, and spawned fire whirls that propelled the blaze forward.
---
The "Brooklyn Complex" fires in July burned 36,957 acres, created a glow visible at night from New River, and pushed smoke into Anthem and much of North Phoenix.
---
Several other brush fires along the I-17 corridor kept DMFM crews busy for much of the spring and summer last year.
---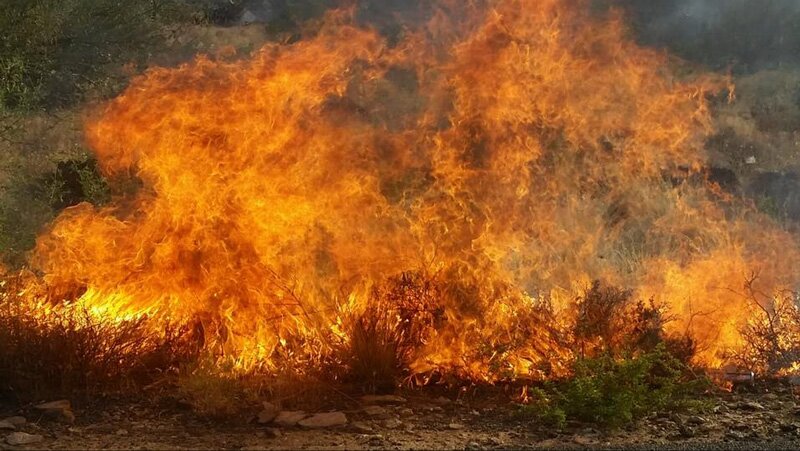 ---
---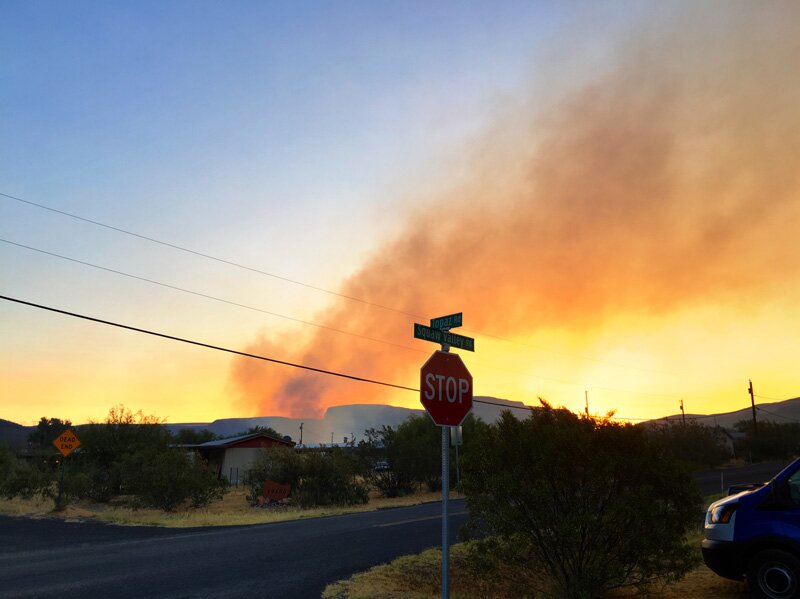 ---
---
DMFM routinely shares resources elsewhere in Arizona and even out of state. While deployed in California, local firefighter Jay Walter filmed dramatic video revealing the wicked winds, steep terrain and dangerous conditions a wildland firefighter faces.
---