I-17 Lane Closures Update: Construction of Happy Valley & Pinnacle Peak Interchanges


Lane closures began Jan. 5 on I-17 between Jomax Road and Deer Valley Road as crews get serious about construction of new overpasses for Happy Valley Road and Pinnacle Peak Road. This article will be updated as ADOT provides new lane-closure information. The latest details, as of March 25:
Southbound I-17 will be narrowed to two left lanes between Jomax and Happy Valley roads from 10 p.m. Wednesday, March 27 to 5 a.m. Thursday, March 28.
Also, these HOV lane closures are in effect through fall 2020:
The northbound I-17 HOV lane between Pinnacle Peak and Happy Valley roads.
The southbound I-17 HOV lane between Jomax and Pinnacle Peak roads.
Meanwhile, sections of the right or left shoulders of the interstate will close throughout the project.
See Also: Scheduled Loop 101 Closures
2-Year Project
The $50 million I-17 project, detailed last summer and slated for completion in fall 2020, will create a relatively new traffic-pattern concept called a "diverging diamond traffic interchange," or DDI, at Happy Valley Road. The roundabouts will be removed. DDIs installed in other states have been shown to increase traffic flow and reduce severe accidents. [See Videos Below]
Happy Valley Road will be widened to three through lanes in each direction over I-17, with right- and left-turn lanes. Two new, parallel bridges will be constructed.
The new Pinnacle Peak Road interchange will be a traditional diamond interchange but capacity will be increased.
The project also involves extending a fourth general purpose lanes in each direction of I-17 between Deer Valley and Happy Valley roads.
For more information, along with ADOT responses to safety concerns voiced by North Phoenix residents, see our earlier story detailing the project.
---
ADVERTISEMENT
North Phoenix Homes for Sale: Full MLS for 85085, 85086, 85087
---
Oh, the Views!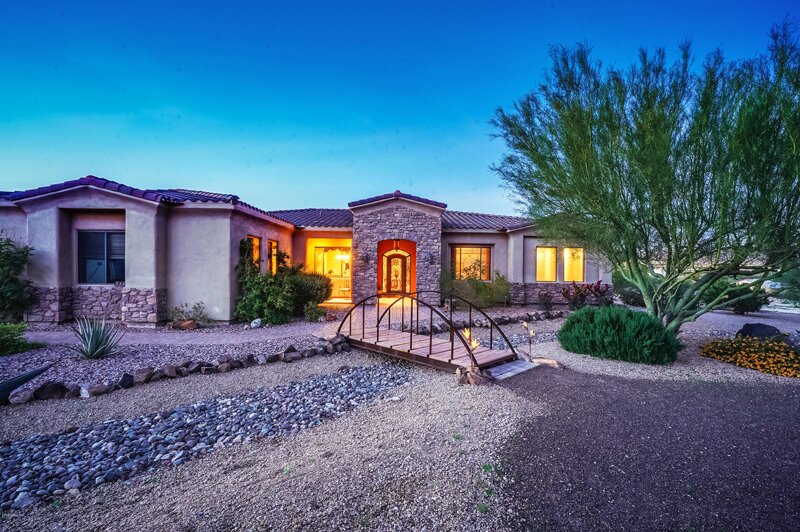 ADVERTISEMENT
Watch Daisy Mountain turn beautiful colors as day turns to night from your covered patio, great room, living room, bedroom…! By nightfall, this luxury home high on the hillside looks onto the twinkling city lights of Anthem below.
5 BEDS | 4 BATHS | 4-CAR GARAGE | 3,774 SQFT | $698,000
3308 W ADAMANDA Drive, Desert Hills
Call 623-297-2557 or CLICK TO LEARN MORE