Brush Fire Burns Structures in Black Canyon City
For 15 years, In&Out Magazine has been the definitive source of "Everything that's going on" in and out of the community. We thank you, our readers, as well as the businesses that support the magazine through advertising, for that opportunity. But with little going on, and many businesses suspending or canceling their ads during the Covid-19 crisis, we are suspending publication of the magazine and web sites for the month of May.
---
UPDATE, JUNE 3: Pets were rescued from a 5-acre fire brushfire Saturday in Black Canyon City that started in the back of a pickup truck and burned at least two homes and one other structure plus some sheds, along with at least 20 vehicles. New details were provided today on the fire, first reported yesterday afternoon. [Full Story] The article below remains as originally written.
---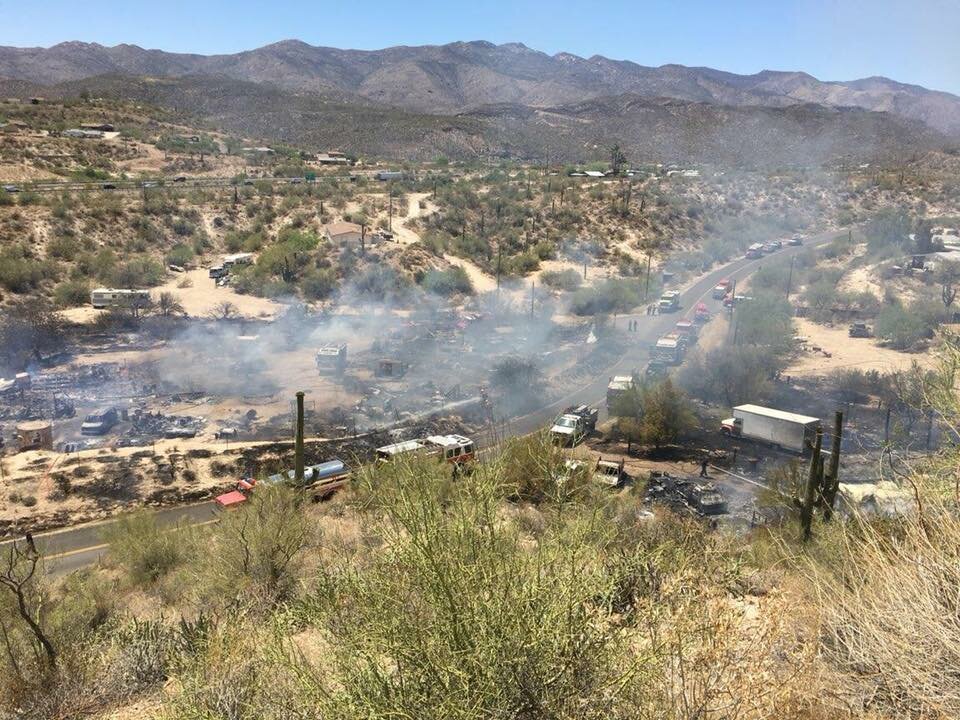 A brush fire burned about 5 acres in Black Canyon City today, near I-17, and a preliminary report from Daisy Mountain Fire & Medical is that two structures were burned. Two firefighters sustained minor injuries, but there were no major injuries, DMFM Deputy Chief Dave Maxwell said.
Crews were dispatched based on a reports of a brush fire near Coldwater Road just east of I-17, but when they arrived there was a structure ablaze, Maxwell said. Firefighters were told there might be people or pets in one of the buildings.
"The fire extended into some heavy brush, which then caught some power lines that came down," Maxwell told North Phoenix News. That blocked crews from getting to the structure. "We had some winds pick up, which definitely made the fight harder."
While no one in the building was injured, the status of any possible pets was not yet known, Maxwell said.
Meanwhile, residents in a swath of Black Canyon City east of I-17, roughly from Coldwater Road and Perry Road south to Squaw Valley Road, were advised early in the afternoon to be prepared to evacuate.
"Pack emergency items in the event a mandatory evacuation notice is issued," the Yavapai County Sheriff's Office said in a Code Red alert. The alert was cancelled at 4 p.m. once the fire was contained.
One firefighter was transported to a medical facility for a possible knee injury, and another for heat exhaustion, Maxwell said. Crews remain on scene mopping up.
High temperatures, winds and severe drought set up conditions firefighters around the state hope don't lead to a repeat of last year's difficult fire season, which scorched more than 400,000 acres across Arizona. Maxwell said the result today is an example of why homeowners should keep a 30-foot area around their homes free of debris and brush.