Distance from Tramonto, AZ to Sky Harbor Airport
For 15 years, In&Out Magazine has been the definitive source of "Everything that's going on" in and out of the community. We thank you, our readers, as well as the businesses that support the magazine through advertising, for that opportunity. But with little going on, and many businesses suspending or canceling their ads during the Covid-19 crisis, we are suspending publication of the magazine and web sites for the month of May.
---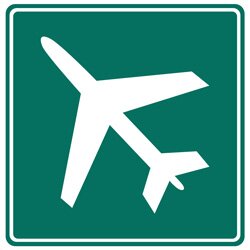 Though it's one of the northernmost neighborhoods in Phoenix, Tramonto, AZ is just 32 miles or so and typically 40 to 45 minutes from Sky Harbor Airport (PHX), as long as there are no accidents or bad rush-hour traffic.
Sky Harbor is the international airport serving the Phoenix area. It is recognized as one of America's best airports, and locals will tell you that getting into and out of the airport is a breeze, as is parking.
Tramonto borders I-17 and the Carefree Highway [map], with most homes between three and six minutes from the Interstate. In normal traffic and on most days, I-17 makes for an easy trip to Sky Harbor. There can be thick traffic during the morning rush hour on weekdays, which may add 10 to 15 minutes to the trip. The worst stretch of traffic is often the last leg, crossing the I-10 in central Phoenix.
If I-17 is congested, Tramonto drivers can take the Loop 101 and State Route 51 to the airport. The route is only 4 miles longer.
Other Airports
The smaller Phoenix-Mesa Gateway Airport, which has grown the number of commercial flights in recent years, is about 60 miles away and usually just over an hour's drive from Tramonto.
The Phoenix Deer Valley Airport, home to mostly private airplanes, corporate planes and small jet taxi services, is about 11 miles and 17 minutes from Tramonto.
The Scottsdale Airport, which also sees corporate flights and provides jet taxi services, is about 25 miles and a 30-minute drive for Tramonto residents.