DVUSD Teachers 'Walk-In' to Prep for April 11 #RedForEd Event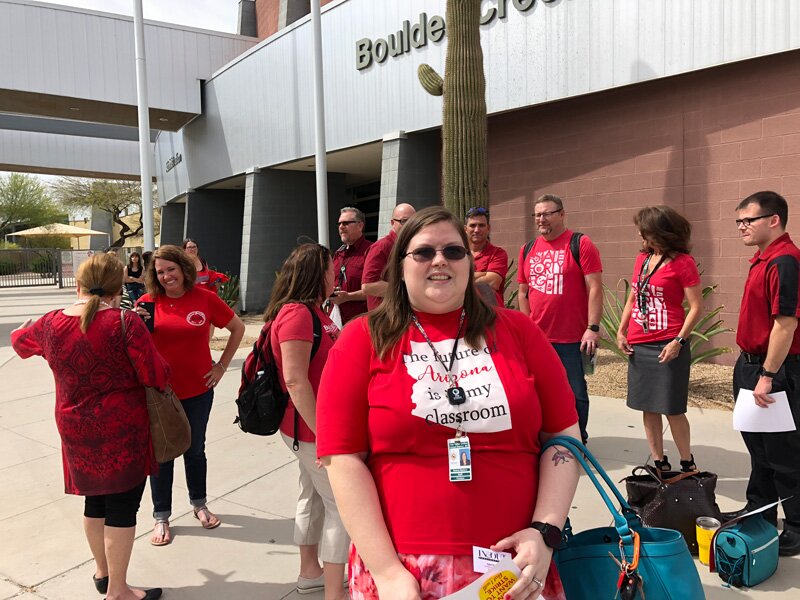 About 40 teachers, counselors and other staff at Boulder Creek High School gathered before classes started today and walked in together, wearing red shirts, then left campus just as school ended. "And we're not bringing any work home tonight," said BCHS teacher Selena Mattern.
"We're trying to show how much work we do outside the classroom," Mattern told North Phoenix News. "Almost all of us bring home work just about every night."
Some teachers and staff at Sonoran Foothills School and Norterra Canyon School also held a walk-in today, said DVUSD spokesperson Monica Allread, and events were expected to take place at several other DVUSD schools. Walk-ins were also held at several other schools around the Valley.
The act was a "dress rehearsal" for a statewide teacher walk-in, dubbed #RedForEd, being planned for April 11 to raise awareness about teacher demands for higher pay and increased school funding, explained Mattern, who is Boulder Creek's liaison to Arizona Educators United, a grassroots online organization set up to advocate for state teachers.
---
Never Miss a Story Like This
North Phoenix Newsletter
Anthem Newsletter
---
On the heels of teacher walkouts in multiple states, the Arizona walk-ins aim to accomplish teachers' goals without shutting schools down.
Arizona ranked 43rd in average teacher pay in 2016 at $47,218, according to the National Education Association, well below the national average that year of $58,353. Other analyses put Arizona lower, depending on how the calculations are done.
#RedforEd began sweeping Arizona when about 2,500 teachers rallied at the Capitol building in Phoenix on March 28, calling for a 20 percent wage increase to make Arizona competitive. Arizona teachers leave for other states where they can get $15,000 raises, according to Arizona Educators United.
"Everything we do centers around our students," the group states on its website. "We don't want to walk out, but we will if that's what it takes to provide our children with the education they deserve."
DVUSD is supportive of the walk-ins.
"If they're working contracted hours it shouldn't be too disruptive," Allread said. "We certainly support teachers and want more funding to pay teachers, that's for sure."
Local leaders of the movement are hosting an event this weekend for residents interested in showing support. It will be held Saturday, April 7, 3-5 p.m. at the Anthem Community Park.
— By and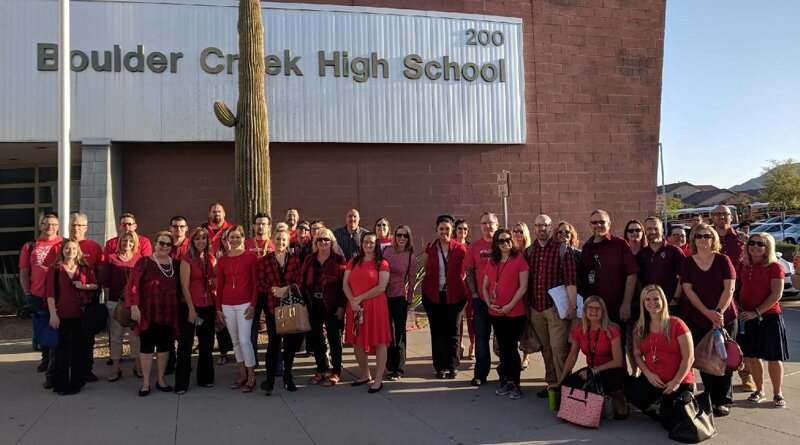 This article was updated April 5 to include mention of Norterra Canyon School.