EPCOR Gets State OK on Water Rates for New River & Desert Hills
For 15 years, In&Out Magazine has been the definitive source of "Everything that's going on" in and out of the community. We thank you, our readers, as well as the businesses that support the magazine through advertising, for that opportunity. But with little going on, and many businesses suspending or canceling their ads during the Covid-19 crisis, we are suspending publication of the magazine and web sites for the month of May.
---
UPDATES: The situation faced by rural residents has changed since the publication of this article. Click here for the latest articles on this topic. The article below remains as originally published.
---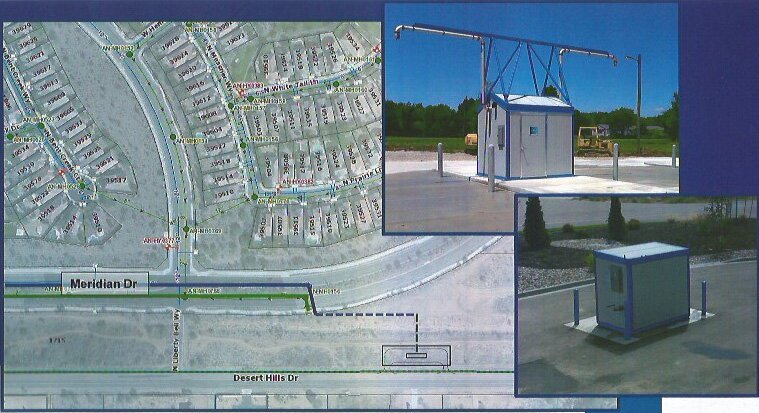 The Arizona Corporation Commission yesterday approved a water rate request by the utility EPCOR for service to rural residents via a water-hauling station tentatively planned to be built on Anthem property. The nod is one of two green lights EPCOR needs to provide water to New River and Desert Hills residents.
The Anthem Community Council is expected to decide at its Nov. 15 meeting whether to lease the 1-acre plot to EPCOR. The two parties are working on several details of the proposal prior to any final decision by Anthem.
The Corporation Commission approved a rate of $9.55 per one thousand gallons. Water haulers would then charge free-market rates to deliver the water.
Anthem's council has supported EPCOR on the overall plan, which aims to provide hauled water after the City of Phoenix's planned shutoff after Dec. 31, which would leave up to 1,500 rural homes with no source of water. These are residents who don't have wells or whose wells have gone dry as the local aquifer continues a decade-long decline.
However, EPCOR has said it could take two months to build the water-hauling station once it has both approvals.
"These residents will be without water on January 1," Commissioner Andy Tobin said in a statement. "Construction is going to take longer than that. We need to move this forward anyway we can. Establishing a rate is the first step to getting a solution here. We hope that the City of Phoenix can extend their deadline for permits to haul potable water using their hydrants to get residents through the construction period wherever the standpipe is located."
County Supervisor Bill Gates was among those lobbying the state on behalf of the plan.
Full Background on this Issue:
Water Crisis: Statewide Wake-Up Call on Rural Development?
Dwindling groundwater and relatively unrestrained homebuilding have compelled residents of New River and Desert Hills to push the state for tighter restrictions on development as they work to create their own water district. Some are even looking into incorporating an entire new town.