Fire Danger Forces Rare Closure of Some Arizona State Land
For 15 years, In&Out Magazine has been the definitive source of "Everything that's going on" in and out of the community. We thank you, our readers, as well as the businesses that support the magazine through advertising, for that opportunity. But with little going on, and many businesses suspending or canceling their ads during the Covid-19 crisis, we are suspending publication of the magazine and web sites for the month of May. 
---
"The last time closures took place on state-owned/managed lands was in 2006."
— Tiffany Davila, Arizona Department of Forestry and Fire Management
For the first time in a dozen years, Arizona has completely closed some state land to recreational use today. The initial closures, mandated by Stage III fire restrictions in two counties in northeastern Arizona, will likely spread to other counties, an official said.
In addition, Coconino National Forest will close six large federal land areas in the Flagstaff and Mormon Lake areas to public access beginning Wednesday, May 23.
Lack of rain over the past year has exacerbated a 21-year drought, plunging 97 percent of the state into severe drought, up from less than 1 percent a year ago. North Phoenix got about 1 inch of rain this past winter, when it would normally get about 6 inches.
"Stage III, or full closures, will be implemented on state-owned and managed lands in both Apache and Navajo Counties," as of this morning, the state Department of Forestry and Fire Management said in a statement. "All state-owned and managed lands in those counties are closed to all entry for recreational purposes, including hunting, camping, and off-road vehicle use. Target shooting and fireworks are never allowed on state lands at any time."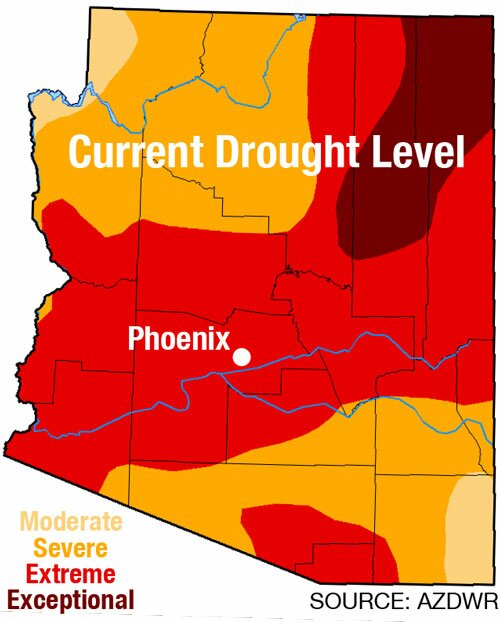 One exception to the Stage III restrictions: Arizona State Parks in those counties will remain open with Stage II fire restrictions in place. The Stage II prohibits fires, campfires, charcoal, coal, and wood stoves, and smoking (more Stage II info).
More Counties 'Likely'
"The last time closures took place on state-owned/managed lands was in 2006," Tiffany Davila, spokesperson for the forestry department, told North Phoenix News. "It's very likely more counties will go into Stage III," Davila said.
State lands in several counties are already in State II restrictions. State land in Maricopa County is currently under Stage I restrictions, which prohibit fires except in developed campsites or picnic areas. State land in Yavapai County and others to the north are under Stage II restrictions, which prohibit all fires as well as smoking outdoors.
Maricopa County started its annual ban on campfires in county parks early, on May 1, instead of after Memorial Day. Yavapai County already banned all open fires and campfires in unincorporated areas.
There's been talk that the U.S. Forest Service might implement similar Stage III closures of other federal lands in Arizona, Davila said. "We are waiting to see what the Prescott National Forest will do before we decide about closures to state-owned and managed lands in Yavapai County," she said.
Maricopa County's state land could "possibly" go to Stage II restrictions "in the near future," Davila added.
Meanwhile, the northeastern counties "are under extreme to exceptional drought conditions, therefore to safeguard our communities and our Arizona residents, closing state-owned and managed lands is an appropriate course of action," State Forester Jeff Whitney said in a statement last night.
The closures apply to all state-owned and state-managed lands in the designated counties, including State Trust lands outside incorporated municipalities and Game and Fish Commission Wildlife areas.
Hoping to Avoid a Repeat
Nine of 10 wildfires are human-caused, the U.S. Forest Service says.
Officials hope to avoid a repeat of last year's devastating wildfire season: 2,262 wildfires scorched more than 400,000 acres in Arizona.
So far this year, several small and large fires have burned more than 48,000 acres in statewide. An illegal campfire caused the 16,000-acre Tinder Fire in the Coconino National Forest. The Rattlesnake Fire, near Alpine, burned 26,000 acres; it's cause remains unknown.
"Last year Daisy Mountain Fire & Medical units responded to 47 brushfires," DMFM spokesperson Paul Schickel said earlier this year. It may have been "our busiest wildland season since the mid- to late-1990s," he said. This year, DMFM has responded to numerous small brush fires along the I-17 corridor. 
Nationwide last year, the U.S. Forest Service's costs to fight wildfires reached a historic high of $2.4 billion, and 2.1 million acres burned. This year, throughout the West, fire officials are concerned about the extremely dry conditions and long-range climate forecasts for more of the same. Already, 1.6 million acres have been consumed by wildfires.
"By mid-summer, we expect warmer and drier-than-average conditions, large amounts of grass, melting of below-average snowpack, and increasing potential for thunderstorm activity and lightning starts to create above-average potential for significant wildfire activity in a large part of the western U.S.," said Ed Delgado, a forecaster at the National Interagency Fire Center.
"We have had several roadside fires recently," the Yavapai County Sheriff's Office said Monday as a 54-acre fire along route 89A was doused. "Please ensure that tow chains aren't dragging on the ground and that cigarettes are properly discarded."
Officials also remind people not to drive a vehicle off the road into tall grass—another common cause of wildfires. Homeowners are advised to create a 20- to 30-foot defensible space around their house.
This article was updated May 19 to include the Coconino National Forest closures.
The following map applies to fire restrictions on state-owned/operated lands only: