Local Girl Wins Hand-Made Violin & Feature Slot at NVSO Concert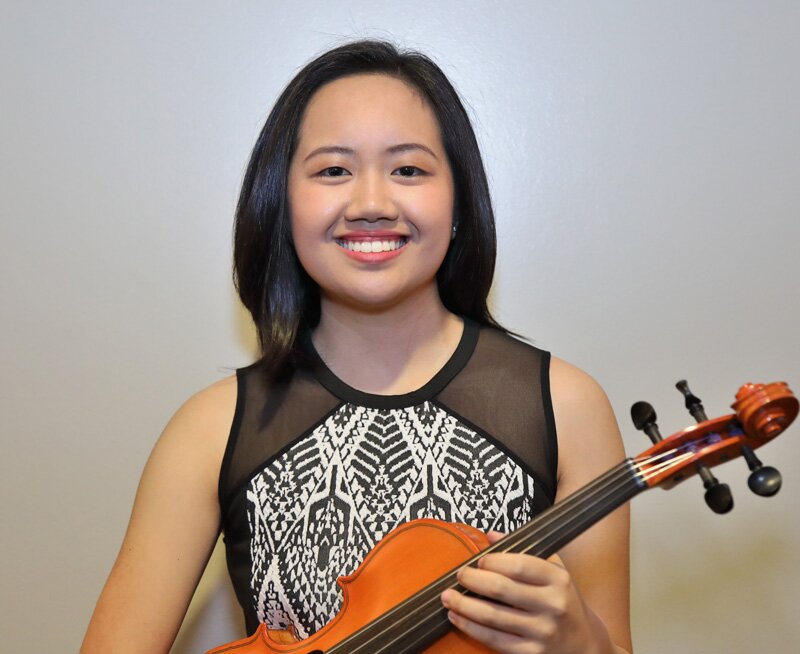 NORTH VALLEY SYMPHONY ORCHESTRA — Anthem resident Nicole Campos was recently announced as the winner of a brand new handmade violin, valued at over $5,000, after competing in North Valley Symphony Orchestra's annual Summerford Violin Concerto Competition.  
Nicole will perform the first movement of Bach's Violin Concerto in A Minor, at the March 3rd NVSO concert, playing her new violin.  She is currently the concertmaster for the North Valley Youth Orchestra, and also plays in the first violin section of the adult orchestra.
"What excites me most about [being awarded this violin] is bringing pride to everyone who has ever supported me in my musical studies," says Nicole. "Without the time, knowledge, devotion, and encouragement of many of my friends, family members, and teachers, I would not be the musician and person that I am today."
When four years old, Nicole was introduced to the Arizona Study Program (ASP), a music theory and piano performance-focused program that involves annual performance evaluations and music theory exams. She will complete her final year (level 12) of ASP next April.
She has been a student in the Renaissance Gifted and Music Program at Esperanza Elementary, and has attended NAU Curry Summer Music Camp, primarily as a violinist, for four years. Having been selected for Arizona's elementary and junior high all-state orchestras, in most recent years she has played in the Arizona High School All-Regional Orchestra as a first violinist.  In addition to playing with NVSO, Nicole is also the concertmaster of the BASIS Phoenix Upper School Orchestra, and is co-president of the BASIS Phoenix chapter of Tri-M Music Honor Society.
Nicole will pursue a double major in music performance and biological sciences. At some point, she would love to additionally pursue a degree in music education, to one day inspire students in the same way that her music teachers have inspired her.
This year's competition was held on January 20.  Last year's winner, Jonathan Green, also competed and scored the highest in the competition again this year, but was not eligible to win the Summerford violin prize two years in a row. With a very close second-place score, Nicole was awarded the 2018 violin prize.
The application process for the competition consisted of composing answers to five essay questions, obtaining a letter of recommendation from outside the NVSO organization, and auditioning in front of a panel of judges. Applicants must also be members of North Valley Symphony Orchestra's Symphonettes, Youth Strings, or Youth Orchestra.
The violin is donated every year by local luthier Jody Summerford, who recognizes the work that the NVSO artistic staff is doing to nurture and develop young musicians in the Phoenix community. Mr. Summerford was nominated by the AZ Citizens for the Arts for a Governors Award recognizing his philanthropic work for NVSO in 2017.
Plan to hear Nicole play her brand new violin at NVSO's "Concertos and More" concert, Saturday, March 3rd, 7:00 p.m. at North Canyon H.S. Performing Arts Auditorium (1700 E. Union Hills Rd.).
NVSO wishes to invite young string players to join NVSO Symphonettes, Youth Strings or Youth Orchestra for the 2018-19 concert season.  Auditions will be scheduled May 20th and June 2nd and 3rd. For more information about membership in one of the youth performance groups, visit the website, northvalleysymphony.org, and click on the "Join Us" tab.
NVSO is supported by the Arizona Commission on the Arts with funding from the State of Arizona and the National Endowment for the Arts, and also the Phoenix Office of Arts and Culture through appropriations from the Phoenix City Council.
---
That Fabulous Backyard You're Looking For
ADVERTISEMENT
Beautiful pool, spa, cozy firepit, spacious turf play area. No two-stories in sight of backyard!
4 BEDS | 2.5 BATHS | 3-CAR GARAGE | 2,663 SQFT | $419,000
40521 N Kearny Way, Anthem Parkside
Call or CLICK TO LEARN MORE