Tramonto Self Storage Floated Again
For 15 years, In&Out Magazine has been the definitive source of "Everything that's going on" in and out of the community. We thank you, our readers, as well as the businesses that support the magazine through advertising, for that opportunity. But with little going on, and many businesses suspending or canceling their ads during the Covid-19 crisis, we are suspending publication of the magazine and web sites for the month of May. 
---

Editor's Note: This article is an update to a Feb. 7 story announcing a public meeting on the proposal.
Plans that had been shelved in 2016 for a self-storage facility in Tramonto have resurfaced, with a new developer in the mix.
Brexton, LLC has partnered with the original group who brought the concept forth, and presented preliminary plans at a Phoenix North Gateway Village Planning Committee Meeting Feb. 8. The location of the proposed facility is sandwiched between the Ironhorse at Tramonto apartments and the under-construction Casitas at Tramonto.
Those earlier plans were eventually withdrawn by then-developer High Range Partners after the project was met with opposition from several nearby residents. Brexton brought the two-story, 117,000-square-foot building back to the table after making some changes to the site plan at the request of the Tramonto HOA board, said developer representative Melanie Wollenberg.
Only one Tramonto resident attended the Feb. 8 meeting to voice opposition. Carrie Sullivan was concerned the word hasn't gotten out to her neighbors about the return of the plans. According to Wollenberg, letters were mailed to residents within 750 feet of the site, but Sullivan said she didn't receive a letter, rather she happened to see a post on a social media page.
"There are self-storage places all over," Sullivan told the North Gateway board. "I don't know why it needs to be littered amongst the community and a school. We didn't want it then [in 2016], I don't think we want this in our community now."
Board member Michelle Ricart questioned the need for additional self storage with a handful of new self-storage facilities already under construction in nearby Anthem and Happy Valley.
But "demand is high because Phoenix is growing and there are no basements," said Wollenberg, citing an area feasibility study. "Millennials are after lifestyle, so they're renting smaller apartments but they need to store their things that fit their lifestyle."
No plans have been filed to the City of Phoenix, according to Wollenberg, who stated the developer is still determining whether to proceed. Meanwhile, the North Gateway Board, an advisory committee to the City of Phoenix, requested Brexton share that feasibility study with residents and work with the HOA board to ensure residents are in the know.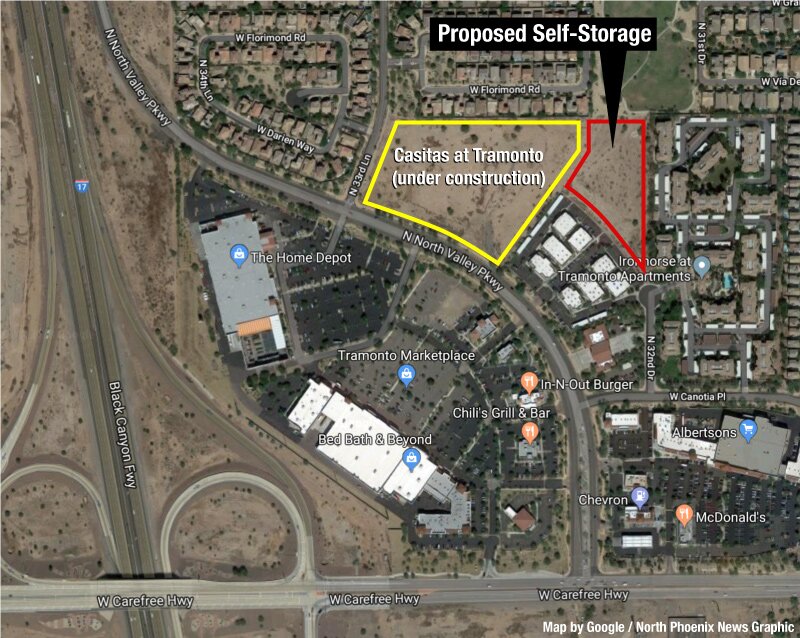 ---