Robust Home Sales Push Prices Higher
For 15 years, In&Out Magazine has been the definitive source of "Everything that's going on" in and out of the community. We thank you, our readers, as well as the businesses that support the magazine through advertising, for that opportunity. But with little going on, and many businesses suspending or canceling their ads during the Covid-19 crisis, we are suspending publication of the magazine and web sites for the month of May. 
---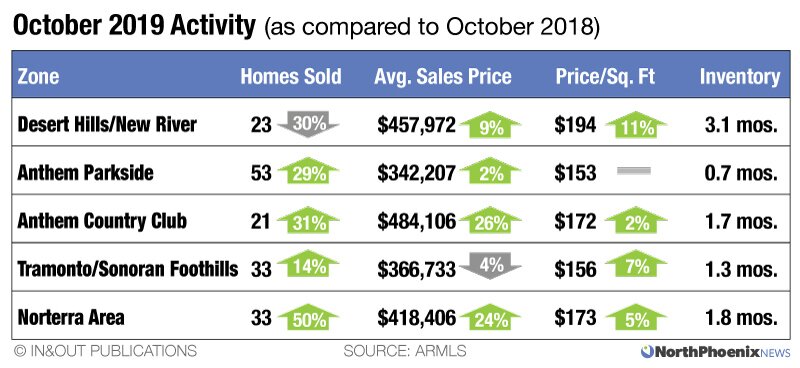 Low inventory and strong sales continue to put upward pressure on prices, as existing home sales rose across all of suburban NoPho, the I-17 corridor from Norterra to New River. In October, 163 homes were sold in the region, a 16 percent increase over the previous month and 17 percent higher than last October.
Prices rose in four zones, falling only in one of the five zones, and price per square foot was flat or higher in all zones. Inventory, a measure of homes available for sale given the current pace, remained extremely low across the region, and dipped further in Anthem Parkside to the lowest level in years. Details by zone: