I-17 Called 4th Deadliest Highway in America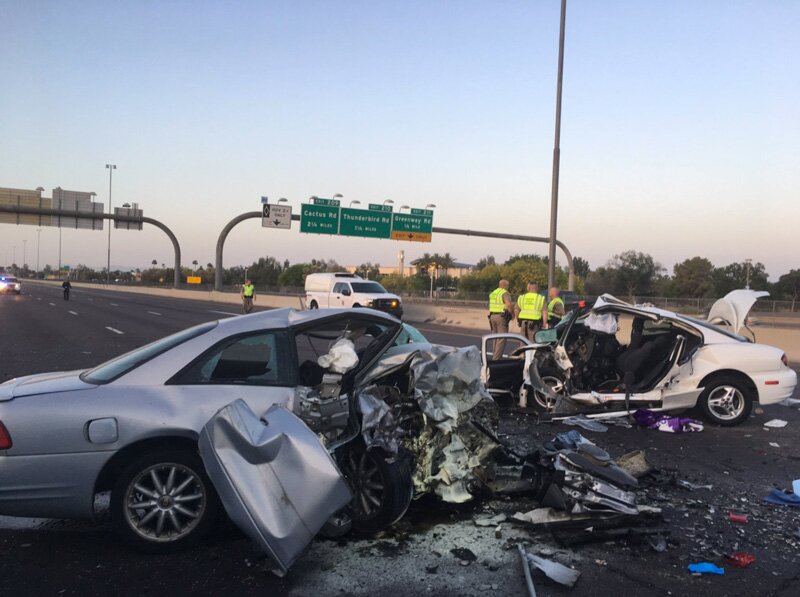 It may come as little surprise to anyone who navigates Interstate 17 on a daily basis or heads frequently into the high country that it has been named one of the most dangerous highways in America, at least according to one study. A recent analysis of National Highway Traffic Safety Administration data on fatal accidents found I-17, between Phoenix and Flagstaff, to be the fourth deadliest stretch of highway in the nation.
Between 2011 and 2015, there were 0.867 deaths per mile on I-17, according to the analysis, done by Teletrac Navman, a fleet-management technology company. Saturday was the deadliest day on I-17, the analysis found, and March was the worst month. The deadliest hour of the day: 3 to 4 p.m.
The single most dangerous stretch of freeway in the nation was Interstate 4 between Tampa and Daytona Beach, Fla., at 1.250 deaths per mile during the period, Teletrac Navman found.
It should be noted that past analyses of highway deaths, of which there are only a few (one by Geotab and another by ValuePenguin) did not include I-17 among the worst.
---
UPDATE Dec. 13: John Halikowski, director of the Arizona Department of Transportation, called headlines stemming from the study "misleading" and said in a blog post: "You're missing the point if you focus on the highway instead of the behavior of many who drive it." Speeding, Halikowski said, is the problem.
---
Rising Arizona Traffic Deaths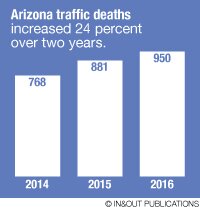 Earlier this year, North Phoenix News reported that Arizona traffic deaths have been on the rise. The state's 950 motor-vehicle deaths in 2016 were up 8 percent from the previous year and 24 percent from 2014, according to the National Safety Council. On average, 2.6 people die in Arizona every day due to motor vehicle accidents. The figures include motorcyclists, as well as pedestrians and bicyclists struck by motorized vehicles.
Most traffic fatalities in Arizona are caused speeding, officials say, and many of the deaths could be prevented by wearing seat belts and, for motorcyclists, helmets.
What's Being Done
The Arizona Department of Transportation is installing a new thermal-camera system to detect wrong-way drivers on I-17 between the Loop 101 and I-10, and the agency recently installed additional wrong-way signs, each larger than a piece of plywood.
Earlier this year, ADOT got funding for a five-year plan to widen I-17 from two lanes to three north of Anthem and build "reversible lanes" on the crash-prone 8-mile grade between Black Canyon City and Sunset Point. The agency's long-range plans call for I-17 to be widened to three all the way to Flagstaff. Discuss This Article on Facebook >>>
---
Crash-Prone Stretch
Accidents on I-17 between Black Canyon City and Sunset Point:
2011: 94
2015: 137
SOURCE: ADOT
---
The full national analysis from Teletrac Navman: