State Imposes Stage II Fire Restrictions on Maricopa County
For 15 years, In&Out Magazine has been the definitive source of "Everything that's going on" in and out of the community. We thank you, our readers, as well as the businesses that support the magazine through advertising, for that opportunity. But with little going on, and many businesses suspending or canceling their ads during the Covid-19 crisis, we are suspending publication of the magazine and web sites for the month of May.
---
All state-owned and state-managed land Maricopa and Mohave counties are now under Stage II fire restrictions, the Arizona Department of Forestry and Fire Management announced today. That means no fires, campfires, charcoal, coal, or wood stoves, and no smoking (more Stage II info).
The entire state is now under Stage I, Stage II or Stage III restriction. In Stage III— affecting Gila, Coconino, Apache and Navajo counties—all state land is completely closed to all entry for recreational purposes, including hunting, camping, and off-road vehicle use.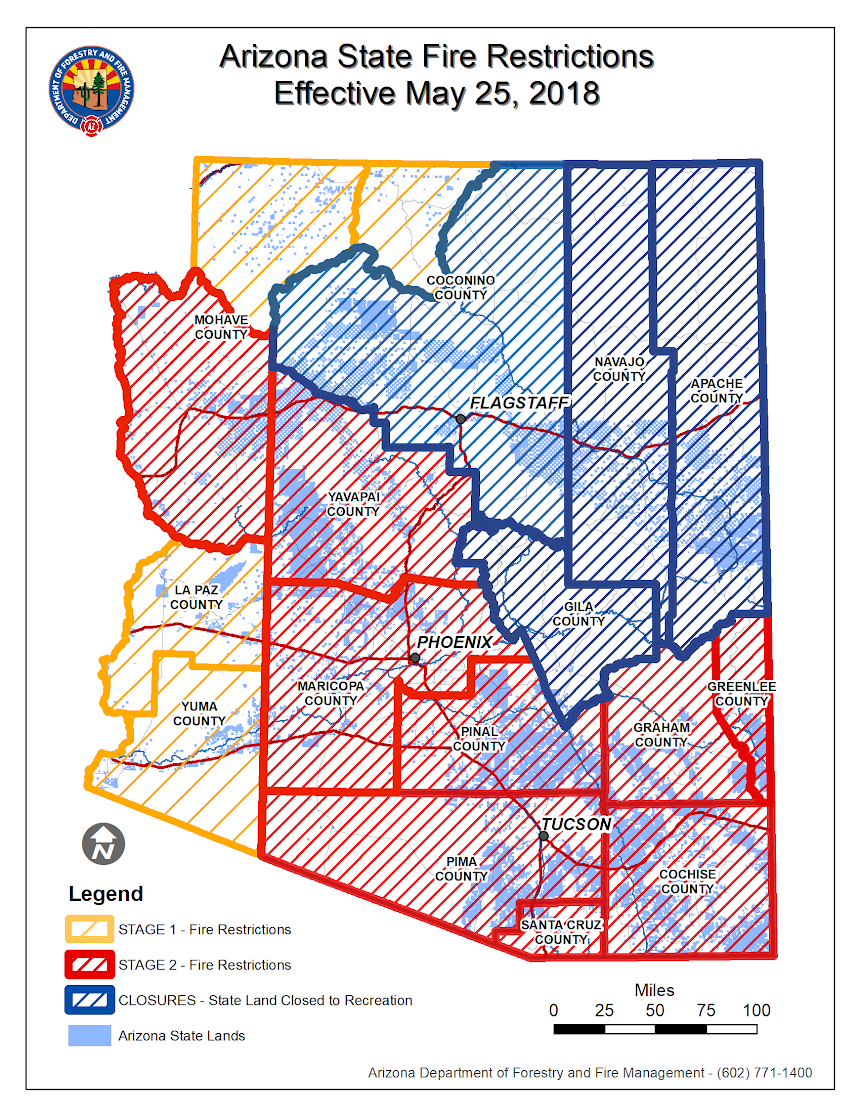 The rare closures are the first by the state in 12 years. Separately, the U.S. Forest Service closed six large areas of Coconino National Forest.
Meanwhile, Maricopa County started its annual ban on campfires in county parks early, on May 1, instead of after Memorial Day. Yavapai County already banned all open fires and campfires in unincorporated areas.
Lack of rain over the past year has exacerbated a 21-year drought, plunging 97 percent of the state into severe drought, up from less than 1 percent a year ago. North Phoenix got about 1 inch of rain this past winter, when it would normally get about 6 inches.
The amount of Arizona in extreme drought jumped from 63 percent last week to 73 percent this week. A year ago, none of the state was yet in that category, the fourth of five levels of severity.
"Closures are not something we ever want to do or that we take lightly," State Forester Jeff Whitney said today. "But, unfortunately, the time comes when we must look at that option, have discussions, and make the decision based on what's best to assure the safety of our residents and our firefighters."