NoPho Home Values Climb, But Still Shy of 2006 Peak
As the median value of homes across the country just rocketed past all-time highs set just before the housing bubble burst, valuations in most of NoPho—including Fireside at Norterra, Sonoran Foothills, Tramonto, Anthem West and the neighborhoods in between—continue to lag below the bubbly levels of 2006.
The median home value across the nation in April was $215,600, up 8.7 percent since last April and slightly above the 2006 high, Zillow said today. It was the fastest pace of valuation increases in 12 years. In Phoenix, the median was $253,100 in April, an 8.6 percent year-over-year surge that leaves homes 10.9 percent below the pre-bubble peak.
The chart below shows the figures for our area, broken down by neighborhoods defined by the City of Phoenix and tracked by Zillow.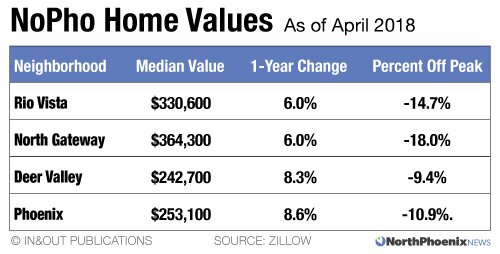 In Phoenix, "the extent of the mid-2000s boom was so large, and as a result the bust was so deep…that the market simply had a lot further to recover than other parts of the country," Zillow Senior Economist Aaron Terrazas told North Phoenix News.
Evidence of the boom and bust remains: land graded for developments that never came. In a sign of the recent resurgence in home building, one of those graded properties left vacant— 125 acres of residential land on the southwest corner of Lake Pleasant Parkway and Deer Valley Road in Peoria—will be auctioned by the state a second time this summer. And there are at least eight large new-home developments underway in NoPho now.
"During the boom, new construction added a lot of new supply in the Phoenix market," Terrazas said. "It was an area where it was fairly easy to add new homes in response to the demand created by easy lending standards."
The valuations are based on Zillow estimates of all homes, whether for sale or not. The calculations differ from other measures of the housing prices, such as average sales prices for existing homes, as reported in the monthly Real Estate Watch from In&Out Magazine and North Phoenix News.
---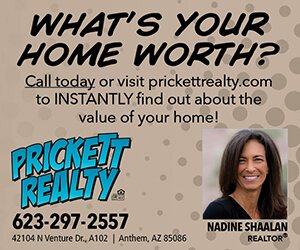 ---
Meanwhile, the strong demand for homes locally, and the low supply, mirrors the national picture.
"The spring home shopping season has been a perfect storm of strong demand and tight supply," Terrazas said of the overall U.S. real estate market. "Sluggish new construction has exacerbated the supply situation and homes that are hitting the market, are moving very quickly once they do. Americans are also in a spending mood, boosted by recent tax cuts and rising wages."
Zillow's analysis found home values skyrocketing 26 percent the past year in San Jose, to a median of $1.26 million. Las Vegas (16.5 percent) and Seattle (13.6 percent) rounded out the Top 3 cities for fastest 1-year appreciation.
Effect on Rents
"Millennials who long delayed becoming homeowners, are out in force—a shift we're also seeing in softer rent appreciation," Terrazas said.
Median rent nationwide rose just 2.5 percent over the past year to $1,449, the analysis found. In Phoenix, median rent rose $4.3 percent to $1,399.
Phoenix rents are affected in part by the robust influx of new residents. Maricopa County is the fastest-growing county in the nation. And Phoenix is one of the country's most popular destinations among people who move to a new metro area and rent an apartment before finding a job, according to a report last week from Apartment List.
---
Never Miss Local Real Estate News
North Phoenix Newsletter
Anthem Newsletter
SUBSCRIBE NOW!
---

Links to Interactive Maps