Phoenix Popular Among Job Seekers
For 15 years, In&Out Magazine has been the definitive source of "Everything that's going on" in and out of the community. We thank you, our readers, as well as the businesses that support the magazine through advertising, for that opportunity. But with little going on, and many businesses suspending or canceling their ads during the Covid-19 crisis, we are suspending publication of the magazine and web sites for the month of May. 
---
Nationwide, about 47 percent of people who move to a new city and then rent an apartment have secured a job before they move, according to a new survey by Apartment List. Among those who move first and then look for a job, Phoenix is among the most popular destinations, which indicates the city is a growing region "where employment is plentiful," the survey found.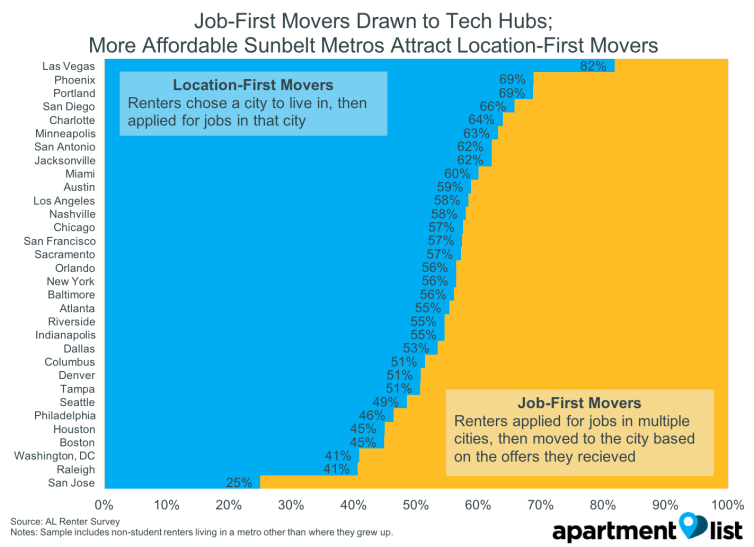 Nearly 69 percent of those moving to Phoenix and renting an apartment choose to move first and then look for work. Phoenix is second only to Las Vegas as a destination for these job seekers.
On the flip side, nobody in their right mind would move to San Jose without first securing a job, given the high rents. Well, actually, 25 percent would, the survey found.
Among these people who move and then look for work, 43 percent plan to stay in their new city (for Phoenix, that figure is 48 percent). For those who move after securing a job, only 27.3 percent plan to hang around long-term.
The survey involved more than 20,000 Apartment List users.
What's Going On?
"Fast-growing Sunbelt metros with comparably affordable housing see a higher share of location-first movers who are generally relocating to job markets where they can find a job upon arrival," the analysis found. "Expensive cities with strong job markets, such as San Jose, D.C. and Boston tend to attract job-first movers. These cities have high proportions of college-educated workers, including in STEM fields, who are more likely to be job-first movers."
Indeed, people are arriving in droves. Maricopa County grew more than any other county in the nation between 2016 and 2017, according to the latest U.S. Census Bureau estimates, released earlier this year. The county added 73,650 residents.
Meanwhile, as the labor force has grown, jobs have been added. The unemployment rate in the Phoenix Metro Area declined from a high of 10.4 percent in January 2010 to 3.8 percent as of this April, according to the latest data released today by the City of Phoenix.
Meeting the Demand
At least four new, upscale apartment complexes are under construction in NoPho, the I-17 corridor from Norterra to New River.
And a report last month found that no city in the nation added more single-family homes for rent over the past 10 years than Phoenix, with an increase of 77 percent. The city has the fourth largest inventory of houses for rent, behind Los Angeles, Philadelphia and Houston.
Rents in Phoenix increased 2.9% in April compared to a year earlier, according to Apartment List. The median rent for a two-bedroom apartment is $1,030 in Phoenix, compared to the national average of $1,170.