Phoenix Police Chief Jeri Williams Shoots Straight on Her Challenges
For 15 years, In&Out Magazine has been the definitive source of "Everything that's going on" in and out of the community. We thank you, our readers, as well as the businesses that support the magazine through advertising, for that opportunity. But with little going on, and many businesses suspending or canceling their ads during the Covid-19 crisis, we are suspending publication of the magazine and web sites for the month of May. 
---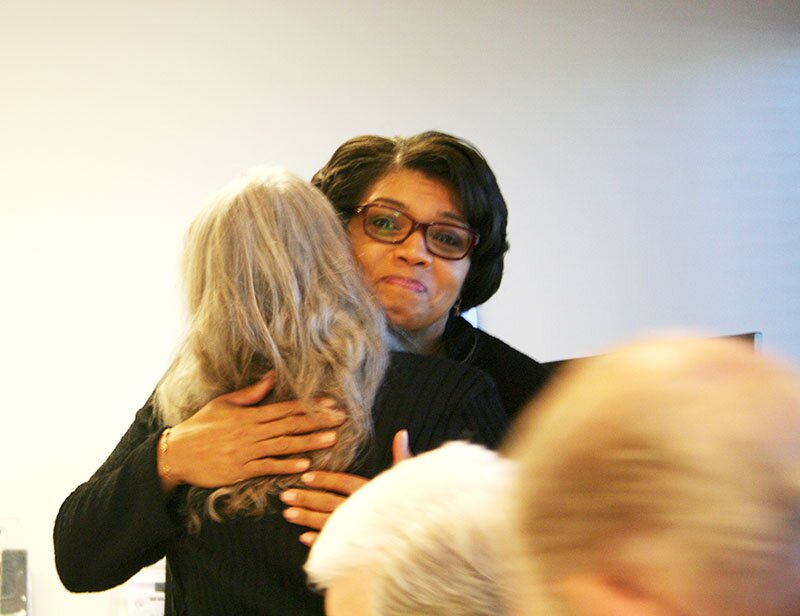 One night last month, Phoenix Suns' Alan Williams had just become the first player in franchise history to record five consecutive double-doubles coming off the bench, scoring 16 and snagging 10 rebounds against the Lakers. Mom couldn't have been more proud when she announced the feat to about 40 residents attending a town hall in Anthem the next morning.
"He got his body by his mom, his shooting by his dad," explained Phoenix Police Chief Jeri Williams, the proud mom in question.
Straight Talk
The new police chief—she's been on the job since October—is an imposing figure herself. She's also proving to be a decision-maker and a straight talker. When Williams took the job, the Phoenix Police Department had endured six years without hiring and without any training programs, she said. It was taking 10 minutes, on average, to respond to emergency calls. Officers often rolled alone.
"Those are the kind of things that keep me up at night and keep my stylist continuing to color my hair much more frequently now than I used to," Williams said. She concluded that 400 new officers were needed on the 2,800-member force, and hiring has since begun. She hopes to fill the positions by the end of 2018. Many of the recruits will have to go through the department's academy, so the process takes time.
In the meantime, she's shaking things up. On Feb. 20, "We moved 150 people from specialty assignments back to the patrol function," Williams said.
Not everyone was crazy about it.
"Many people are saying, 'Jeri, what the heck are you doing and why are you doing it?'" she said. "To this day I'm still getting nasty email messages from wives, parents, partners—how dare I put the person who swore to be a police officer… back in the function that they signed up for. I guess if I go to hell, that'll be the reason."
As more cadets graduate from the police academy—three dozen were scheduled to do so in late March—other officers will be moved into "critical functions," including investigative positions and liaison efforts with the Department of Justice and other agencies, Williams said.
Cooperation is Key
Law enforcement in North Phoenix is the responsibility of the Phoenix Police, but there is significant cooperation from  Maricopa County Sheriff's Office. Anthem, the largest population center in the area, is split by I-17, with the west side served by the city and the east side by MCSO.
Williams spoke highly of the relationship between the men and women in blue and those in brown. "Bad guys don't care what uniform you wear," she said. "If we call [MCSO] for assistance, they'll come and help us out." She added, "we're really fortunate" to have Paul Penzone as the new sheriff in town. She predicted "a really good partnership with the sheriff's office."
The chief also said a key aspect to crime fighting is cooperation with the community, including block watch programs. "We can't do what we do without you," she said. "We're never going to have enough bodies out there."
Williams aims to "increase police legitimacy" by battling the "us and them" perception among some. She and her top commanders have done nearly 300 public meetings in four months, she said.
"When I go to the community meetings, I'm just so excited to see so many people sitting in the room," she said. She gestured to the 40 or so residents, mostly from Anthem and New River. "Holy smokes!"
Town Hall April 14: Meet Sheriff Paul Penzone