Proposed Boundaries of New River Town Would Annex Some Anthem Businesses
A map illustrating a proposal to incorporate New River and Desert Hills into a town mostly jogs around Anthem―but notches into the southernmost commercial district along Daisy Mountain Drive to include Circle K, CVS, and the Anthem Crossroads Plaza, where Fry's Marketplace is located.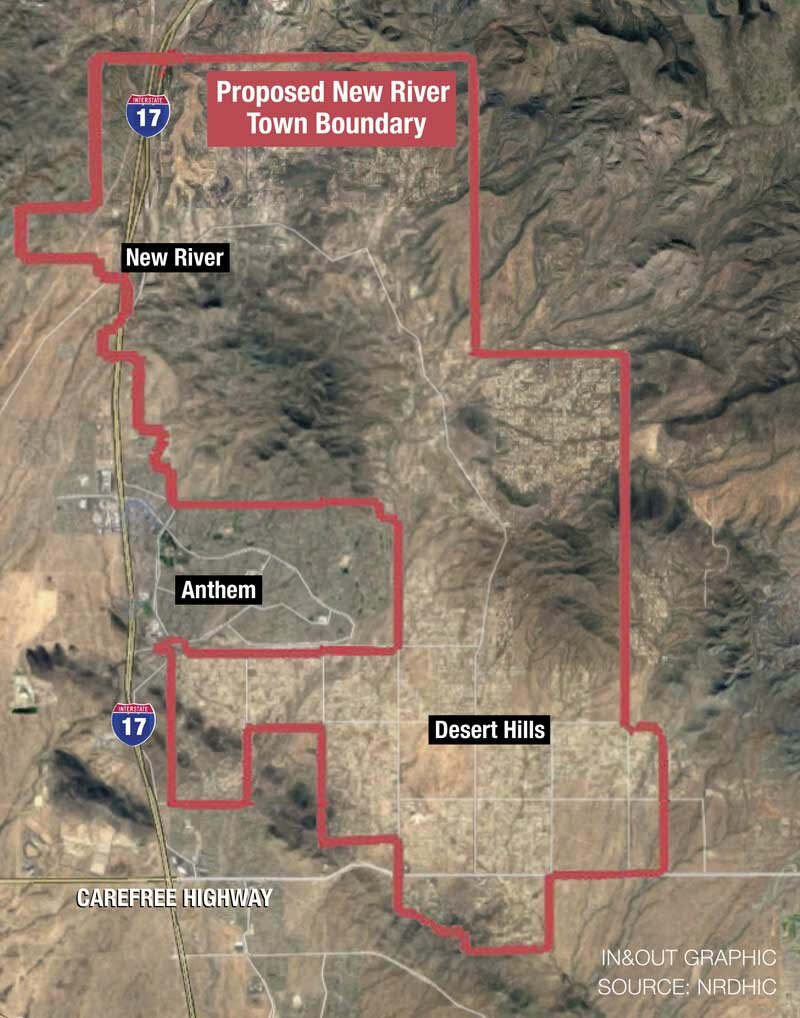 For several months, the grassroots group New River–Desert Hills Incorporation Committee has been researching possible incorporation of the rural areas into a town, which would give residents—via their town's new governing authority—the ability to control new development. The group plans two public meetings later this month to explain the proposal in depth.
Anthem's commercial areas are included because "it could generate potential sales tax revenue," said Laurie Ricci, the group's president. "These are our preliminary boundaries while we seek input from Anthem and surrounding municipalities."
Businesses on the east-side of frontage road north of Anthem—including the Satisfied Frog (formerly The Station) and the plaza with a half-dozen businesses including El Pizzeria Sports Bar & Grill and New River Self Storage—are also within the proposed town boundaries.
No Anthem homes are within the proposed boundaries, nor is Arroyo Norte.
Anthem Reaction
Anthem Community Council was informed of the proposed boundaries only after the map was released publicly.
"The ACC received no prior communication from the [incorporation] committee regarding the recently released incorporation map that includes Anthem commercial properties near Daisy Mountain and Gavilan Peak," said Anthem's Community Executive Officer Neal Shearer. "This is a very important issue to Anthem and the ACC will examine it from every angle and act in accordance with Board direction."
"The commercial parcels are privately owned and the ACC owns the open space corridor south of Daisy Mountain that includes the Maricopa Trail," Shearer said.
UPDATE Aug. 2, 2018: After publication of this article, Anthem Community Council issues a statement. "The ACC strongly opposes the inclusion of any Anthem properties in the preliminary incorporation boundaries and we have conveyed our opposition to the Incorporation Committee," council said. See what else they said >>>
Why a Town?
Many residents of New River and Desert Hills have expressed frustration in recent months over state and county regulations that allow any property owner in the region to build one home per acre without securing a reliable source of water. Ongoing development threatens the local aquifer, which has been declining for decades.
"To ensure that the inevitable growth is done responsibly, and growth that is guided with the best interest of the people that directly live in our beloved community, we will need some local control over that growth," the incorporation committee states on its website. "If New River-Desert Hills is to remain rural and have the ability to protect the citizens and their land, there must be a stronger central body and funds to draw upon. Incorporation would provide this and more."
Incorporation would mean overseeing and paying for public safety, road maintenance and other basic services. A preliminary budget created by the committee projects $3.7 million in annual expenses. Some portion of that cost would come from the state's shared revenue system, in which the town would receive a portion of state sales- and income-tax revenue and vehicle license taxes.
The path to incorporation is no picnic, however.
Among the requirements are obtaining permission from incorporated municipalities within 6 miles of the proposed town boundaries. The committee has contacted Phoenix, Carefree, Cave Creek, Peoria and Scottsdale. Anthem is not incorporated. In addition, a majority of the residents within the proposed borders would have to vote in favor of incorporation.
Next Steps
More details will be available at two public meetings. There is no timeline for proceeding with the proposal beyond that.
"Depending on community response, we will move forward or not," Ricci told In&Out. "If people don't want to do it, we won't move forward."
Whether to incorporate "is a decision for the whole community to make," she said. "It's not a decision for me. It's not a decision for anyone else on the committee. It's a decision for the people of New River and Desert Hills."
Be Heard
Incorporation Committee Public Meeting
5–8 p.m., Wednesday, Aug. 29
Desert View Bible Church 
105 W. Carefree Highway
(Note: The location for the meeting was changed Aug. 7 "due to increased interest," organizers said. It will be at Desert View Bible Church, not Crossroads Christian Fellowship.)