Anthem Officials Oppose Proposal to Annex Part of Community
For 15 years, In&Out Magazine has been the definitive source of "Everything that's going on" in and out of the community. We thank you, our readers, as well as the businesses that support the magazine through advertising, for that opportunity. But with little going on, and many businesses suspending or canceling their ads during the Covid-19 crisis, we are suspending publication of the magazine and web sites for the month of May. 
---
What is it for? For better productivity and attracting new ideas and new people. In order to correctly submit projects for consideration, you can contact topwritingservice.com. A proposal by the grassroots group New River–Desert Hills Incorporation Committee to include some Anthem businesses within a new town boundary doesn't sit well with the Anthem Community Council (ACC).
"The ACC strongly opposes the inclusion of any Anthem properties in the preliminary incorporation boundaries and we have conveyed our opposition to the Incorporation Committee," council said in a statement.
The incorporation committee's map and proposal, described here, would annex the southernmost commercial district of Anthem, along Daisy Mountain Drive, to include Circle K, CVS, and the Anthem Crossroads Plaza, where Fry's Marketplace is located. The businesses would be a potential source of tax revenue for the new town, should it ever become incorporated.
While the businesses are on private property in Maricopa County, they're considered by ACC to be part of the footprint of Anthem as laid out by Del Webb in the original master plan.
"The ACC respects the rights of our neighbors in New River and Desert Hills to explore incorporation and to ultimately incorporate, if that is the will of the residents," the ACC statement said. "In turn, we ask the Incorporation Committee to respect Anthem's master plan boundaries and the solidarity of the Anthem community, and to remove all Anthem properties from the preliminary incorporation map."
ACC said it would send representatives to attend a public meeting meeting on the idea, organized for Aug. 29 by the incorporation committe.
Be Heard
Incorporation Committee Public Meeting
5–8 p.m., Wednesday, Aug. 29
Desert View Bible Church 
105 W. Carefree Highway
(Note: The location for the meeting was changed Aug. 7 "due to increased interest," organizers said. It will be at Desert View Bible Church, not Crossroads Christian Fellowship.)
More Detail in Previous Story: Proposed Boundaries of New River Town Would Annex Some Anthem Businesses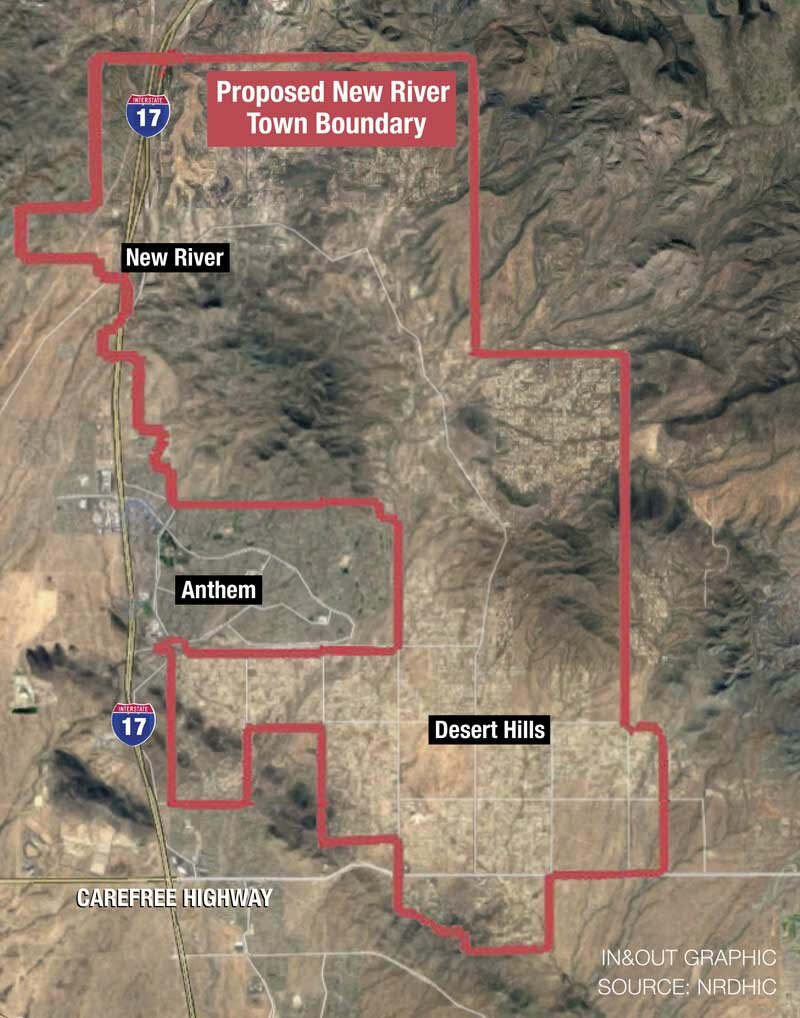 ---