North Valley School Enrollment Figures Are In
For 15 years, In&Out Magazine has been the definitive source of "Everything that's going on" in and out of the community. We thank you, our readers, as well as the businesses that support the magazine through advertising, for that opportunity. But with little going on, and many businesses suspending or canceling their ads during the Covid-19 crisis, we are suspending publication of the magazine and web sites for the month of May.
---
When Union Park School opens in 2020 near 19th Avenue and Happy Valley Road, it will offer a welcome relief to the space crunch at nearby Sonoran Foothills and Norterra Canyon schools. All part of the Deer Valley Unified School District, this year's enrollment figures reveal ongoing shifts that leave some schools overcrowded while others shrink well below capacity.
Enrollment at Sonoran Foothills School, already crowded, grew roughly 9.3 percent this fall, pushing the total well over the school's capacity of 950. Norterra Canyon's population didn't grow much, but the school remains over capacity.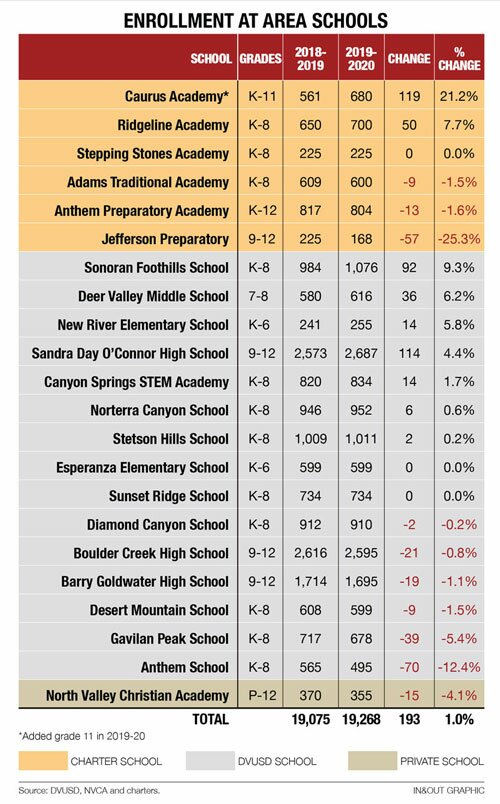 As was projected to occur, enrollment at Anthem-area schools remained mostly flat or declined. The community's population soared in the early 2000s but is now aging out. Anthem School lost 12.4 percent of its student population year-over-year, and Gavilan Peak declined 5.4 percent.
Boulder Creek High School remains at capacity, and Sandra Day O'Connor is over its capacity. Barry Goldwater lost a minimal number of students and remains under capacity.
In the charter schools, Caurus Academy saw the largest population increase with the opening this fall of its new high school along 42nd Drive on the west side of Anthem. Enrollment increased 21 percent, with 119 more students than last year. The school now serves students in grades K-11, with 11th graders added this year and plans to add 12th-graders next year. Enrollment rose 7.7 percent at Ridgeline Academy, another charter in the North Phoenix growth area.
Jefferson Preparatory Academy, which had served grades 7-12, moved from 51st Avenue in Glendale to a shared campus and merged its middle school with Adams Traditional Academy, near I-17 and Pinnacle Peak Road. Both schools remain under the same charter, Choice Academies. Jefferson Prep now serves grades 9-12, and Adams Traditional continues to serve grades K-8.
Jefferson Prep Principal Tawnya Mecham told In&Out enrollment at the high school continues to trend upward. In 2018, the school served 153 students in grades 9-12 and this year, 168 students are enrolled.
Related: