Blustery Storm Leaves NoPho Nearly Dry
Yesterday's storms brought dust, strong winds and rain to most of the greater Phoenix Metro area, but NoPho—the I-17 corridor from Norterra to New River—saw some of the lowest precipitation totals in the Valley. "We had insane winds and a tiny tiny bit of rain," said Anthem Country Club resident Erin Zidzik, adding there were "lots of trees down."
In multiple rain gauges from Anthem through Tramonto, Sonoran Foothills and down to the Norterra area, less than a tenth of an inch was recorded. Yet characteristic of the fickle monsoon, nearby Deer Valley Airport got three-quarters of an inch. A gauge at Lake Pleasant recorded 0.55 inches.
Brandon Hodge reported a tree down in the Carefree Crossing neighborhood, between Dove Valley Road and the Carefree Highway. He also posted to Facebook a video of a downpour on I-17 just south of Dove Valley Road.
Elsewhere, the storm casualties were somewhat humorously minor. "Saw some small tree branches and trash debris in neighbors' yards this morning," said Tramonto resident Kim Chenoweth Johnston. "We will rebuild."
Tim Goodall, who lives near I-17 and Dove Valley road, posted a video on Facebook of garbage cans blowing along the street. A similar scene unfolded in Anthem: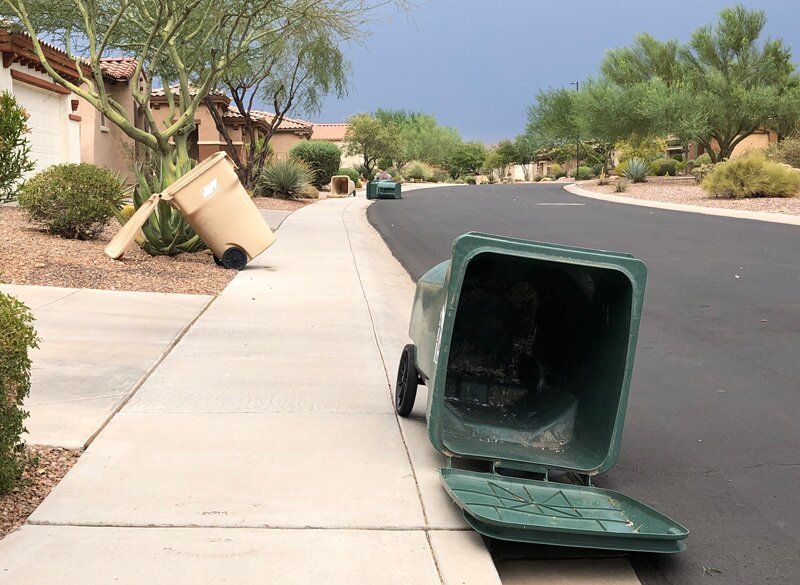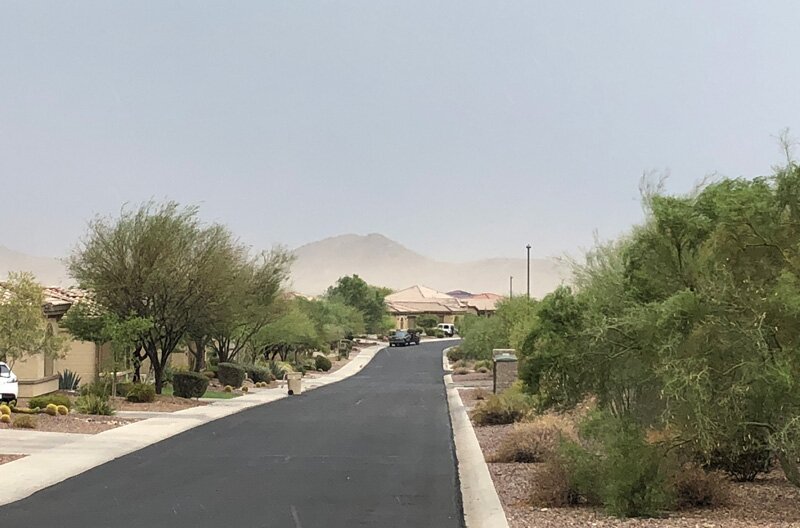 Elsewhere around the Valley
A 79.5-mph wind gust was recorded near Florence, according to the Maricopa County Flood Control District.
Sky Harbor Airport set a new rainfall record for the day, with 0.56 inches, breaking the previous high of 0.44 inches in 1996. More than an inch landed in a handful of gauges, including one in south Phoenix and another in the mountains north of Carefree.
This morning, APS had "2,165 customers remaining without power in pockets across metro Phoenix."
APS dealt with several power outages around the Valley, and traffic lights on some Phoenix intersections were without power. "We're seeing heavy traffic jams on #PHX streets due to power outages affecting traffic signals & rain accumulation on roadways," the city's streets department tweeted last night, adding in a separate tweet that they had response crews out clearing roadways of downed trees and other debris.
The roof blew off an apartment complex near 25th Street and Van Buren, according to the City of Phoenix:
The Phoenix Fire department is currently responding to numerous weather related emergencies. Please be safe, stay inside when possible and NEVER drive through flooded washes! pic.twitter.com/ziAyF38mml

— Phoenix Fire Dept. (@PHXFire) July 10, 2018
One unusual aspect to the storms was that nearly every part of Phoenix got at least some rain, said meteorologist Paul Iniguez. That usually happens just one to three times per summer, he said.
Monday's storm was reminiscent of the first (and only other) storm of this year's monsoon, June 17, which also dumped significant rain in pockets around the Valley but missed North Phoenix. There will be more opportunities. The forecast for North Phoenix has a chance of showers or thunderstorms every day through Saturday.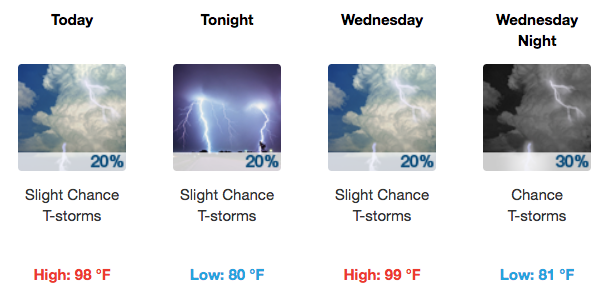 ---
Brand New Anthem Home for Sale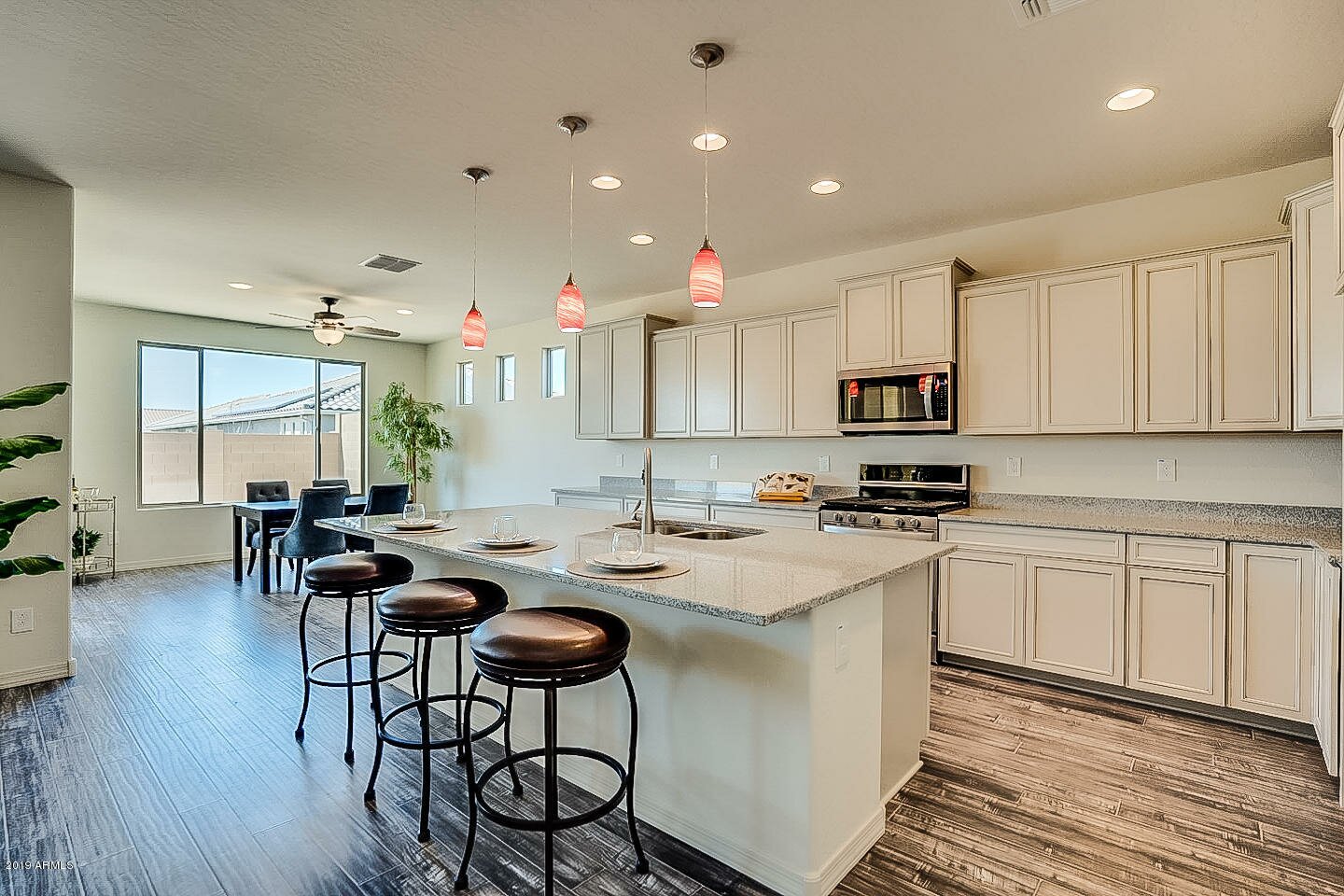 ADVERTISEMENT
This never-lived-in Ravenna model in Circle Mountain, by Pulte, is fresh and ready to make memories. Perfect floorplan! Phoenix utilities.
4 BEDS | 2.5 BATHS | 3-CAR GARAGE | 2,582 SQFT | $415,000
44622 N 41st Drive, Anthem
Call or CLICK TO LEARN MORE