Why Not Bus Kids or Close Small Schools?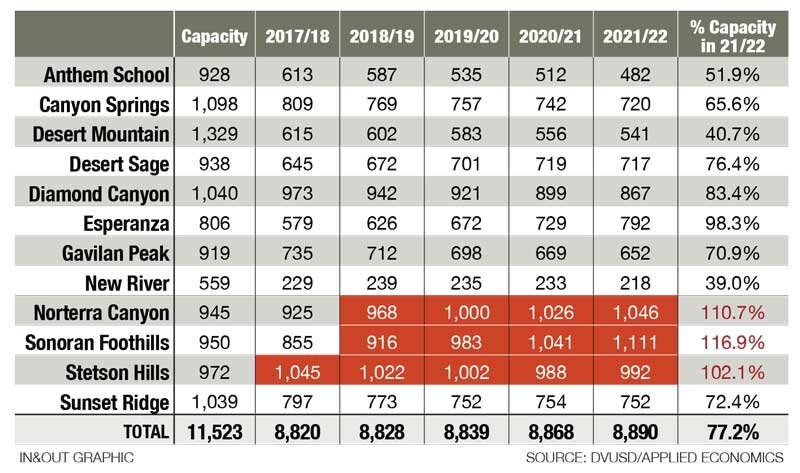 ---
Nine of 12 elementary schools in NoPho are projected to be below capacity over the next five years.
But closing schools, even one with few students, can be a "very emotional" issue, Superintendent Curtis Finch said at a town hall in Anthem last month. "People don't want to lose their mascot," Finch said, adding that people want their kids to go where grandma or Uncle Louie went.
And proximity matters. Research shows that more often than not, parents will put their kids in the closest school, even if a better one is available but requires a drive, he said. Bussing doesn't change the equation, he said, because parents still have to travel farther for school sports and other events.
"In general, convenience trumps quality," Finch said.
---
Related: Housing Explosion Prompts Creative DVUSD School Solution
To accommodate new students expected in the fast-growing area between Happy Valley and Dove Valley roads, Deer Valley Unified School District is considering a land exchange with USAA for a new school in the company's Union Park at Norterra planned community.
---
Meanwhile, the superintendent isn't sure demographic projections for the district are accurate. With Maricopa County being the fastest-growing county in the country, and much of the residential development "exploding" into North Phoenix, where there's a lot of land available, he says "zone growth" may not be factored into the enrollment projections.
"I have a 1,000-kid problem already" at Sonoran Foothills and Norterra Canyon schools, he said. "If 1,000 more show up, I don't know where I'm gonna… glue them to the roof? I have no place for them."