Housing Explosion Prompts Creative DVUSD School Solution
For 15 years, In&Out Magazine has been the definitive source of "Everything that's going on" in and out of the community. We thank you, our readers, as well as the businesses that support the magazine through advertising, for that opportunity. But with little going on, and many businesses suspending or canceling their ads during the Covid-19 crisis, we are suspending publication of the magazine and web sites for the month of May. 
---
To accommodate new students expected in the fast-growing area between Happy Valley and Dove Valley roads, Deer Valley Unified School District is considering a land exchange with USAA for a new school in the company's Union Park at Norterra planned community.
Construction is underway on the development, near 19th Avenue and Happy Valley Road, with 1,200 single-family houses and 800 multi-family homes planned. DVUSD has until the end of 2018 to reach an agreement with the developer for a district school on a designated 12-acre site within the new community, according to a rezoning stipulation approved by the City of Phoenix.  
The most recent DVUSD school capacities and enrollment projections were presented to the School Board May 1, along with details in a potential draft agreement between DVUSD and Sunbelt Holdings, developer for USAA.
Nearby Norterra Canyon and Sonoran Foothills schools are already at or near capacity. There are no other elementary schools in this area to accommodate the expected influx of 1,125 students from Union Park and other developments between Happy Valley and Dove Valley roads, Jim Migliorino, deputy superintendent of fiscal and business services, told the board.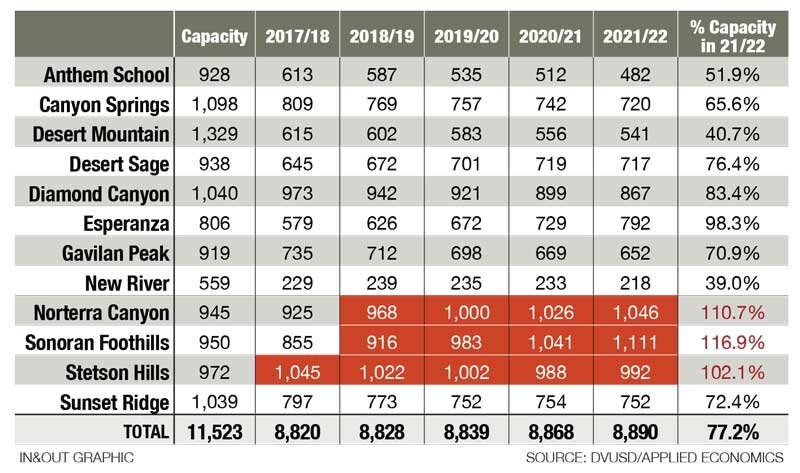 ---
Related: Why Not Bus Kids or Close Small Schools?
Nine of 12 elementary schools in the North Valley, including those in Anthem, are projected to be below capacity over the next five years. But closing schools, even one with few students, means battling against parents' emotions and the desire for kids to attend a school close to home.
---
Why a Land Exchange?
DVUSD already has bond authorization to build the school, but there's no provision in the bond that would allow for a land purchase.
The district, however, owns 14 acres about four miles away at 43rd Avenue and Alameda Road and has not identified a need to develop on that acreage yet, Migliorino told the board. Selling that land is complicated, he said, requiring a vote of all constituents, but a statute would allow a land exchange.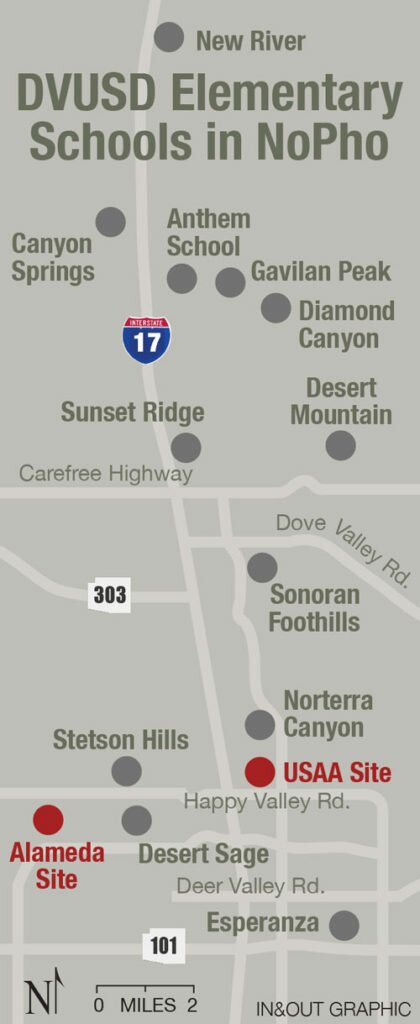 DVUSD approached the developer about the possible land swap, having worked with Sunbelt Holdings in the past for a 50/50 purchase/donation for the school site in Sonoran Foothills.
Building on the USAA site would eliminate competition for students from a potential charter school being developed on that site.
"There's going to be a school there. It's coming. It's going to be us or someone else," said DVUSD Superintendent Curtis Finch. "I don't want make a decision we're going to regret… where we have a Basis in our front yard gaining 300 kids that are new to the neighborhood and then stealing 500-800 [kids] from us… that's going to be a problem. That's how we pay the bills."
Charter schools are funded by the state but can run as either non-profit or for-profit and work with less state oversight. Some charters have been accused of exclusionary policies that boost test scores, including discouraging enrollment of students with low test scores, special needs or disciplinary records.
Caveats of the Agreement
Sunbelt has agreed to the swap and is willing to take care of the infrastructure and street improvements. The district would assist in getting the Alameda site rezoned residential, Migliorino said. The catch: Moving forward with USAA obligates the district to develop on that parcel and begin construction before 200 homes are sold within the development.
A sticking point for at least a few of the board members was a provision included by USAA requesting that until the school is built, students be bussed to Stetson Hills School or another school besides Esperanza, the designated one according to district boundaries. Asked why the developer requested a school other than Esperanza, Migliorino said, "At the time, Esperanza School was a C-rated school and I don't think they thought that it would be fitting for the homeowners they were trying to target for this development."
Esperanza is an average-performing school according to standardized test scores, while Stetson Hills is a higher-performing school.
"Philosophically I have a problem with a school that's OK for a certain demographic to be at Esperanza, but not for another," Board President Jenny Frank said. "I value the equity within our district and I don't feel we have inequitable resources within our schools… I'm not comfortable with entertaining the notion that we need something special for this group just because what we have here isn't good enough for this group."
Board member Darcy Tweedy pointed out that Desert Mountain, Sunset Ridge, Desert Sage, and Esperanza are all below capacity. "It's not sustainable to build all these schools―we may have to move where students are at," Tweedy said.
Stetson Hills is already over capacity. Sunset Ridge could offer some type of solution, Migliorino said.
The board requested that the clause regarding which school Union Park Students would attend be removed from the agreement before a formal vote is taken. In addition, the board requested that Desert Sage, which has some capacity, be considered a possible interim solution, since it lies 3.9 miles from the Union Park Development, whereas Esperanza is 4.6 miles away.
An agreement could be brought before the School Board for consideration as early as its May 22 meeting.
What About a New High School?
As reported last fall, all but one of DVUSD's five high schools are projected to be below capacity in a few years. The one projected to be over-capacity, in about 2022: Barry Goldwater, which would be the school for the USAA development.
DVUSD has said may need to revise the high school boundaries within five years to help even enrollment levels. Meanwhile, the district does have a 60-acre site reserved with the Arizona State Land Department at I-17 and Jomax, earmarked for the development of a future high school if and when the need exists. [Full Story]