Anthem Considers Annexing Landlocked, Developable Property Along I-17
For 15 years, In&Out Magazine has been the definitive source of "Everything that's going on" in and out of the community. We thank you, our readers, as well as the businesses that support the magazine through advertising, for that opportunity. But with little going on, and many businesses suspending or canceling their ads during the Covid-19 crisis, we are suspending publication of the magazine and web sites for the month of May. 
---

Anthem Community Council staff has discussed possible annexation of a roughly 52-acre parcel of developable private property sandwiched between I-17 and the east side of Anthem, south of Anthem Way down to Boulder Creek High School. The proposal will be discussed at the monthly council meeting Wednesday, June 26, when the ACC will take public comment.
A representative of the property owner has indicated preliminary plans to build a mix of "multi-family residential/assisted living, commercial/retail," according to ACC staff.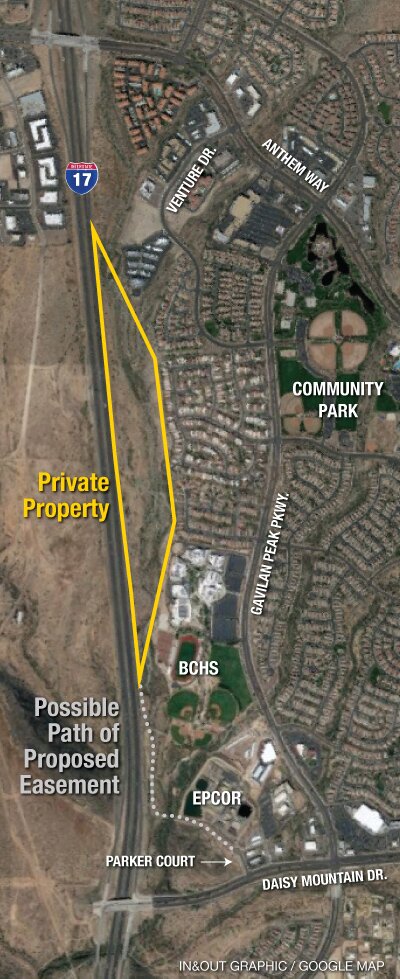 The property lies in Maricopa County—not in the City of Phoenix. It is zoned residential and held in a trust, controlled by unnamed owners who bought the parcel in about 1991. About 25 to 30 percent of the land is undevelopable natural wash.
In 2017, a representative for the property owner, called 1991 Phoenix Trust, approached Anthem Community Council seeking a right-of-way to access the property from Parker Court, near the Daisy Mountain Drive Circle K, as previously reported. After months of consideration and discussion, ACC staff and the trust's representative developed a nonbinding draft Letter of Understanding (LOU) regarding annexation.
Why annex the property?
"The alternative to a cooperative LOU and subsequent easement agreement would likely be a one-time payment to the Council for the access easement, through a negotiated cash transaction with the Trust or through adversarial litigation, which both parties would like to avoid," ACC staff wrote in its analysis. "Under this alternative scenario, there would be no annexation or Council control over design review and land use, and the Trust could build whatever would be allowed by Maricopa County and other regulatory agencies."
Annexation would subject the property to all of Anthem's governing documents and give ACC oversight on land use and design guidelines. Any residents or commercial enterprises would be subject to paying assessments.
The reasoning also extends back to long-ago discussions that the current ACC has only recently learned of.
"Historical documents from the mid-1990s reflect a cooperative relationship between the Trust and Del Webb, with the Trust supporting Anthem's development plans, and Del Webb supporting a mutually satisfactory means of access to the Trust property, although no formal agreements were ever executed," according to ACC staff.
ACC sent a letter of notification to property owners within 600 feet of the trust property boundaries.
"The intent is that community input will happen on June 26 [at the ACC meeting] and the LOU will be finalized at a later date to be determined, subject to the input and board direction," said Neal Shearer, Anthem's community executive officer.
No timetable for possible construction has been announced.
Anthem Community Council Board of Directors Meeting
6:30 p.m., Wednesday, June 26
Anthem Civic Building
3701 W. Anthem Way
623-742-6000