2017 Was Strongest Year for Home Sales Since 2006
For 15 years, In&Out Magazine has been the definitive source of "Everything that's going on" in and out of the community. We thank you, our readers, as well as the businesses that support the magazine through advertising, for that opportunity. But with little going on, and many businesses suspending or canceling their ads during the Covid-19 crisis, we are suspending publication of the magazine and web sites for the month of May. 
---
Existing home sales nationwide for December 2017 were 1.1 percent higher than the previous December, according to the monthly report out today from the National Association of Realtors. For the entire year, 5.51 million existing homes sold, up 1.1 percent from the 2016 total. Prices continued to rise.
Local Analysis
The story was similar locally: December sales volume in NoPho—the I-17 corridor between Norterra and New River—was up 3.3 percent in December 2017 compared to December 2016, according to the monthly analysis of NoPho home sales, released earlier this month by North Phoenix News and In&Out Magazine. For the entire year, NoPho sales volume increased 10.3 percent compared to 2016.

Rising Prices
Prices continued a long, upward climb. Nationally, the median price for existing homes—single family, town homes, condos and co-ops—was $246,800 in December, up 5.8 percent from the year prior. That's the 70th straight month of year-over-year increases. In Western states, the median price was $367,400, up 7.3 percent from December 2016, NAR reported.
Locally, average sales price rose in four of five NoPho zones in December, and price per square foot rose in all five.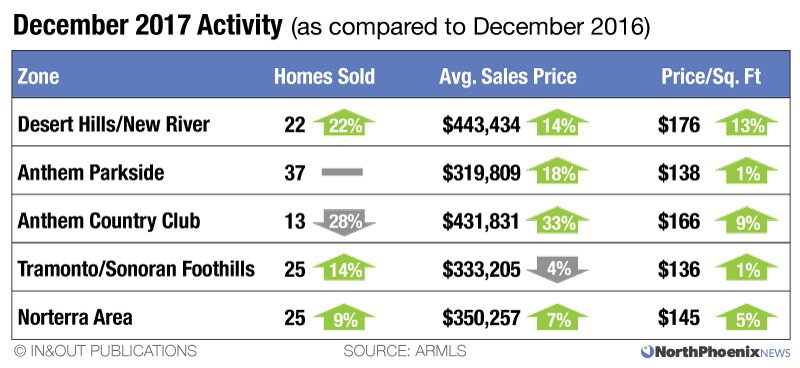 In many markets, rising prices and strong demand made purchases difficult for first-time home buyers and others looking for lower-priced homes in 2017, creating what some analysts are calling an affordability gap.
"New listings struggled to keep up with what was sold very quickly, and buying became less affordable in a large swath of the country," said Lawrence Yun, NAR chief economist. "These two factors ultimately muted what should have been a stronger sales pace."
At the end of December, the inventory of homes available for sale was 10.3 percent lower than a year ago, to a supply level of 3.2 months nationally. The figure represents the number of months it would take to sell all the homes currently listed based on average sales pace in the previous six months, if no additional homes were listed. Less than 6 months is considered a "seller's market."
Inventories were even lower in some NoPho markets, including Anthem Parkside, the Tramonto & Sonoran Foothills area, and the Norterra area.
What's Ahead?
"Rising wages and the expanding economy should lay the foundation for 2018 being the turning point towards an uptick in sales to first-time buyers," Yun said. "However, if inventory conditions fail to improve, higher mortgage rates and prices will further eat into affordability and prevent many renters from becoming homeowners."