Viewer's Guide: Total Lunar Eclipse Sunday, Jan. 20
For 15 years, In&Out Magazine has been the definitive source of "Everything that's going on" in and out of the community. We thank you, our readers, as well as the businesses that support the magazine through advertising, for that opportunity. But with little going on, and many businesses suspending or canceling their ads during the Covid-19 crisis, we are suspending publication of the magazine and web sites for the month of May. 
---
Weather permitting, a total lunar eclipse Sunday night, Jan. 20, will be visible from North Phoenix as well as all of North and South America and western Europe and Africa. It will be easy to view. Just grab the kids or your friends or neighbors and go out and look up. Everything else below is just geeky detail.
OK, you need to know when. So check out this the chart:
(Someone in the Eastern time zone would add three hours, etc. etc. — or one can go here and type in any location for local times.)
Three things to note:
Try not to miss the moment the partial eclipse begins, as Earth's main shadow, call the umbra, takes a bite out of the moon.'
Make sure you don't miss the moment the total eclipse (totality) starts.
Hang in there until the dark moon possibly starts to glow orange or red. (I like to duck in and out several times as an eclipse progresses.)
You can totally skip the earlier and latter stages, including the totally uninteresting "penumbral" stages - when the moon is only partially shaded and most of us can hardly tell.
That's it. You don't need any fancy equipment (though binoculars or a telescope will offer a nice view of lunar craters while you wait for something exciting to happen).
But now you're curious, right? OK. Here are the geeky details, as simple as I can make 'em:
How it Works
Every 29.5 days, the moon orbits Earth and creates a loose alignment of the sun, Earth and moon. Because the moon's orbit is slightly tilted compared to the plane of Earth's orbit around the sun, the sun's light usually falls full on the face of the moon at this periodic juncture, and we see a full moon.
But every now and then, the alignment is nearly perfect, and Earth gets in the way, its shadow falling on the moon.
Interesting aside: The moon is never totally full, because when it would be, a lunar eclipse occurs, robbing the moon of some of the sunlight that would otherwise render it truly full.
Supermoon Rising
Whether or not you see the eclipse, you might want to just watch moonrise. Full moons always rise right about at sunset, and due to an illusion of the mind they can seem huge on the horizon. This one will seem a little huger: This full moon will be the first of three supermoons this year.
Supermoon is just a fancy term for a moon that's slightly closer to Earth than average, thus slightly bigger and brighter. [All About Supermoons | All About the Moon Illusion]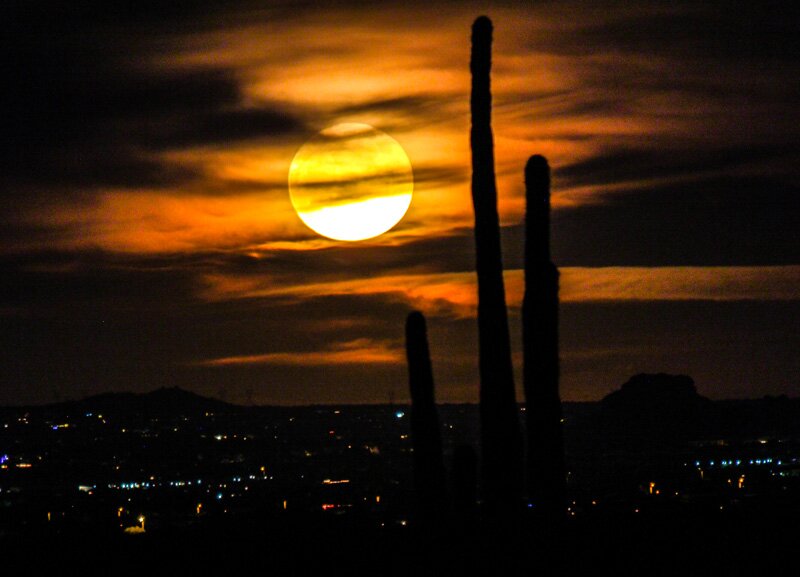 There's lots of hype around this, so let's be clear: Every total lunar eclipse can turn the moon red, but it isn't guaranteed. Depends on how much stuff is in the atmosphere, including dust or smoke. Here's how it works:
During the total phase of the eclipse the moon will be dark but visible, gradually turning brown or possibly orange or red, as sunlight from all the world's sunrises and sunsets is scattered by Earth's atmosphere, hits the moon, and is reflected back to your eyes.
Think of it as if you were standing on the moon:
"The sun would be covered up by a dark Earth that was ringed all around with a thin, brilliant band of sunset- and sunrise-colored light, bright enough to dimly light the lunar landscape around you," explains Alan MacRobert of Sky & Telescope.
The color and intensity varies with each eclipse, depending on dust and clouds in those sunsets. In rare instances, a rich, deep hue creates what astronomers call a blood-red moon.
Total Super Bloody Wolf Moon Eclipse Lunacy
OK, OK. You'll see references like this in popular media. Lots of ancient cultures had names for full moons (Harvest Moon is one you might've heard). Wolf Moon is applied to the full moons of January. Why, we don't really care for the purposes of this article, but my old friend and skywatching expert Joe Rao will tell you all about it. My take: This is a really freaking cool total lunar eclipse, and that's more than mouthful mind-full for Sunday night.
Fun Fact
Total lunar eclipses won't always be possible. The moon is moving away from Earth by about 1.6 inches a year. Right now, Earth can fully block the sun's light from reaching the moon. Billions of years from now, the moon be too far away to be totally engulfed in shadow.
Next Up
This is the first total lunar eclipse for the entire contiguous United States since September 2015, and the next total lunar eclipse visible anywhere on the planet won't occur until May 2021.
Need more info? Sky & Telescope has a great guide with a lot more detail.
This story was adapted from an article by this author first published in Medium.