Full Moon to Rise on Thanksgiving
For 15 years, In&Out Magazine has been the definitive source of "Everything that's going on" in and out of the community. We thank you, our readers, as well as the businesses that support the magazine through advertising, for that opportunity. But with little going on, and many businesses suspending or canceling their ads during the Covid-19 crisis, we are suspending publication of the magazine and web sites for the month of May. 
---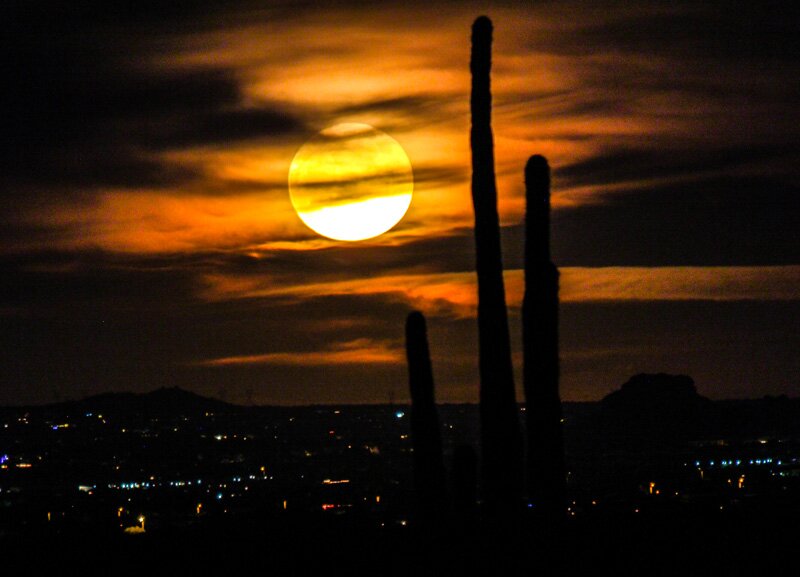 If clouds clear this Thanksgiving evening — and that's an iffy proposition at best — the full moon rising will offer a nifty sky treat. Moonrise in North Phoenix will be at 5:25 p.m., just as the sun is setting (if there's a mountain to your east, the moon will rise later). There's nothing particularly special about this full moon, other than the fact that it'll rise as many are sitting down to their annual turkey feast. But there is something cool you can check out, if weather permits:
A rising moon always looks bigger on the horizon than it does later, when it's higher up. This is just an illusion, related to the fact that our brains are trained to assume objects on the horizon are farther away than things overhead (see the equal-sized moons in the graphic below). If you're not tripped out on tryptophan, you can test the illusion yourself: See our full explanation on this page.
The National Weather Service says today will be mostly cloudy in North Phoenix, but with a chance for some partly cloudy skies around the time of moonrise.
Here's an interesting fact: There's actually no such thing as a full moon. Full moons occur only when the moon, Earth and the sun are roughly lined up. But if they're perfectly lined up, an eclipse occurs. (The moon orbits Earth in a plane slightly offset to the plane of Earth's orbit around the sun, which is why eclipses are rare.) Given this geometry, during any time when the moon's disk would be fully illuminated by the sun, Earth is in the way, casting a shadow on the moon — a lunar eclipse.
If the weather doesn't cooperate, you can explore the moon illusion next month, or at any full moon. In fact, the moon will appear nearly full tomorrow evening, so you can check it out then.